"Wow, you really clean-up well." That's what I usually hear from people when I go to formal events like weddings. It could sound like an insult, but I understand where they are coming from. I wouldn't exactly call myself a fashionista most days. "Comfortably casual" is what I would say, the term "slob" may be the word others would use. Potato/Tomato. So I get it, appearance matters. And not just in clothes you choose, but in the way you package your content.
It's quite simple. When something is presented to you in a professional or inviting manner, you pay attention. Whether it's a person, a website, a book or a blog. There is an inherent trust that is built by just "looking the part." Subconciously, I think we all know it. If I were to click on a link and was taken to website that looks out-dated or poorly put together, I am more apt to hit the back button right away before ever reading a word. That's the worst possible thing that could happen if you are actively trying to market your content through a blog where readership and linking is key. You want to convert those "skimmers" to "readers," so what can you do to keep them on the page at first glance?
The right tie for the occasion
Before we move to all the bells and whistles that can help retain your readers, you have to look at the overall structure on which your site is built. Basic things like color schemes, type size and layout are more important then you think. You can easily scare people off with loud and obnoxious colors, ugly type or poor layout. Colorwise, a good rule is to keep it neutral with pops of accent color. Black/dark gray body copy on a white/light background. Then bring some brighter colors in the form of headline/subheads. Typewise, keep your body copy between 10pt and 12pt and choose a simple and easy to read typeface. For layout, you don't want your viewer to struggle while reading, so keep the main column between 500px 700px. By following a few of these simple tips, you'll be well on your way to packaging your content in a way people "want" to read.
It's the little things that count
So let's start with your blog post title. We want this to be a clear and direct message to what the post will be about. As silly as it sounds, if your post title is a bit tricky and doesn't effectively describe the content, the reader will be quick to say "that's not for me" or "this isn't what I'm looking for" and go somewhere else. So it sounds small, but a great title will be the first thing to grab someone.
From there you move to something as simple as subheads. Nobody enjoys reading a phone book. So one long, uninterrupted paragraph or series of paragraphs is just a bit too much to swallow. The easiest thing you can do is break it up a bit with some subheads. It allows the viewers eye to slow down and grab little bits of useful information to quickly determine if there is valuable content and whether or not they want to stop skimming and start reading. There is a reason books are divided into chapters. The same rule applies here.
Another simple way to break up the monotony of a copy driven blog is to add bullet points. It pains me to say that, because bullet points have become the go-to in programs like PowerPoint where they are so overdone they become ineffective, but in a blog it is just another way for the reader to catch their breath and ingest some little bits of information.
Visually, it helps break up the page
People are familiar with bullet points
And on some level, who doesn't like lists?
Smile and say cheese
One of the most effective ways to add visual interest to your site is through imagery. A single photo that illustrates the point or the overall message of your post is a fantastic way to keep a viewer interested. In combination with an informative headline, it is a quick and easy way to directly communicate to the reader what's in store and whether or not it's for them. It can also be the single most effective thing you can to to make your blog more attractive and inviting and help turn those "skimmers" into "readers." The right imagery will always make somebody stop and pay attention. You can almost say it "sets the mood." Think of them as the candles you light for a nice romantic dinner. It sets the atmosphere and lets somebody feel comfortable. And when they are comfortable, they are more willing to stay.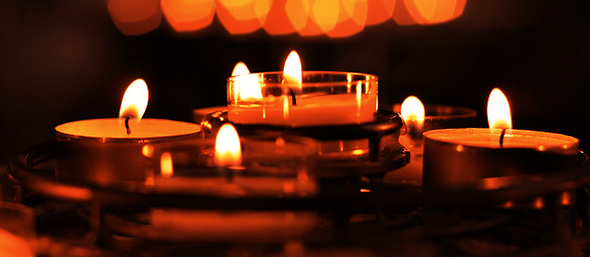 So where can you go to find photography? Well, there are plenty of paid and free resources available, but keep in mind your imagery doesn't always need to be custom photography. It could be a logo, a screenshot, a headshot, or something you even snap with your own camera. Just think about the subject matter of your post and find something relevant. Y'know, If you're talking about sunflowers, don't show an image of spiders. You can also find some great tips here.
Just the facts
Now if you don't have photography at your fingertips and your writing about something that is very data driven, show some charts or graphs to illustrate the data you are talking about. They do the two things that are most important when choosing visual assets. They are informative and they directly relate to the content being presented. So throw a pie chart in there, your readers will be thankful they didn't have to read through a bunch of data points and can consume it in a way that is familiar. Plus they are usually colorful and adding that pop of color is always a big plus.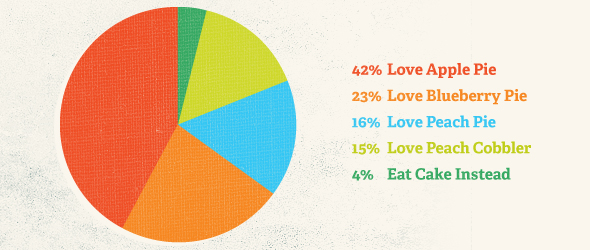 By following a few of these rules, you can definitely get your readers to stop and smell the roses. Or in this case, get them to stop skimming and start reading the valuable content you want to share.