When it comes to increasing a firm's presence online, it really comes down to being consistent in doing two things, and doing them well. The first is producing content that is easy to find on the web and the second is deconstructing that content that into smaller pieces that are easily shared via social media and other platforms.
1. Make Sure Your Content is Easy to Find
Is the content on your site live HTML or does it live within a PDF? Most consulting firms are producing a variety of good content, however, they could improve the way they're providing access to it on their sites. For the most part, whether it's a white paper, research report or article, frequently firms hide it within a PDF, rendering it almost impossible to find in an online search from an SEO perspective. These pieces of content are well designed and ideal for printing, but not so great in terms of increasing a firm's presence online – where the vast majority of their prospective clients are doing research.
Ideally, content should be available in HTML format on a webpage to give someone the best chance of finding it in a web search, although even providing an abstract overview of what's contained in the PDF would help with SEO. Firms that still want their content available in PDF format can have their content available on a webpage and also provide a link to download their content in a PDF.
For your more valuable pieces of content, you may still want to consider gating them behind a form to capture leads. Determining what content to gate and what to keep public is a delicate balance. You're weighing the value of the firm's intellectual property with the value of it as a client attraction device — keep in mind gated content isn't visible to search engines. If the content needs to be gated, make sure you have a search-friendly abstract of the content in front of the form. Based on conversations we've had, even large consulting firms acknowledge that the majority of their traffic comes in through web search, not through the firm's homepage. Therefore, making your content searchable from an SEO perspective is hugely important.
2. Make Your Content Go Further
Another great way to increase your firm's online presence is to make your content work harder. You can do this by breaking up your larger pieces of content and sharing them in more ways than just one. Take for instance the research reports your firm produces. When your firm produces a new research report, in addition to posting it on the web, break it up and find other ways to share the research within the report.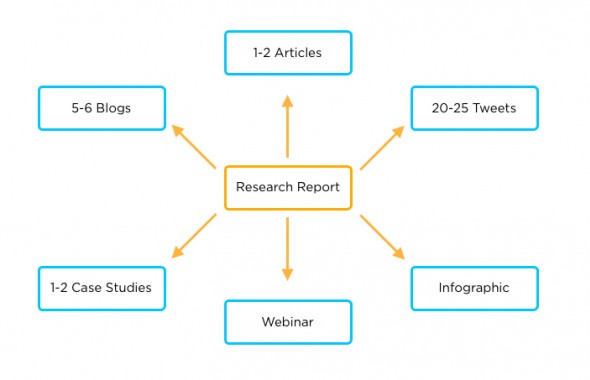 You can take each section of the research report and write a blog post on it with a link to the full report at the end of each post. Take out key statistics or insights and share them through your social media platforms, also with a link to the full report. You can also host a webinar to talk about the important concepts in your research in greater detail, or invite partners to read your report, write their own perspectives on it and share it on their website.
You can also use blog posts and articles to write about larger pieces of content that are gated behind forms like we talked about in #1. Doing so would allow you to allude to what's included in the larger research report, making it more visible from a search perspective, and allow you to go more deep into one aspect of the research.
Another great way to increase the life of your content is to find a way to make it visual. Pull out the main themes or topics of your research report and work with a graphic designer to turn them into an infographic that can be shared on your website as well as your social media platforms. Visuals are more likely to capture someone's attention and are easily shared via social media. Overall, breaking up larger pieces of content takes your firm's content further and increases the likelihood that a prospect will come across your content and visit your website to learn more.
Are You Blogging?
Managing a blog provides your consulting firm with a platform for sharing smaller, bite-sized insights and perspectives that can be powerful for attracting visitors and potential clients to your website. Blogs can serve up more informal interactions with web visitors, provide transparency and give prospective clients a better idea of what it might actually be like to work with you. A blog can also be a place to write about challenges from a recent engagement or meaningful accomplishments. In addition, it gives the people on your team a platform to talk about their work.
While you don't have to call it a blog, many firms prefer to call it insights, or insights and perspectives, it is a valuable platform for sharing your firm's content and thoughts and increasing your firm's presence on the web.
Closing Thoughts
All in all, increasing your consulting firm's online presence comes down to two things: creating content and producing it on your site in a way that makes it easy to find from a search perspective, and breaking it up into smaller pieces that are easy to share across different platforms, increasing the life and reach of your content.
Other Resources: