At-A-Glance
Client: TBM Consulting
Headquarters: Raleigh, NC
Industry: Operations Consulting
Key Takeaway
This story tells the history of our ongoing relationship with TBM Consulting which began in 2016 as a rebranding initiative and has evolved into helping TBM develop its thought leadership and market it digitally to improve the quality of the firm's leads and grow opportunities in the pipeline.
TBM is the operations and supply chain consultancy responsible for first introducing American manufacturers to the Japanese concepts of lean and six sigma. After enjoying a long period of rapid growth in the 90s, the company saw sales drop significantly following the Great Recession, which heavily affected manufacturers—its primary target market. TBM engaged Rattleback to help overhaul the brand and reposition the business for renewed success in an evolving business climate. The partnership has helped TBM:
Launch a fresh, energetic brand identity
Clarify its point of view and create an effective, on-brand messaging strategy
Improve its thought leadership marketing programs to bring in more quality leads
Grow revenue and build a more cohesive global marketing function
---
So many changes were happening in the industry, and we hadn't invested the time to rethink our service offering or identify where we fit in. Our marketing strategy had become 'be all things to all people,' and it was no longer working.
Bill Remy
President and CEO
TBM Consulting
The Obstacle
A Brand that Had Become Everything to Everyone
Over the years as TBM grew, the firm began adding many niche services to cater to many different industries. At the same time, its core area of expertise had become somewhat commoditized. The initial brand strategy—grounded heavily in lean—no longer resonated the way it once had. A leadership change and evolution in how the company wanted to be viewed added to the problem. Then, when the recession hit, it compounded these issues, and TBM found itself operating without a clear sense of who it was and the value it could offer its clients.
OLD LOGO
NEW LOGO
---
In some ways, TBM had become viewed as yesterday's solutions to yesterday's problems. Lean wasn't new anymore. The brand looked dated. And the messaging had become so complex it was difficult to understand what the brand was about. But TBM's leadership team demonstrated courage to completely reposition the company and take it down a narrower, more focused path.
Jason Mlicki
Principal
Rattleback
The Solution
Repositioning the Business to Succeed in a New Era
The Rattleback and TBM teams aligned around the immediate need to rethink the corporate marketing strategy and reign in the positioning. By taking a purposeful approach to rebuild the brand from the ground up, TBM established a solid foundation on which it could build out its marketing efforts. Based on the new positioning, TBM realigned its brand strategy, consolidated its service mix, redesigned its digital experience, and reimagined its approach to thought leadership marketing. The process included:
Establishing a point of view
As a first step, Rattleback and the TBM teams came together in 2016 for a marketing review and some much-needed strategy and messaging work. The primary objective was to streamline the firm's industry focus and service offering—they had more than a dozen of each—and align everything around a strategic point of view that could help the firm better articulate its value.
When we first started talking to TBM, they, like many firms, had fallen into the habit of talking only about features. But the leadership team took a leap of faith, and once they did, they were able to tell a more cohesive story built around one governing idea - a central set of beliefs.
Jason Sutton
Account Manager
Rattleback
TBM recognized that the differentiator and value of its approach came down to the idea of speed and its ability to work at the point of impact to quickly move the needle and generate results for clients. "Speed wins every time" became the cornerstone of the consultancy's marketing strategy and served as a basis for narrowing both its service mix and industry focus—a challenging process that initially received a lot of internal pushback. After aligning the team, Rattleback crafted a new messaging platform beginning with its corporate umbrella message and supporting messaging around the six identified key service areas to better articulate the positioning and solidify the importance of speed and rapid results in each of TBM's core areas of expertise.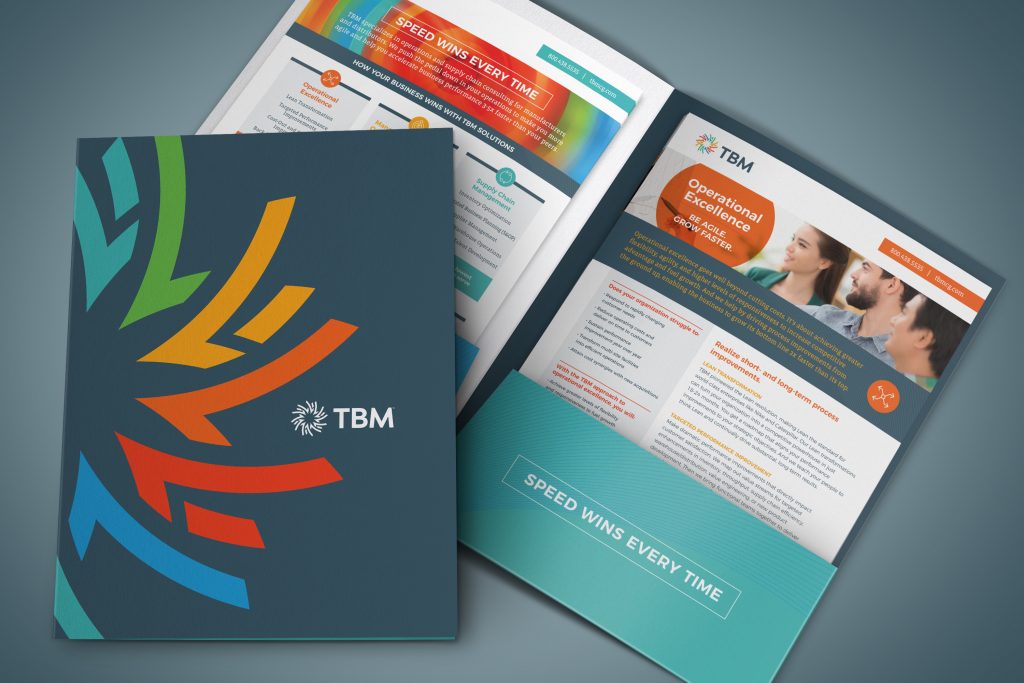 Visually representing the brand
With the POV established, the TBM team turned its attention to identity. Rattleback presented a diverse and vibrant color pallet along with a new logo and mark—the TBM Spark—to bring the message to life. The colors and mark work together to tell the brand's story of speed, momentum, and working at the point of impact.
Reengineering the website
The Rattleback team presented a new architecture for the TBM website based on the firm's six core solutions. We helped TBM tackle its massive content library and streamline its assets, going from more than a dozen formats down to six content types. And we optimized the site for conversion by connecting the firm's thought leadership to its proof and capabilities.
Enhancing the content strategy
With a new home for its thought leadership, TBM began maximizing its ability to impact how clients think about their pressing operational issues. Rattleback helped the TBM marketing team select and implement the right marketing automation software – Pardot – and bring the capability to leverage it in-house.
Marketing gained the ability to stay focused on promoting our core solutions, a process that began delivering immediate positive feedback. Clients were telling us how much clearer our messaging was and that they better understood who we are and what we do.
Angela Scenna
Director of Marketing
TBM Consulting
We also helped the team changed its content focus from one based on quantity to one focused on quality. With its new POV and narrowed service line focus as a guide, the marketing team had a better handle on the type of content it needed to create. It began focusing less on producing fewer one-offs and more time producing thought leadership that could help solidify the firm's positioning and central point-of-view. Since 2017, Rattleback has helped TBM through the process of creating major cornerstone content assets and then distilling them down into more digestible formats including blog posts, articles, and infographics. Finally, Rattleback has worked with TBM to optimize and expand on its organic content delivery model which includes the use of email marketing, social media, on-page search optimization, and lead nurtures.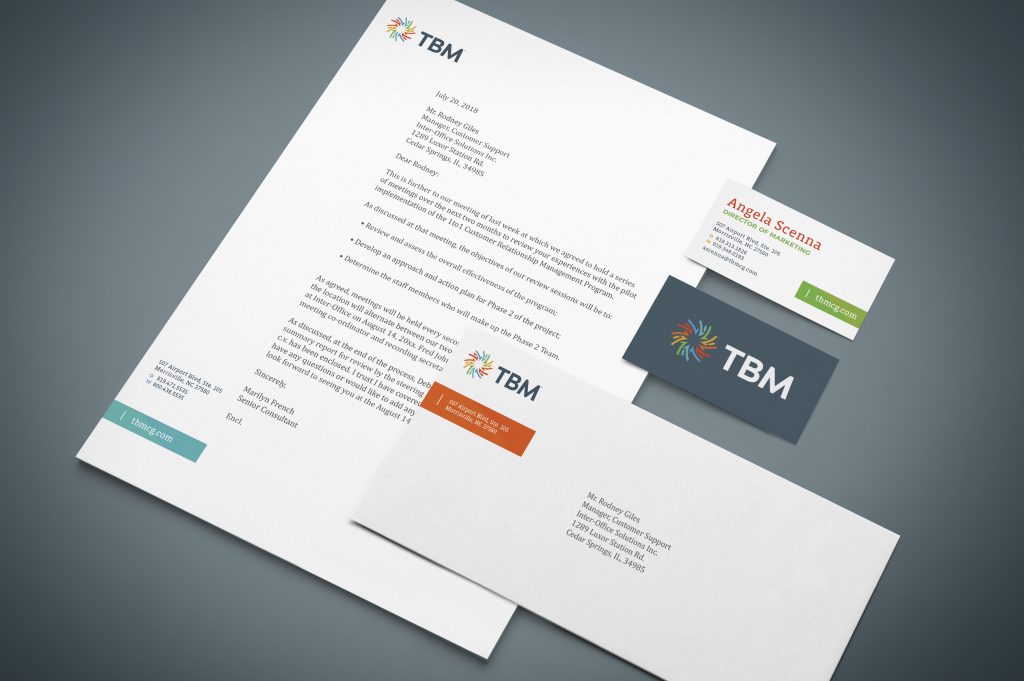 Looking beyond the known audience
The next step for the TBM marketing team has been to amplify its thought leadership beyond its existing customer and prospect network. To help, Rattleback has been working with TBM to develop and implement a comprehensive SEO strategy and to develop its paid media strategy.
In 2018, TBM expanded beyond its search and paid display focus and began testing sponsored posts within LinkedIn with the goal of gaining exposure to new targeted leads. It's an effort that has seen early success with both an increase in new visitors coming into the website as well as higher quality leads being generated.
---
The Result
More Qualified Leads and Renewed Growth
Since the initial brand and website launch in April 2017 the TBM marketing overhaul has delivered top- and bottom-line growth across all key metrics:
Overall web traffic has increased 83%
Website conversions have increased 138%
Marketing qualified leads have increased 20% and the value of opportunities have increased 20%