At-A-Glance
Client: TBM Consulting
Headquarters: Raleigh, NC
Industry: Operations and Supply Chain Consulting
Key Takeaway
This story tells the evolution of the thought leadership we have been developing and digitally marketing for TBM Consulting since 2017 to improve the quality of the firm's leads and grow opportunities in its pipeline.
TBM is the operations and supply chain consultancy responsible for first introducing American manufacturers to the Japanese concepts of lean and six sigma. After helping the company successfully redefine its point-of-view and rebuild its brand to better align with the current needs of its target market, Rattleback began the work of overhauling and strengthening the company's thought leadership marketing programs to get the word out. The initiative has allowed TBM to:
Use thought leadership content to solidify the firm's new positioning and central point of view
Grow visibility through a 70% increase in website traffic
Grow revenue by nearly 20%
Launch and grow a new talent practice while expanding its existing supply chain and technology practices
---
The Obstacle
A Content Strategy Based on Quantity vs. Quality
Over the years as TBM grew, the firm began adding many niche services to cater to many different industries. Its brand had become everything to everyone and its marketing followed suit, with many one-offs produced at the request of various leaders and consultants and nothing to anchor the messaging and create cohesion around the firm's communications.
---
Marketing gained the ability to stay focused on promoting our core solutions, a process that began delivering immediate positive feedback. Clients were telling us how much clearer our messaging was and that they better understood who we are and what we do.
Angela Scenna
Director of Marketing
TBM Consulting
The Solution
A New Point of View and the Thought Leadership to Back It Up
Rattleback first led TBM through some much-needed strategy and messaging work to streamline the firm's service offering and align around a point of view that concisely articulated the firm's primary differentiator and value: speed and the ability to work at the point of impact to quickly move the needle and generate results for clients. With "Speed wins every time" as the cornerstone of the consultancy's marketing strategy and a narrower service mix—down from more than a dozen to six key services—the marketing team now had a North Star around which to focus the type of thought leadership content it needed to create.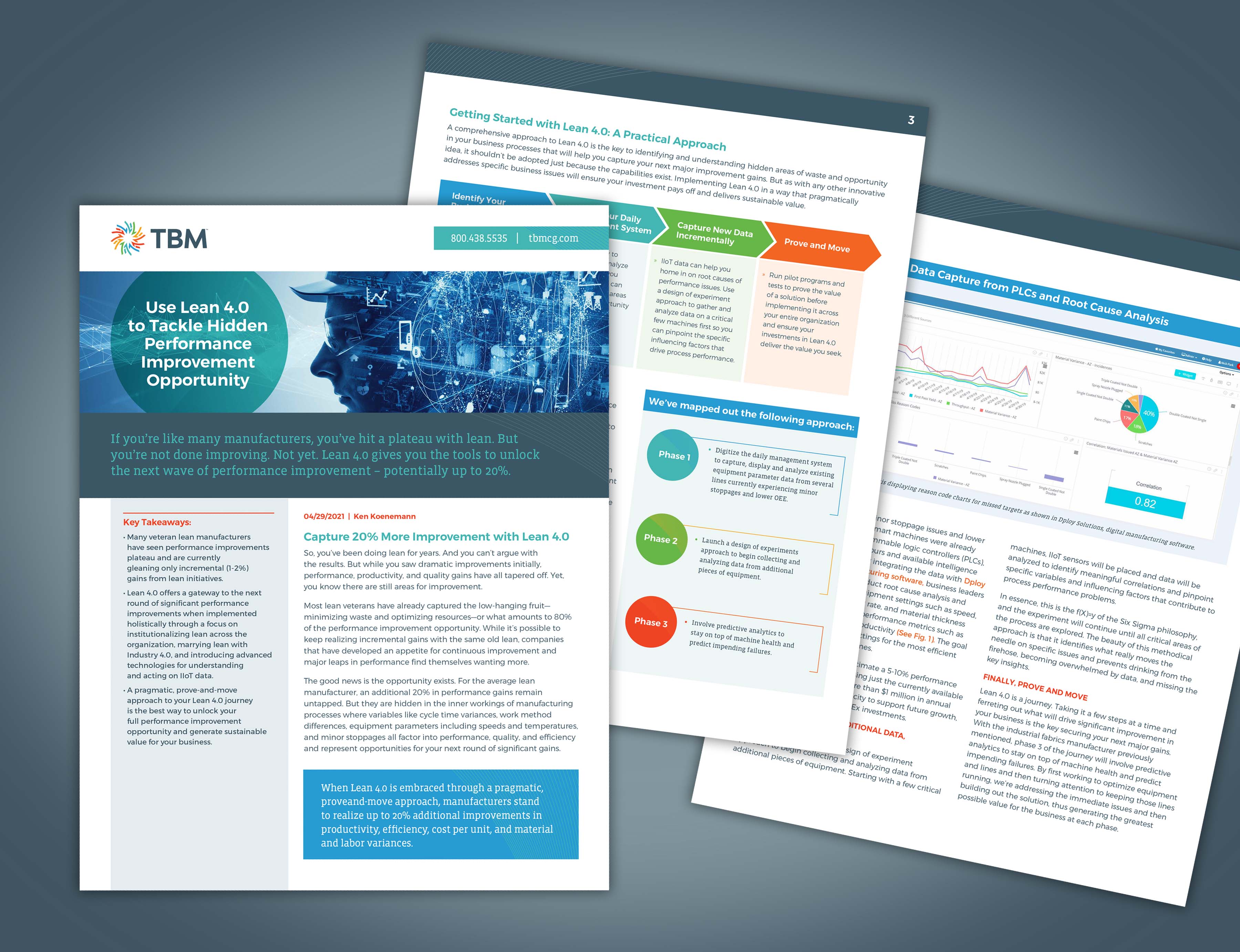 Shaping how clients think about crucial operational issues
Marketing began producing thought leadership to help solidify the firm's new positioning and central point-of-view. Since 2017, Rattleback has helped TBM through the process of creating major cornerstone content assets and then distilling them down into more digestible formats including blog posts, articles, and infographics.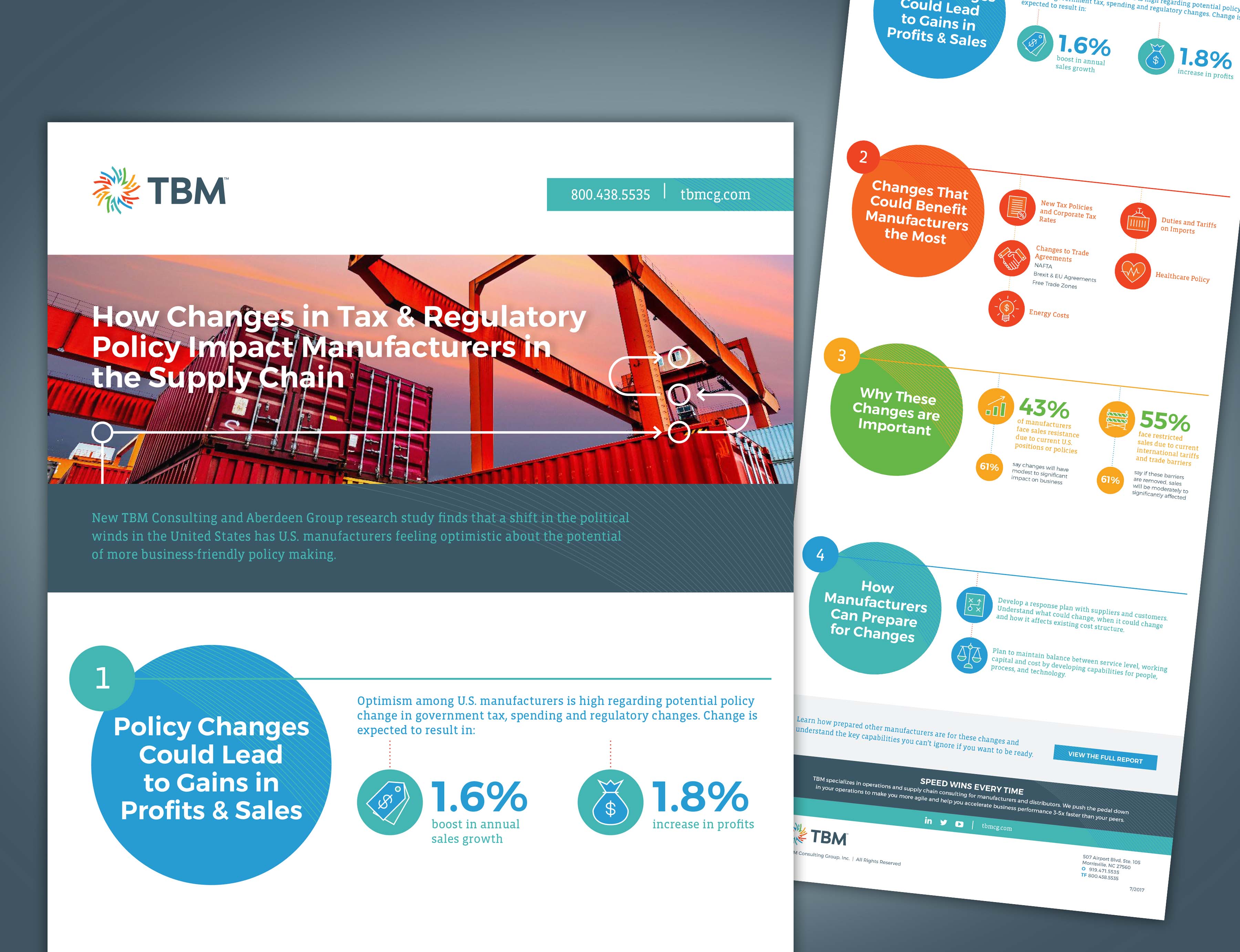 Working closely with leaders and subject matter experts from each of the six major practice areas, we've honed in on the key situations and complications clients face in their operations and supply chains. We've helped the firm develop and regularly contribute to a rich and growing library of both longer- and shorter-form content assets that unpack these issues and illustrate how TBM's speed-based approach can pave the way to better solutions. Collectively, the firm's thought leadership assets establish TBM's authority in the industry, reinforce the soundness of the firm's point-of-view, and attract the kinds of clients that TBM wants to serve.
Perfecting content delivery and looking beyond the known audience
Early on in our work with TBM, Rattleback helped the marketing team select and implement the right marketing automation software – Pardot – and bring the capability to leverage it in-house. We then worked with TBM to optimize and expand on its organic content delivery model, which includes the use of email marketing, social media, a comprehensive SEO strategy, and lead nurtures.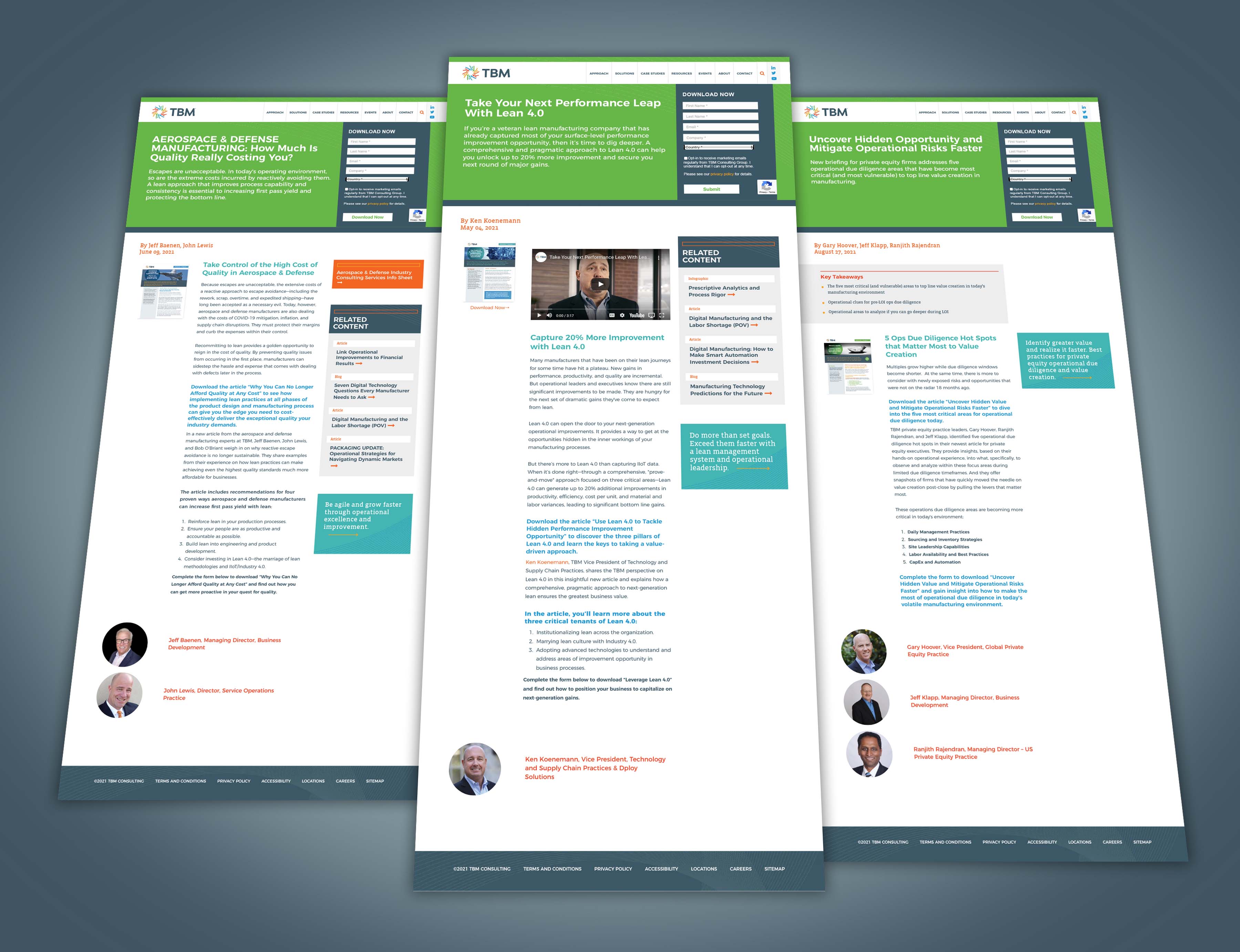 When a company grows, there is obviously a lot that factors into it. But the marketing piece—getting clear about what we do and how and why we do it—was critical. Rattleback helped us accomplish that.
Bill Remy
President and Chief Executive Officer
TBM Consulting
Responding to COVID-19 head on
Like many firms, TBM kicked its thought leadership marketing into high gear in response to the global pandemic. Its target market—midsized manufacturers—were hit hard by changing consumer demand patterns, talent shortages, and disrupted supply chains. TBM stayed in communication and in tune with its clients' biggest needs and concerns at every step, turning out useful content and tangible takeaways manufacturers could use to weather the worst of the storm, bounce back, and ultimately adjust to the "new normal." Rattleback established a COVID-19 Resources page on the TBM site. Between March 2020 and October 2020, we helped the TBM practice leaders and consultants fill it with nearly two dozen on-point articles and posts reiterating why speed still wins, especially in a worldwide health crisis.
---
The Result
More Qualified Leads and Renewed Growth
Since beginning to up its thought leadership game in April 2017, TBM has realized both top- and bottom-line growth across all key metrics:
Overall web traffic has increased 70%
2-3x increase in qualified leads generated from marketing