This post outlines 3 advanced tools you can use to convert more potential clients on your firm's website.
Earlier this year, I mapped out a 3-Phase Model for delivering new clients to your practice. The article put forth our belief that every new client you win this year and for the forseeable future will go through your website. With this in mind, you can group your digital marketing activities into three sequential phases. Each phase is characterized by its objective — Attract, Convert, Nurture:
The Attract Phase is all about how you deliver potential clients to your site (and your practice). While most thought leadership marketers think first and foremost of events and public speaking, our experience has been that search drives the largest proportion of potential clients. So, if practical solutions to SEO are not on your radar they should be.
The Convert Phase is really about building a receptive audience for your point-of-view. It's about taking faceless site visitors and turning them into known potential clients for follow-on marketing. We've written about conversions at length in the past. Our accompanying articles 6 Best Practices for Your Website User Flow and Assigning CTAs to Your Website User Flow provide a sense of how to progress a client through your site and convert them along the way. In 4 CTAs Your Website Should Have we go a bit deeper into the specifics surrounding some critical conversion tools you should have on your site.
The Nurture Phase, which we'll cover later this year, is about nurturing that receptive audience and generating conversations (think projects and revenue) from it.
In this article, I want to take a look at some advanced conversion tools you can use to increase the percentage of potential clients that visit your site and become part of your receptive audience. I'm sure you've probably experienced most of these things in your own daily Internet use even if you've not used them yourself.
Now, I have a longstanding practice of only writing about things we've tried successfully on our own. In this article, I'm breaking that practice and sharing things I find interesting that we'll be exploring more this year. As we test these different toolsets I'll come back and share our findings:
Website Overlays
Smart Bars
Scroll Boxes
#1 – Website Overlays
Different software providers call these different things. Sumo calls them Welcome Mats. Unbounce calls them Convertables. Regardless what they're called, they're all pretty similar in concept. A website overlay is basically a large visual landing page that you can overlay on top of any (or all) pages on your site. It's like a pop-up but because it allows you to cover the entire site page real estate it feels a little more natural.
It's not technically a gate because it doesn't block the visitor (or Google) from the content on the other side of the offer and form. Rather, it just interrupts the visitor in their journey — so if someone searches for your firm and arrives at a page on your site, you may present them with an overlay that offers them access to a specific piece of content that's entirely different than the page they came for. Essentially, it gives you the ability to drive the client's journey a bit.
If the visitor decides to complete the action and download the content, the system captures the information, redirects them to a landing page you created, and adds them to your database. All these systems integrate with most email marketing systems and some marketing automation platforms so you'll be able to deliver them automatically to your subscriber lists as well.
Here's an overlay I built using HelloBar in less than 2 minutes (it's not pretty nor live; but just wanted to give you an idea of how quick and easy these tools really are):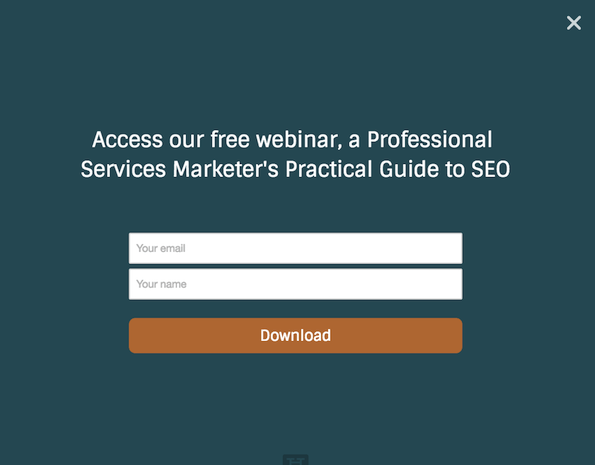 Generally speaking, I'm not a huge fan of overlays because they tend to be highly disruptive to the client's desired journey. But, there's a lot of data showing them to be very effective in consumer marketing so I find it hard to believe that there aren't effective ways to use them in professional services marketing as well. My general advice on using website overlays is to be thoughtful of:
Where you use them. Don't use them on every single site page. Pick out pages that drive a lot of traffic but don't lead to many subscribers and test there first.
Who you're targeting. Don't present an overlay to every visitor to your site. Use the targeting tools in the systems to present overlays to new visitors or return visitors who aren't subscribers. There's no need to invite someone who arrived to your site via email to subscribe to your newsletter; clearly they already have.
Why you use them. Use them to nudge potential clients towards really high value content or content that frames your firm's unique point-of-view on a topic. Use them to redirect people from older content to newer content on similar topics.
When you use them. You've probably noticed more and more sites timing the presentation of their overlays at different moments in time as you're interacting with their site pages. The most common one I've seen lately is timing the overlay with the moment your cursor leaves the browser window and moves to the browser URL field. This is basically just a trigger within a system like Unbounce that presents the overlay at a specified time. This is a clever way to try and "recapture" those visitors who are showing indicators that they're leaving.
#2 – Smart Bars
These are simple static bars you can place at the top or bottom of a site page that encourage visitors to take a specified action — download an eBook, subscribe to your newsletter. They stay there until the action is taken and can be deployed across the entire site so that the visitor sees the option no matter where they travel within the site. This is a smart bar I created in about 2 minutes using HelloBar (again, not pretty, but quick and easy — note you can lose their logo with a paid account):

One of the really nice features of HelloBar is that it crawls your website the moment you sign up for a free account and finds all your known color schemes. This helps you quickly create smart bars and website overlays that match your firm's color palette.
Smart bars are a pretty simple response to the continuing demise of the right side bar on most sites. They enable you to make a call-to-action "sticky" (meaning it doesn't disappear when the reader scrolls down the page) and place it in a prominent place on the site (generally at the top or bottom of the page). They're not intrusive to the user in anyway so the only real consideration in using them is ensuring that they don't compromise the existing site design in some way or form.
#3 – Scroll Box
This is Sumo's version of a pop-up. Like an overlay, a scroll box lets you present a content offer directly to a site visitor as they're interacting with a page. What's clever about a scroll box is that it allows you to display the pop-up from different points on the page (not just in the center) and it lets you trigger the presentation of it based on how far down the page the reader is. It's not just going to be static at the top or bottom of the page like a Smart Bar. It's going to present itself at a specified place in the browser at a moment in time. So, you can present it at a specified place on the screen to people who've read a certain portion of the content and invite them to sign-up for your newsletter in a bit more relevant way (though, you're clearly still interrupting their workflow regardless).
Costs of Conversion Software
In this article, I outlined some of the feature sets of 3 systems — Sumo, Unbounce and HelloBar. Clearly, there are hundreds more systems like these you could consider. Some of these features may actually be available within your existing marketing automation system as well. Like any marketing software you might test, all of these different systems have varying price points, though none are outrageously expensive (rarely more than $100/mo for what you might need to give it a try). Most have a free version or at least a free trial.
Closing Thoughts
In our upcoming webinar on conversions, we'll cover these technologies as well as many of the fundamentals outlined in our articles on website user flows, conversions and calls-to-action.
If you're a marketer in a professional services firm, and you're using one of these conversion tools, feel free to share your experiences in the comments below. While we do moderate all comments (to keep spammers at bay) we always publish thoughtful responses.