A retrospective look at where B2B marketing has been in the last 20 years and what will be critical looking ahead.

Two years ago a good friend of mine, the CMO of a well-known leadership development and training firm, told me he was walking away. Not from the firm. Not from the industry. He was leaving marketing altogether.
I was shocked. This was a talented, senior marketer saying he no longer wanted to practice his life's work. When I asked him why, his answer took me aback. "I loved the art of marketing. But, I hate the science of it."
At the time I just shook my head in disbelief. I loved both the art and the science of marketing. Now, with the benefit of hindsight I completely understand. Over the last decade the world of B2B marketing has swung as if on a giant pendulum from one that embraced creativity and big ideas to one that values metadata, SERP results, measurement and ROI over all else.
Now, to be clear, I earned my undergraduate degree in mathematics. I love statistics. I love A/B testing. I love measurement. I love algorithms. I love everything about analytics. In my heart, I am and always will be a quant.
That said, when I look out at the next 5 years of B2B and professional services marketing, my sense is that the big opportunities will go to those marketers that bring back the art of marketing. More specifically, the spoils will go to the firms that use data to generate industry-changing insights and rely on creativity to mold that insight into big compelling ideas that actually change the marketplace. It will be the firms that pull that pendulum back to center and find that healthy mix of art and science in the work they do that will win the day. But, let's take a moment and look back at where we've been and where I think we're going:
Glory to the Artists: B2B Marketing From 1999-2008
Rise of the Scientists: B2B Marketing From 2009-2018
The Marriage of Art and Science: B2B Marketing in 2019+
Glory to the Artists: B2B Marketing From 1999 – 2008
When I reflect on my 20+ year agency career it's pretty easy to see that there have been at least two distinct eras during that period in the world of B2B marketing. The Internet emerged as a true commercial platform in 1995. But, as recently as the early 2000's it was still just another technology. It was just another means of reaching customers. Content management was expensive. So, content publishing was still heavily controlled by developers. Analytics were scarce. Search technology was mediocre at best. Sure, Yahoo! had built a directory of websites with a rudimentary search tool. But, Google was still pretty much just a graduate school idea, and had not yet emerged as the central node on the world's information network that it has become (the idea was conceived in 1996, but the company didn't go public until 2004).
When I think back on the work we did around customer acquisition in this era, it was offline first — the digital portion of the campaign was always secondary. And, it was always driven by the idea — developing creative ways to connect sellers with buyers. We did a lot of unique things to open doors and make those connections. From mailing custom branded food trays to sending viewfinders that drove recipients to website landing pages and developing promotional videos that personified clients' major pain points as real people. Once, we literally built and mailed an entire house of cards to prospective clients on behalf a financial services firm.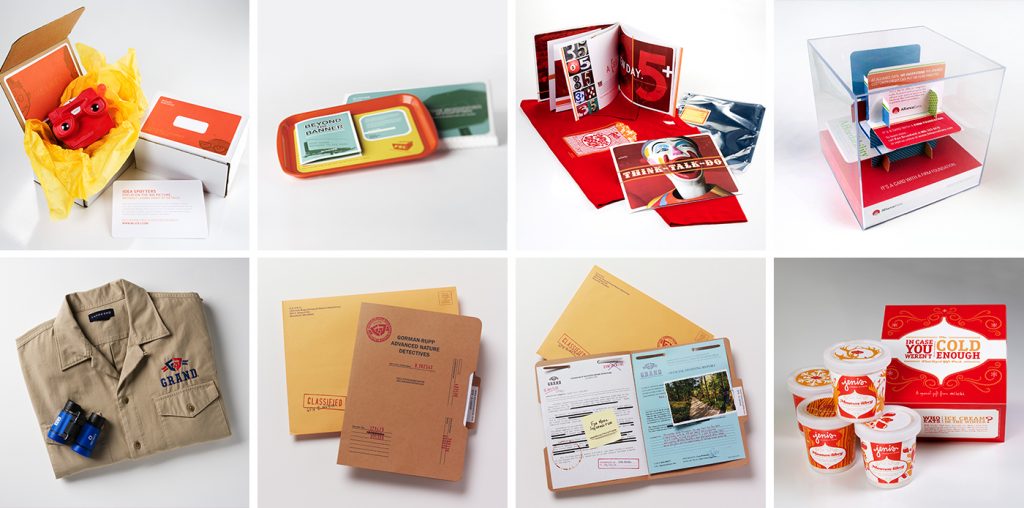 During this period of time, the more creative the campaign the better. We used paid media, direct mail, email, video, interactive content, mixed with thought leadership. And, generally speaking, it worked. The bigger the idea the more effective the program, regardless of the tactics.
Rise of the Scientists: B2B Marketing From 2009 – 2018
Of course, then something big happened. The financial system nearly melted down the entire global economy. Companies that were once considered stalwarts of their industry disappeared overnight (Bears Stearns, anyone?). Others that had been darlings of the corporation became massive corporate liabilities within weeks (GE Capital?). And, many professional services firms, our core clientele, shaved 30% or more off their top-line in just one year.
While the chaos was massive, in the world of B2B and professional services marketing it was really just a sideshow. The big changes that were impacting the craft just happened to coincide with this big, memorable event. By 2009, Google had made effective, useful real-time search of virtually anything pervasive and had radically changed consumer buying behavior. SEOs were people. SERPs were a big deal. Content management was cheap or open-sourced. Email marketing was finally useful. Marketing automation was finally affordable and intuitive. Social media was emerging though we still weren't sure what to call it. CRM was in the cloud being delivered "as a service" (though at the time we were still calling that an "ASP"). Suddenly, we had cheap or free web analytics. We could easily self-pubilsh. Sellers could connect with buyers easily, cheaply and effectively using digital marketing. Content marketing exploded into the stratosphere. And, gradually it became a whole lot easier to track things. Optimize things. Measure things. Improve things. And, prove ROI.
This confluence of emerging technologies and marketplace changes made the last decade the age of the marketing scientist. Finally, the Internet was no longer just a channel. It was THE channel. This opened the door to whole new ways of looking at marketing. It spawned the inbound movement (thank you Hubspot). For the first time ever we could actually peer inside a B2B buying process using marketing automation and other digital technologies the same way ethnographers had studied retail buying behavior for decades. This, of course, led to funnels, conversion flows, lead scoring models, lead nurturing programs, MQLs, SQLs, and SRLs. Suddenly, we had the ability to mine behavioral data to find sales-ready prospects and flip them over to a sales person at precisely the moment the time was right. Digital marketing essentially took over all B2B marketing.
But, over the course of the decade this new found science of marketing has definitely come with a price. We've become addicted to data. We're inclined to measure every single tactic and every single point. We want to abandon strategies on the whim of a data decline. We only want to talk to highly engaged prospects (only inbound leads or those that have demonstrated digital buying behavior).
Gradually, big ideas have become second fiddle to search position. We've stripped out creative headlines in favor of keyword-laden phrases in the hopes they'll help us grab position 1 (or maybe position 0) of a search result. We shove those same article headlines into content analyzers to optimize them for social media. We A/B test images, headlines, subject lines, email messages, and advertisements. We develop 20 options and let the algorithms figure out which one will win.
Now, don't get me wrong. All this stuff is amazing. We do all this for our clients and for our agency every day. Our ability to attract potential clients through search engines, identify high potential ones from within a data set and nurture them towards a sales conversation today is remarkable. And, of course, the measurability of all this is even better.
Yet, the winds are changing…
The Marriage of Art and Science: B2B Marketing in 2019+
Looking ahead, three big changes are ushering in a resurgence in the art of marketing — a broader view on measurement, increasing data regulation, changes in buyer behavior.
"Half the money I spend on advertising is wasted; the trouble is I don't know which half." In some ways this quote, attributed to 19th Century retailer John Wanamaker, was what enabled the "art of marketing." For decades marketing measurement was elusive if not down right impossible. It was easy to just follow in blind faith that a big idea would work. And, even easier to claim in hindsight that it did. In the last 10 years, I've regularly found myself saying that this quote which has been in the industry for 100 years is no longer true. Virtually everything is now measurable. And, of course, that's a fabulous place to be as a professional services marketer. Finally, we can prove the success of a thought leadership campaign. That said, many marketing functions are over-thinking the very metrics they've developed. We've had too many conversations over the last decade about a one-tenth percent drop in email open rates. An obsession over metrics is unhealthy. Looked at in isolation, virtually any marketing tactic can appear to be unsuccessful. The most successful marketers in the decade ahead will stay focused on the big picture. Yes, we'll continue to measure. But, we'll focus on measuring the success or failure of the total campaign rather than obsessing over the statistics related to any one tactic within it. Ultimately, measurement at the price of creativity is not sustainable.
Simultaneously, data privacy laws are prying away the digital visibility we've become used to as marketers. Last year, GDPR opened a whole new layer of regulation around data privacy. While the regulation is broad and far reaching, one aspect of it will have a big impact on the science of marketing. Now, marketers doing business in the EU can only ask for the information they require to fulfill a client's online request. This sounds like a nominal thing. But, the effect will be a decline in the availability and usefulness of behavioral data. Eventually, regulators in the US and in other parts of the world will follow suit. While regulation in the US will surely be much weaker and take much longer to come to market, it will likely come eventually. Ultimately, in the near-term future it seems likely that marketers will need to learn to make do with less attributable data than they're used to.
Finally, how clients consume media is changing. On the whole, people are migrating away from "lean-back" content — articles, blogs, eBooks and white papers. And, they're migrating towards "lean-in" content — interactive content, videos, podcasts and audio books. While "lean-back" content is easily served through owned channels (remember the rise of cheap content management and self-publishing), "lean-in" content is primarily served through 3rd party platforms (YouTube, iTunes, Stitcher). The net effect to the marketer is a relative decline in the quantity and quality of data available to them in order to inform their marketing efforts. We simply get less useful, actionable edata out of Libsyn or Blubrry than we get out of Hubspot or Act-On.
Closing Thoughts
In the decade ahead, big ideas, more than ever, will be the glue that holds a successful marketing program together. The best marketers will marry the art with the science of marketing.
They'll do that by using data to uncover new marketplace insights. They'll turn those insights into big, compelling ideas. Those insights will serve as the basis for thought leadership that's visual, interactive, and entertaining. They'll deliver it through multiple channels and formats. They'll orchestrate it into a story that leads clients through the discovery process of learning, vetting and hiring. Yes, they'll measure everything they're doing. But, they'll measure the success of the overall program. And, put less and less thought into the individual performance of any one specific tactic.