2016 marks the pivotal year when Boomers in the C-Suite begin to meaningfully retire and hand the reins over to their Gen X peers. This article outlines the demographics underlying this transition and its impact on professional services firm marketers.
The economy's been humming along like gangbusters for 5-6 years now. Unemployment's dipped back down around 5%. The S&P 500 is almost 3x what it was at the trough of the recession. Heck, things are so good that the Fed actually raised interest rates for the first time since 2006. And, economists are pointing to more healthy economic conditions in the next few years. The ride over the last few years has been good for most consulting and A/E firms I know. A/E firm project backlogs are as healthy as they've ever been and one of our management consultant clients told me this is the "busiest time he's ever experienced in his career."
But, there's a dirty little secret hiding inside all this prosperity. One you may not be paying a whole lot of attention to. But, one that should scare the pants right off you — you're clients are retiring, and indicators are that your new decision-makers behave a bit differently.
Boomers are Retiring. Millenials are Replacing Them.
If you're at all interested in demographics, you've probably followed the story, as told by the media, over the last few years. We have an aging society. Boomers (defined as people born between 1946 – 1964) are retiring. As a group, Boomers are a rather large percentage of the population and the workforce. From a consumer marketing and workforce demographics perspective, the story has been entirely focused on the transition from Boomers to Millenials (folks born between 1984 – 2004).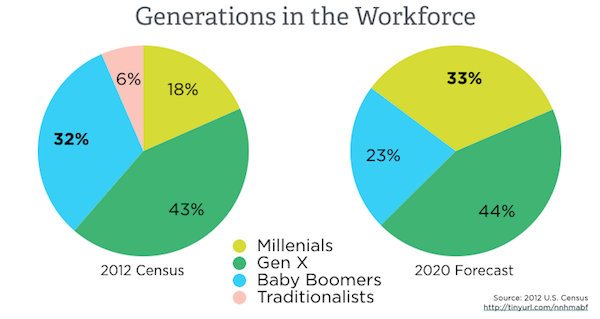 Consumer marketers are literally falling over themselves trying to figure out how to connect with Millenials and usher in this new era of consumers (some who are as young as 11 now). Sandwiched somewhere in the middle of all this is a relatively small group of people called Generation X (folks born between 1965 – 1984). Consumer marketers pay less attention to this group because of their sheer numbers (there's simply a lot less of them than the other two groups).
But, Gen X is Grabbing the Reins
That said, for professional services firm marketers, the growth of Millenials in the workforce is less of a pressing concern, at the moment. A/E and consulting firms need to be entirely focused on that sandwich generation — Gen X. As Boomers retire they're handing over the reins of leadership to Generation X. And, 2016 is the first year of this pivotal transition.
According to research produced by consulting firm, Alvarez and Marsal, the average age of a corporate CXO is 51 – 57. The age skews on the high side of that range for CEOs and towards the bottom side of the range for CFOs and COOs. As it happens 2015 was the year when the youngest Boomers turned 51 and the oldest Gen X'ers turned 50.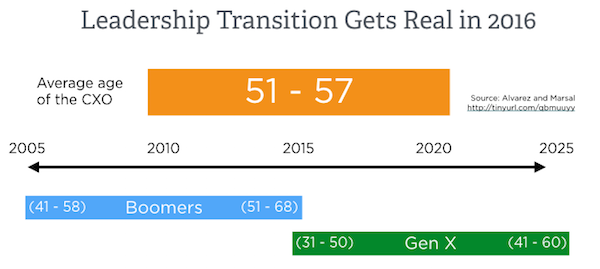 So, 2016 is the year when this leadership transition begins in full force. Everything we've talked about related to content and digital marketing over the last 3-4 years now gets really serious. You're either in it to win it. Or, you're in serious trouble.
X'er's Buy Differently
At Rattleback, we believe this leadership transition will be the single most important change facing every architecture, engineering or consulting firm over the next 10 years. Everything you've learned about marketing your firm has been built over the last 10 years — a period where both firm and client leadership was practically all Boomers. What may have worked well in that 10-year period might continue to work over the next 10. But, many sign posts tell us that significant changes to your strategy are going to be necessary.
While there's not much data on this (for reasons already stated — most market research being done right now is focused on Millennials; even the research I cite here was really focused on Millenials), the limited data (and our own intuition) tells us that X'ers can and will make decisions differently than their predecessors. A study into B2B buyers, funded by IBM last year, found that X'ers place more emphasis on the web, on authored content and on industry analysis than their predecessor. Simultaneously, they place less emphasis on attendance at trade shows or conferences. In short, when making business decisions, they're much more likely to value knowledge and expertise and a little less likely to lean exclusively on relationships.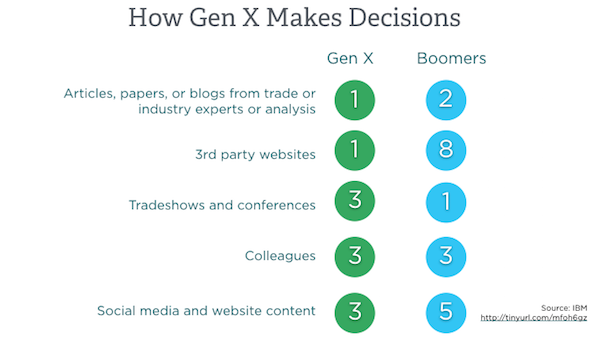 The Expert or the Relationship?
I'll use a short story to demonstrate my point — I live in a small suburb of about 35k people. Our community has 9 schools, and most of them were either built in the 1950s or received their last major improvements around that time. Unfortunately most of them now need significant renovations or need to be rebuilt altogether because they no longer meet the needs of a 21st Century education. So, the school system hired a set of master planners to facilitate a discussion around what to do, how to do it and, of course, what it's going to cost.
When I first heard of the planning process, I was dismayed. The lead architect is a very talented and reputable, mid-sized (150-200 person) local firm. They've done a lot of high profile work in this region that cuts across 8-10 industry sectors. In short, they're a a very good, yet diverse, firm. But, still, I was dismayed. Why? My feeling was simple — if we're going to invest upwards of $250M – $500M into our school system we should absolutely be working with recognized global experts. The firms who eat, breathe and live design of educational spaces. We should go find them, wherever they are (I could name a few), and bring them here to create facilities that establish our school district as one of the best in the world. We have the resources to do it so let's be all in. As you probably already guessed, I sit squarely in the middle of Gen X.
I've shared my perspective here-and-there with others in the community. Finally, I found someone who was equally dismayed. She just couldn't understand why in the world we had to go to Chicago to bring in an educational expert. Isn't there someone local who can do this work? Of course, she's a Boomer.
In case you didn't figure it out, the community had hired both a local firm and a global expert through a joint venture of some kind. But, that's not really the point of the story. The point was to make the demographic and survey data I shared above real. This is the fundamental shift in mindset that your firm faces. And, it's going to play out in communities, board rooms, and client teams over and over again in the next decade.
My belief is that many of your new Gen X clients will think much like me. If they're going to make a substantial investment in something (be it facilities, infrastructure, strategy changes or process improvement), they want to work with recognized subject matter experts — wherever they are. They'll find them through thought leadership, through industry journals, and yes, they'll find them online. And, as I see it, those voices are just going to multiply in number and be more influential than they are today (because now they have the helms).
Gen X Is Your Agenda for The Next Decade
In our recent webinar, Client Demographics: The New Buyers, I shared the Rattleback Marketing Capabilities Model. In the model, I described the four critical marketing skills every professional services firm needs to build to be successful in the decade ahead. If you didn't attend, watch the recording, and get started.
The next decade goes to the firms that really understand how to connect with Gen X. Will your firm be one of them?