There was a time when it made a whole lot of sense for a single company to produce Saturday Night Live, manufacture microwaves, provide consumer credit cards, create medical imaging systems and build jet engines. Unfortunately, that time is not today or tomorrow. In this month's article, we take a look at the transformation underway at GE and talk about what it means to today's professional services firms.
In case you haven't been paying attention, a lot of interesting things have been happening at one of the world's largest companies over the last year or so. GE has been undergoing a massive transformation — shedding whole segments of its business while deepening its focus in the industrial space. The story is really one of tremendous leadership courage. And, it's predicated on a view of a global economy that looks a lot different from the one we've become accustomed to over of the last 15-20 years.
In an interview with McKinsey last Fall, Jeff Immelt, described the company's strategy going forward. This one paragraph should give the leader of every professional service firm pause:
"My assessment of the world is that we're really in this period of slow growth and volatility. There's just not a lot of tailwind; you have to make your own tailwind, and, as a result, depth matters. In other words, if you look back on the '90s, it wasn't that anybody did anything wrong, but you had so much tailwind you could be broader than you were deep. What we've tried to do is narrow our focus as a company, to be only those things that have significant core competency. We're a narrower company — we're still huge — but we're a narrower company, and we're a deeper company."
»Jeff Immelt, CEO, GE
So, let's take a look at this evolution a bit more closely. This simple graphic gives you a sense of what GE looked like in the 1990s and early 2000s:

Under Jack Welch, GE was a broadly, diversified company. It ran one of the world's most recognizable media companies in NBC, it built a multi-billion dollar financial services business, and of course it had its longstanding consumer appliance business. Also, interesting is that when Jeff Immelt took the helm in 2001, it was operating 70% in the U.S. And, it was a $125B business.
Over the last few years, the company has divested its media business, sold its appliance business to Electrolux, and dismantled its finance business. It is reinventing itself as a digital industrial company. And, through all that it has grown to be a $150B business (25% top line growth) with 70% of its operations occurring outside the U.S. Today, its business model looks more like this: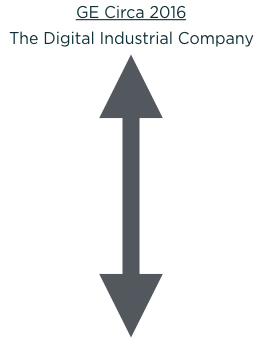 What Depth Means to a Professional Services Firm
If we think about this in the context of an engineering or consulting firm, and we operate under the very simple doctrine that our objective is to be as deep as we are broad. What exactly does that mean? What does depth look like for an engineering or consulting firm? Ultimately, I believe depth means these 6 things:
Experience — You should have more than just a few case studies or point projects to represent your work in an industry. You should be able to draw from a deep well of client engagements that demonstrate meaningful impact in the trajectory of their businesses.
Knowledge — You should have categorical knowledge about where you choose to compete. This does not mean having a single rainmaker with lots of experience and contacts within a market. This means codifying organizational knowledge about that market. This means having a bench of capable consultants who really understand the fundamental business challenges of the sector. And, it means having a culture of internal knowledge sharing that memorializes what the firm collectively knows so that the exit of any one or two people does not destroy the firm's investment in a market.
Thought Leadership — You should be translating that knowledge into high quality thought leadership. By definition that means developing content that is highly specific to a client's unique business situation, that shows meaningful depth in understanding of the market's problems and your solutions, and that provides real examples of your thinking successfully applied (ideally through named case studies).
Process — You should have a distinct methodology that defines how you do what you do and it should relate to the specific and unique operations of the clients in that sector.
Related Expertise — Assuming you're making the decision to go deep within a vertical market, you should have more than just one type of expertise to bring to bear. If you are an architecture or engineering firm, you must acknowledge that architecture and engineering are simply skills that are applied to solve a problem. Today, it is smart to build adjacent skills that enable you to bring deeper impact to your solution. This could include data and analytics skills, operational or process consulting, or other expertise that will impact the daily operations of your clients' infrastructure investments. Tomorrow, this will be a requirement.
Perspective — You should have a distinct point-of-view on how things should be done in your sector(s) of focus. That point-of-view should be grounded in a set of core beliefs about where the market is and where it's going. Likely, it should challenge convention and push the boundaries of what could be for the firm's clients.
Confidence is the Only Obstacle
Ultimately, the only thing that really holds any firm back from making a sound strategic positioning decision is fear of the unknown. My hope with this post, is that seeing this type of courage from the leadership of a $150B company, can help leaders of today's A/E and consulting firms that are struggling with a positioning decision to summon the commitment from within to make the difficult decisions that likely need to be made. I know it's in you. I can't wait to see what you'll build tomorrow.
Read Next >>
Start with Why: Your Best or Worst Marketing Decision Ever — This article outlines how to translate your firm's positioning into messaging that drives prospects to action.