In our recent Website Benchmarking Handbook we highlighted six critical website mistakes made most often by professional services firms. While few firms fell victim to all six mistakes, every single one of the 85 firms we analyzed failed in one critical area — having an effective approach to conversion that is well coordinated with their content. Even firms that have made significant investments to produce lots of high value content repeatedly stumbled over this critical aspect of their site design. So, let's take a closer look at conversions in the context of a professional services website.
To Start, What is a Conversion?
In traditional web parlance a conversion is a call-to-action. It's providing a clear way through your visual design for users to take the logical next step with your firm. On a consumer, e-commerce site, it's usually the "buy now" button that often appears towards the top right of a product page. On a manufacturer's website it's frequently a "Request More Information" button that allows a user to submit a contact inquiry. An effective conversion offers your users a logical next step in the buying process. In the examples outlined above that next step is buying or inquiring about how to buy. Unfortunately, that is rarely the logical next step in the buying process for a professional services firm — when a new visitor reaches your site and consumes your content, rarely is his or her logical next step to inquire about buying.
Typical Conversion Mistakes We See
Every professional services firm we work with provides a complex, sometimes technical, service. Buying that service is generally a long process that involves many steps of learning, fact finding, and vetting along the way. The firm's marketing task is to demonstrate its expertise over time and build the prospect's confidence throughout the journey. Neither of these outcomes can be accomplished with a quick, aggressive sales push. Almost every firm knows that so they're generally reticent to provide even the tiniest indicator that they're looking to sell a service to the prospect. In our analysis, all the firms we reviewed tended to have poorly thought through calls-to-action on their sites. Examples of what we saw are below:
No Conversion Points At All – Most sites have no clear way to pursue a next step with the firm directly from their content pages. Often, this can render the content nearly useless.
Basic Email Links – Other firms provide only the name, email and phone number of a practice leader or business development professional. While this feels good to the firm (we're encouraging people to do business with us), it often feels uncomfortable or premature to site visitors (most are likely not ready for formal personal interaction, and the've been given no other option so they just move on).
Premature Contact Forms – Occasionally a firm provides a contact form, but it is usually one that is designed to faciliate contact from a business development professional (again, it's prematurely pushing to a formal, personal interaction with the firm).
All of these conversions miss the mark because they're either much too passive (they're non-existent) or much to aggressive (they're trying to accelerate the buying process much too quickly).
The Delicate Art of Conversion
A call-to-action in a professional services firm needs to exist somewhere in this delicate middle ground. It needs to invite the website visitor to take a clear and simple next step without feeling like an overt push into a personal business conversation. The best conversions tend to offer the site user something of value by asking them to part with only a very small amount of information. Here are some examples:
Sign up for our monthly blog digest.
Register for our upcoming webinar on this topic.
Sign up for our monthly newsletter.
The key is to require only a minimal amount of basic information from your site visitor while offering them something of high value in return (your highly educational, highly informative content, for free). Conversions of this type grant you the opportunity to share your expertise over time in a non-threatening way.
An Example from the Website of Valuable Content
I've been a fan of Sonja Jefferson's UK-based firm, Valuable Content, for some time. I feel like her current site has an extremely effective conversion model in place. On the page captured below, you'll actually see two conversion points (a primary conversion and a secondary conversion).
The first is Sonja's personal contact information. If you are well along in the buying process you can contact Sonja directly to inquire about her expertise. Prospects who have been to her site many times before to learn from her content and are now in a position to buy might be looking for this type of personal interaction.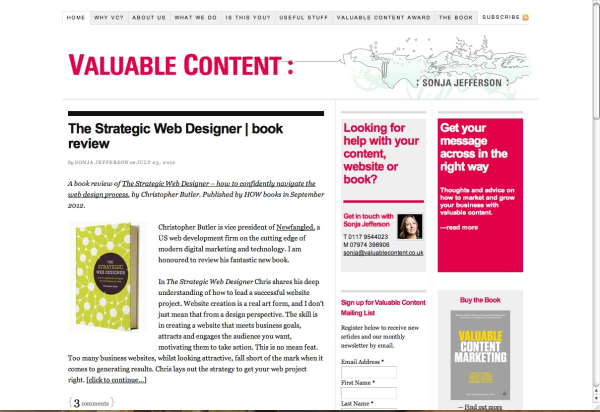 The second is slightly lower on the page and is a sign up form for her mailing list. This enables new users of her content to receive her intelligent content conveniently in their inbox on a regular basis. This is less personal and is the logical next step for 9/10 site visitors who choose to pursue a next step with your firm.
Both calls-to-action tend to be easily accessibly and regularly consistent in their look and location throughout the site's content pages. As users dig deeper in the site, no matter where they are, they always know how to take a next step with her firm.
In my next post, I'll write about what to do with the information you capture through your points of conversion.