Recommendations for how to structure your website's service pages to keep users moving through the buyer journey.
Life is journey, not a destination. (Thanks for the inspiration Ralph Waldo Emerson!) And if we think about it, so is a website. We like to say things like "visit our website for more information," but the reality is we hope you do more than just visit. We want you to stop, take a look around, maybe go sightseeing in few places, talk to some folks and fill out a postcard to let us know how you liked your trip. Then maybe you'll come back again. It's a lot like going to a new city or getting away for a short weekend somewhere. It's why we don't want a website to be a destination. We want it to be part of a bigger "web" journey. And part of organizing or planning that journey is structuring your pages to get users to move with a purpose. So today I want to talk to you about the optimal structure of a "Services" detail page. But before I dive into that in more detail, we need to talk about the journey itself and why the structure of any individual site page is critically important to the success of your overall digital marketing effort.
The Web Journey
For a conversation-based website, the client journey consists of three phases: Learning, Vetting and Discussing. When we're planning for that journey, we like to assume clients will go through those three phases sequentially (though, clearly they may not). On their first visit, clients may know what they want, but likely don't know much, if anything, about your firm. So, often, they start by just doing due diligence and learning what you know. They'll most likely dive head first into your firm's thought leadership and consume as much relevant and important information as they can until they start to think, "Wow, these guys are smart. Maybe I should check out what they do."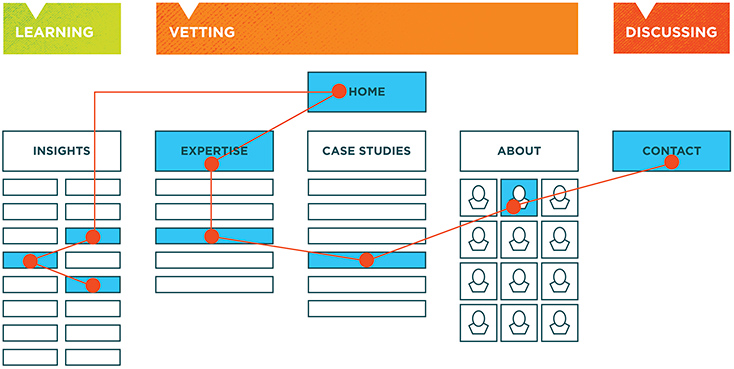 From there they move to vetting. Here's where they start to kick the tires a bit. Evaluating service offerings, reading through case studies in hopes of finding an issue your firm solved that's similar to theirs and then inevitably finding the people who are the experts at the problem they want solved. This is a pretty important step, because it's what connects them to the third phase in their journey. At that point, you're hoping they'll say to themselves, "OK, it looks like they've got all their ducks in a row. Maybe I'll reach out and see if they can help us with our problem." And now you've entered the discussing phase and started a new conversation with a great new client. Hooray!
Conversion-Centered Design
You may not think much about it, but the overall structure of each webpage is vital to getting a user to move through your site on their web journey. Just as you are mentally moving left-to-right through the ideal web journey, you are physically moving top-to-bottom on each web page. I've touched upon this in detail when I wrote about conversion-centered design, but the idea itself is pretty simple. Through design, shape and color we want to guide a user down the structure of a webpage and give them the correct clickable choices to move more purposefully through the web journey we've outlined above. Nothing is too complicated. It's one of those things you may not ever notice when it is done correctly. It should just feel "natural." It's why "what" lives on a page needs to be placed with purpose, not randomly. Just because you write a lot of insightful blog posts, doesn't mean you should plaster them on every page. You want to make sure people keep moving left-to-right through the web journey. So once they are vetting, we don't need to send them back to learning.
All the Right Pieces of a Service Page
Alrighty, so here we are. You've moved the client from learning and into the vetting phase of their journey. They've clicked through to a service they think will help solve a serious problem their company faces. So what is the ideal and optimal structure for this page to get them to move down and land at a place that keeps them moving forward? There are basically 3 sections: the service overview, the proof in the form of relevant case studies and testimonials, followed by a late stage CTA to contact someone that leads the service.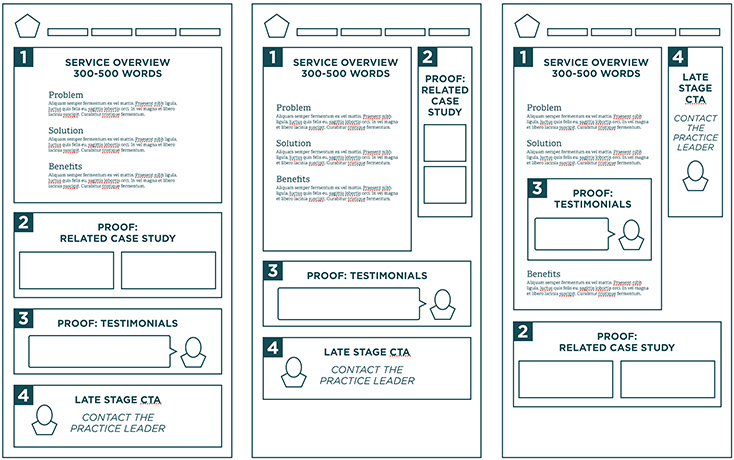 1) The Overview
As weird as it sounds, most companies have a difficult time talking about the services they offer in a way that is effective. A lot of times it's just a long page of "This is what we do! We do this! This is more of the stuff we do! Have you seen the stuff we do!" That's all well and good, but most prospective clients aren't just looking to find out what you do. They want to know how you can solve a very specific problem they have and what kind of impact solving that problem would have on them. We believe you should write your service overview from your client's point-of-view and follow the problem-solution-benefits framework. It's a lot like a math problem that tells a much clearer story. You have X problem, we have Y solution and you'll see Z benefits.
This may be a stretch of an example, but think about it this way—McDonalds doesn't just say "We make Egg McMuffins." No they say, "Are you running late for work and didn't have time for breakfast? We have a super-fast drive thru where you can pick up an Egg McMuffin for $1. You won't be hungry and you'll have energy to start your day." They are speaking directly to a real-life problem, giving you the solution and the impact it will have on the rest of your day. The same can and should be said for any service offering from a professional services firm.
But it's not just what you say, but also how much you say. You should be able to write about your service offering following the problem-solution-benefits framework somewhere in the range of 300-500 words. That means it should only take someone roughly 2-4 minutes to read everything they need to know about your service. If you write 1,000 words it would take someone more than 7 minutes to read it. That may not sound like a long time, but it's an incredibly long amount of time to spend on a single page. So keep it simple at 300-500 words.
Of course if a service you offer also has a set of sub-services underneath it, you would want them to be easily navigated to as well. These sub-service pages would also follow the suggested content breakdown for a consistent experience.
2) The Proof
So your client's read through your service overview and they think, "OK, they are saying all the right things, but how do I know they just aren't trying to pull a fast one? Where's the proof?" The answer comes in the form of both relevant case studies and client testimonials. Testimonials are relatively light proof. You attach an experience with a face/name/company. "We loved working with so-and-so, our sales jumped 815% after we implemented their solution." I say they are light proof simply because the person or the company may not come from an easily recognized source. So while they are effective, it usually takes some more in-depth analysis to really sell the proof. So we must be sure to offer 1-2 CTAs that link to a relevant case study. Something that speaks towards the problem the service offering is structured to solve. By having a link to a case study, we keep the user navigating in the vetting phase of the journey as we hope to move them towards a conversion. Like I said, we don't want anyone moving backwards, so typically we would not want to include a CTA that would link a user back to the insights section.
3) Let's Talk
In a way we want the client's journey down the page to reflect the web journey altogether. It's why it's important that the last action someone should be able to make on any service page is to contact that service leader. They may have read enough to make a decision and go "I'm pretty confident these guys could help us out, but I wonder who I should contact?" So now that they want to leave the vetting phase and enter the discussing phase, they should be able to do that from where they are without looking too far. Seeing a face of the company attached to a service with the ability to contact them is far more effective than just providing a contact button in the main navigation.
Keep It Simple
You'll notice just how limited the types of clickable items we would suggest living on service pages are. There isn't any thought leadership CTAs, links to apply for a job or even just to learn about the company. A common mistake is giving the user too much choice on each page. When you overload your page you are more apt to disrupt the journey we are trying to lead as opposed to dangling just the right carrots in front of a prospective client's nose in order to get them to convert on your site. We want to gently nudge them along a deliberate path, as opposed to grasping straws and giving them anything and everything under the sun. That's the beauty of conversion-centered design. It's simple, straightforward and cuts out all the fluff.