This post explores what it means to publish directly on social platforms and provides examples of people and companies who are doing it successfully.
If your firm is serious about using social media as a channel to share your firm's thinking, consider doing more than using it to promote your thought leadership—actually publish original content on the platforms themselves. Our research shows that top thought leadership marketers recognize that client learning begins through relationships and much of this is happening on social media. Because of this, the most successful thought leadership marketers are using social as publishing platforms rather than just marketing channels.
So, What Does Using Social Media as a Venue Mean?
Instead of publishing an article or a presentation on your own website and promoting it on social media, using social as a venue means publishing directly within the platform, whether it's writing an article on LinkedIn or uploading a presentation or video to SlideShare. The idea behind publishing directly on social platforms is to publish where people are already interacting. People come to social platforms looking for something new to learn and are ready to engage, whether that's liking something, sharing something, or commenting. LinkedIn, especially, is designed to encourage this and to help individuals and companies build a community of followers.
The decision to publish on a social platform does require some forethought and additional planning in your editorial calendar. We don't recommend republishing content that you've already published on your own site, as this may hinder you when it comes to it being featured by LinkedIn editors (more on this later). Instead, LinkedIn recommends writing about something original and topical that will spark conversation and engage your audience.
How (and Why) to Publish Articles on LinkedIn
LinkedIn has evolved its capabilities to become one of the world's largest long-form publishing platforms. And they've made it incredibly easy to do so with a prompt to "Write an article" directly under the "Start a post" prompt that we're all used to seeing. You can easily upload a header image and add inline photos and videos and save a draft until you're ready to publish.
And the benefits of publishing directly on LinkedIn are what all thought leadership marketers are looking for—to be heard—to develop a following, demonstrate expertise in your field, and connect with new opportunities. The only catch is this feature is only available for personal profiles, not company pages—at least for the time being. But that makes it a great opportunity for subject matter experts in your firm to start establishing a voice on LinkedIn.
Speaking of voices, starting in 2014, LinkedIn has been recognizing Top Voices on categories like management and workplace, economy and finance, technology and healthcare. Becoming a Top Voice means you're doing something right. LinkedIn uses a combination of data and the work of their editorial team to compile the list of their top voices each year. Daniel Roth, Editor in Chief at LinkedIn, shares the formula they're looking for to find top voices, including consistency, depth of insight and a desire to deeply engage with others. For more of the mechanics of publishing on LinkedIn, including how to get the attention of LinkedIn Editors to feature and share your article, read Jason Mlicki's article on LinkedIn Publishing.
Why You Should Consider Uploading to SlideShare
SlideShare, a LinkedIn company, is a sharing platform for business documents, infographics, presentations and even videos and webinars. SlideShare lets anyone share presentations and video and also serves as a social discovery platform to find relevant content and connect with other members who share similar interests.
The social features of SlideShare allow you to grow a network of followers who will be notified when you upload new content and who can comment and like your content as well. SlideShare also has SEO elements like title tags and meta descriptions to help your content appear in search results. And another great feature is the ability to embed SlideShares on your website, or better yet, for others to embed your SlideShare on their website—increasing the exposure of your presentation.
Being owned by LinkedIn means the primary audience on SlideShare is business owners. In fact, among its 70 million monthly users it has 5 times more traffic from business owners than other social platforms. To really get the most out of that traffic, it appears, would be to have a featured SlideShare. SlideShare features three presentations at the top of their homepage in a section called Today's Top SlideShares. They also have a selection of Featured SlideShares as you scroll down the homepage. Top and featured SlideShares are handpicked by SlideShare's editorial team, which guarantees your presentation will get thousands of views and will be permanently included on their Top SlideShares page.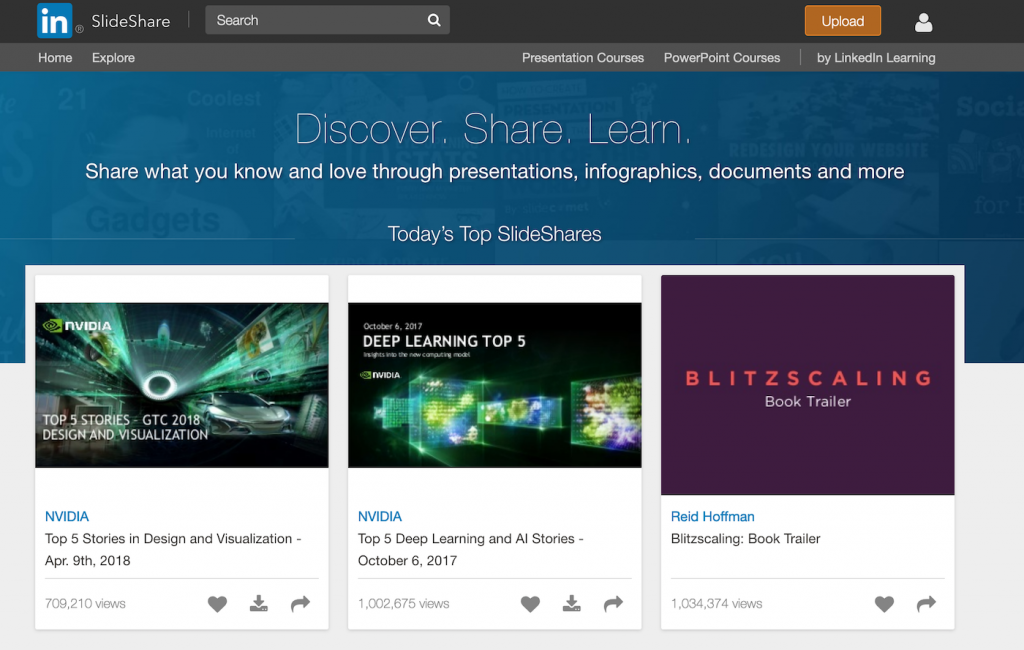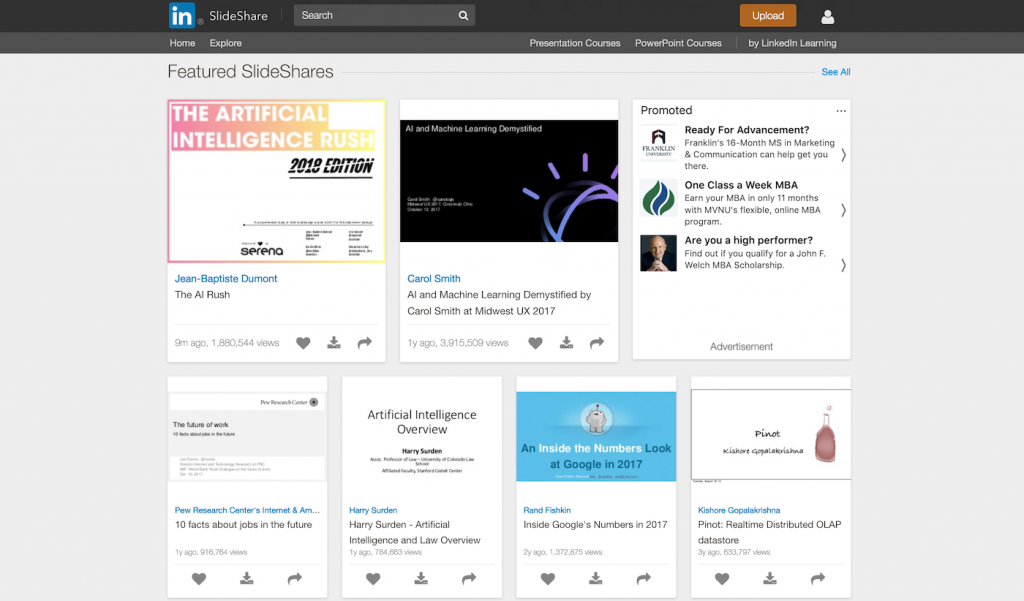 While I couldn't find any information on how SlideShare's editorial team selects presentations to feature, there are a lot of people out there who have shared their experience. Here's a presentation sharing tips from experts who have had their own presentations featured:
Examples of People and Companies Who are Doing It Well
Jody Padar
CEO and Principal of New Vision CPA Group, Jody Padar is author of The Radical CPA. You can learn more about her and her impact on the accounting industry in her Rattle & Pedal interview. She uses LinkedIn as her primary platform for promoting her thinking and activity not only around her CPA firm, but also her work as an accounting ambassador and BOT advisor. To date, she has published 141 articles directly in the platform and has grown her following to well over 600k people.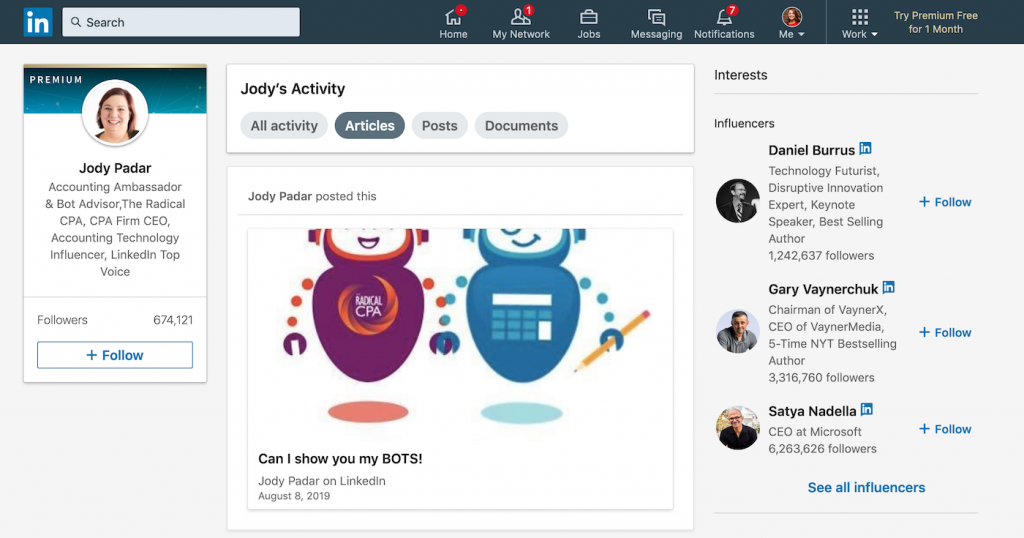 As a best practice, in addition to publishing articles on LinkedIn, she takes it a step further by posting an update that links to her recently published article to give it more exposure on the platform.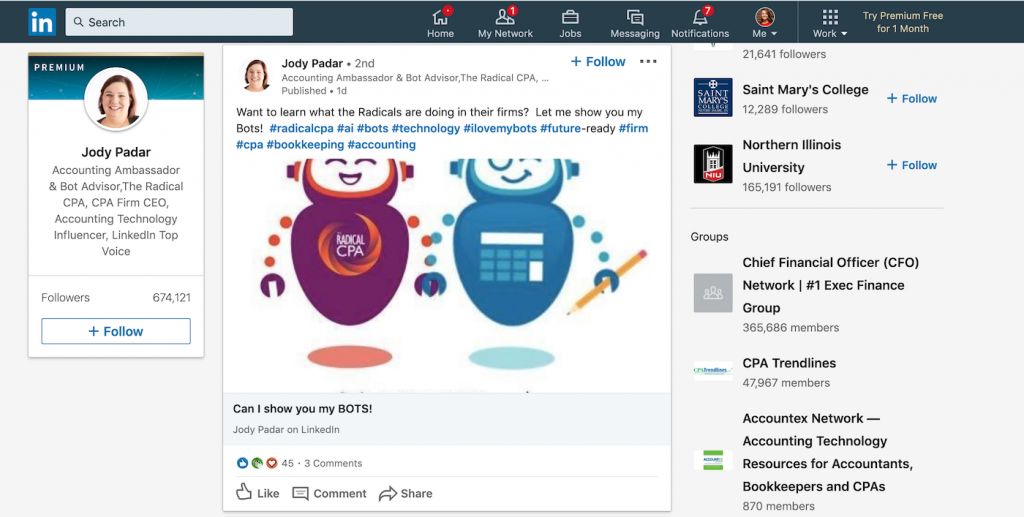 Through her efforts, Jody has been recognized as a Top Voice on LinkedIn for two years on the topic of Finance & Economy.
Shelly Palmer
Shelly Palmer is CEO at The Palmer Group, a strategic advisory, technology solutions and business development firm. With over 226 articles on LinkedIn, he's generated a following of over 400k people who regularly comment and engage with his articles. Shelly has also been named a LinkedIn Top Voice in Technology.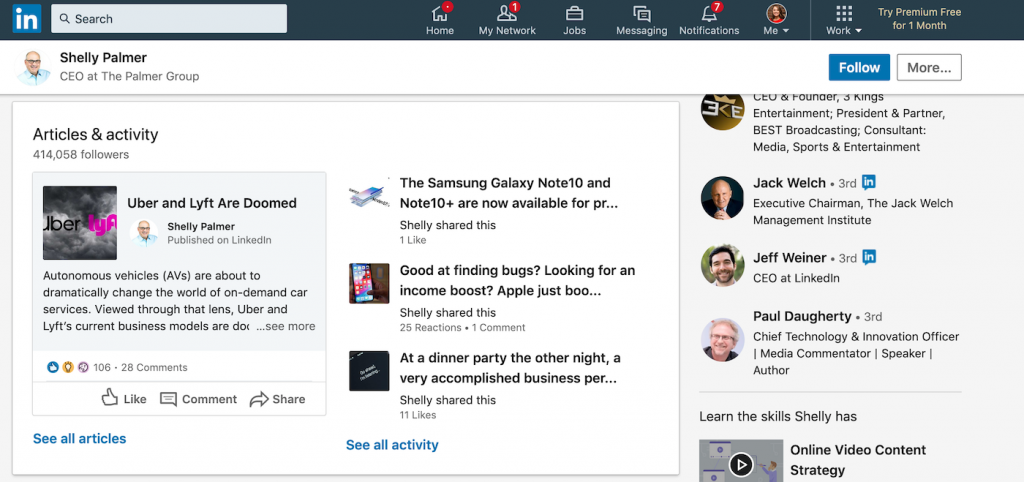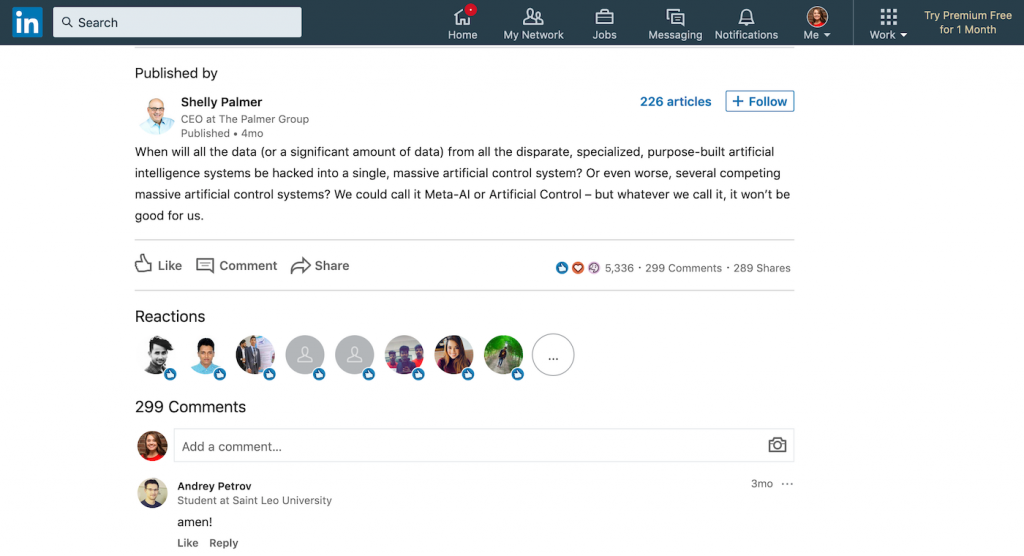 While Shelly is more frequently posting updates to share content that links back to his own site, his articles published on LinkedIn are what's generating comments and engagement with his audience. And as a best practice, his articles end with an About Shelly Palmer section that includes links to his social handles, website and a link to subscribe to his newsletter.

McKinsey & Company
Management consulting giant McKinsey & Company used LinkedIn publishing extensively to promote the thinking in its latest book Strategy Beyond the Hockey Stick, published in 2018. The firm published nearly 30 articles directly on the LinkedIn profiles of the books' co-authors Sven Smit, Martin Hirt, and Chris Bradley. Collectively, the social publishing strategy has helped the authors grow their social reach to nearly 14k followers.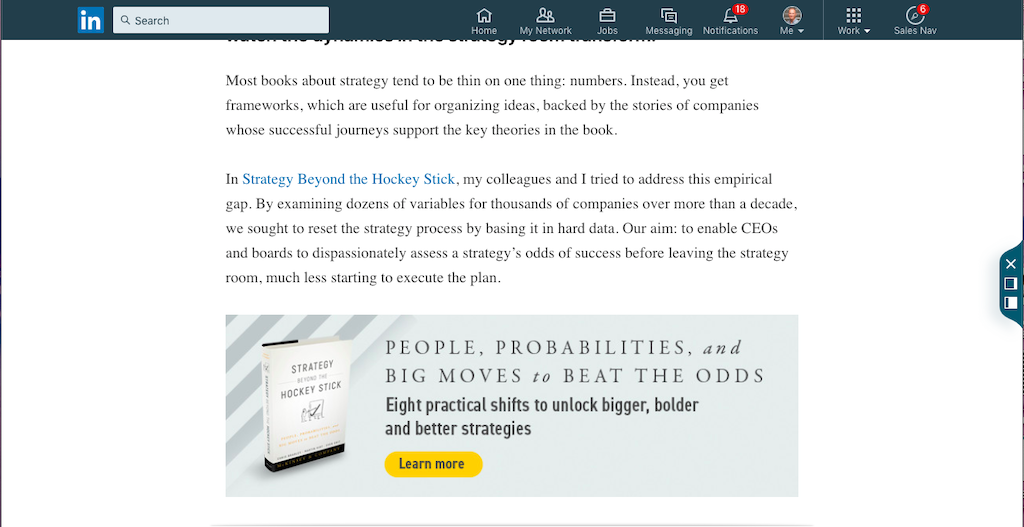 In Closing
Using social media as a publishing venue rather than just a place to promote your firm's thinking can go a long way in helping the subject matter experts in your firm build an audience and engage with them. But most of all, the opportunity to become a featured voice on the topics your firm cares about makes it something worth seriously looking into.