How content gets found on LinkedIn, the pros and cons of publishing on LinkedIn relative to your corporate website, and advice on which platform to prioritize.
In the world of digital marketing things move so frequently and quickly that sometimes we forget where we started in the first place. When social media first became "a thing" 10-12 years ago, LinkedIn quickly emerged as the central node in the world's professional network. But, no one was entirely clear what that meant. Sure, we have this network but what do we do with it? Mine it for sales leads? Mine it for job leads? Ask questions? Start conversations? How should we leverage it for marketing?
Over its slow (compared to Facebook) but methodical growth, LinkedIn has created awesome spaces for discussion and then for all practical purposes killed them off. It's added job skills, acquired Lynda and built a destination for free learning. It's built out its advertising model, and acquired and expanded its own publishing platform (Pulse). While much of the thinking still applies, the platform has changed dramatically since we first published our thinking on the best opportunities to market your firm on LinkedIn 4 years ago.
But, let's not forget LinkedIn's core business. Over the last decade LinkedIn has built out such an efficient system to advertise positions and find talent that I find it hard to believe that Monster even exists. Can you believe that? I mean, Monster was, well, the monster of career boards. Now, it feels entirely irrelevant.
Through all this LinkedIn remains the central node in the world's professional network (the same way Google remains the central node in the world's information network). Yet, the question is still the same. What are the best ways to leverage LinkedIn for marketing a professional services firm? More recently, the question for the thought leadership marketer has become — should we be publishing on LinkedIn or on our corporate website?
For those of you who want to skip over the details the answer is pretty straightforward. Yes, you should publish in both places. Our advice remains the same as it has for at least 5 years — publish on your website first. Publish on LinkedIn next. But, if you want more depth, this article covers:
Mechanics of Finding Content (and Being Found) On LinkedIn
Mechanics of Publishing on LinkedIn
Pros and Cons of Publishing on LinkedIn
Pros and Cons of Publishing on Your Own Website
Where You Should Publish?
Mechanics of Finding Content (and Being Found) On LinkedIn
While LinkedIn has changed a ton over the last decade, at its heart it's still a social network. It's designed to connect people and enable them to share what they're thinking about and working on. I'm pretty sure just about everyone knows how to do that. But, as the company has changed its focus (adding in an editorial team) and rolled in new resources and functionality (Learning and Pulse) the mechanics of how people can share, learn and discover has evolved.
The changes have been gradual so you may not have noticed them or thought much about them. Many of these somewhat new features are changing how people interact with the platform. And, of course, they're opening new ways for you to market your firm. What follows is a quick synopses of some of these features and how you can use them to find content and get found on LinkedIn.
Not long ago, LinkedIn created a new feature called "What people are talking about now" that appears in the top right corner of the page when accessed from the desktop. The links that appear in this widget push people to short synopses of news with outbound links to deeper news stories and streams of discussion from the LinkedIn community. Of course, this feature is designed to bring people to the platform each morning to start their day. Here's an example:

In addition to making connections, users can now follow companies and people. While you have to accept a connection, anyone who's interested in what you have to say can follow you or your company at anytime. While a post you share MAY show up in the feed for your connections, it ALWAYS shows up in the feeds of your followers (at least for now).
Additionally, people can now follow concepts, which are signified by #'s. While it's not stated anywhere explicitly that I can find, it would seem that somewhere along the lines "Pulse channels" have migrated into these topics and are now represented as #'s. On the desktop, topics show up in the sidebar element titled "Add to your feed." Here's an example of that widget and content that appears in my feed as a result of me following the topic #Content Strategy:
Of most interest to thought leadership marketers is the emergence of the LinkedIn editorial function. The back story on LinkedIn's foray into building an editorial team is shared by Daniel Roth in this 2017 interview. It's a long read but incredibly fascinating and entirely worth the time. Primarily the editorial team is responsible for building relationships with highly recognizable people. They encourage people like Richard Branson to author articles on the site. And, they do sit down video interviews with people like Bill Gates that are published monthly on a SlideShare channel: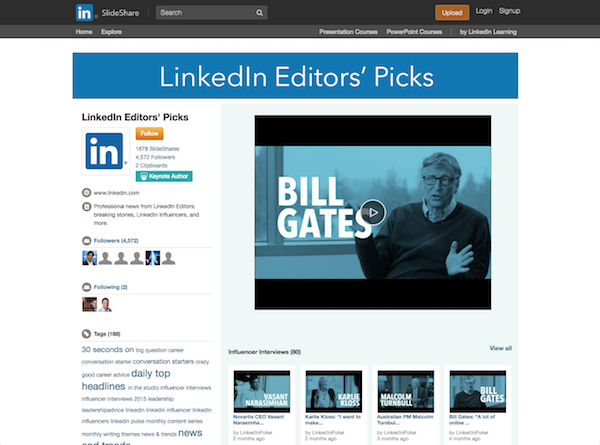 Each year, they identify the top voices on on the network and they do it both across the board and within a handful of topical categories.
LinkedIn Editors have nearly 60k followers and they share content in their feed just like any human. They shared this article, written by Evan Burfield, 3 days ago. At the moment Evan has 12k followers. So, the article has probably substantially contributed to his following: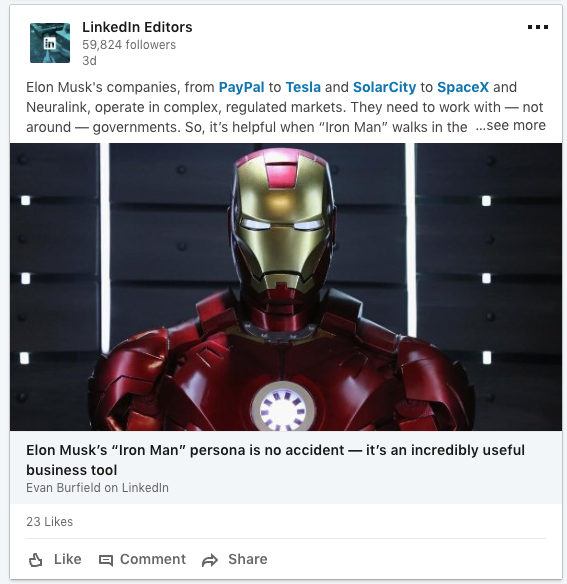 And, they publish a Daily Rundown (in fact they publish one in Europe, UK, Canada and the US). The Daily Rundown is exactly what it sounds like — a summary of the leading news stories of the day, accompanied with links to reputable sources of coverage, and links to discussions within the LinkedIn community about each topic. Here's an example: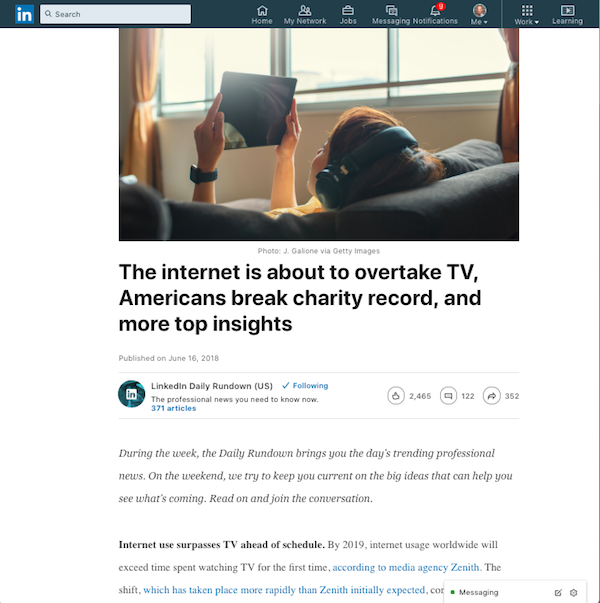 Interestingly, you can follow LinkedIn Editors the same as you can any other person. And, you can follow the Daily Rundown. This, of course, brings content from either directly into your feed.
Notably, towards the end of each Daily Rundown, LinkedIn Editors feature one hand-picked article from LinkedIn. These articles are usually, but not always, published by LinkedIn Influencers (mostly people with over 1M followers). And, unlike the news content within the Daily Rundown these articles are exclusively published on LinkedIn. Another example — in this case they direct to it via the subhead "One last idea:"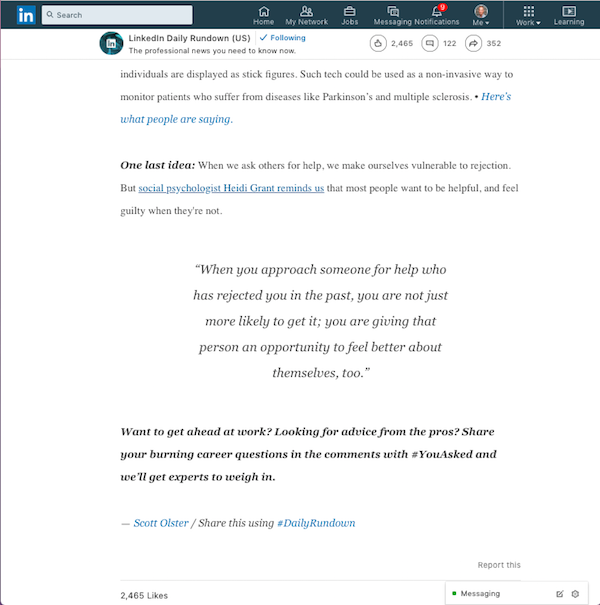 Mechanics of Publishing on LinkedIn
So, you have a few options on how you can share content on LinkedIn. You can share articles you've written elsewhere as a post. Or, you can publish an article directly on LinkedIn just like you'd post on your own corporate blog. Both posts and articles can be found off a person's profile.
One nice feature of publishing an article directly on LinkedIn is that you can associate your article with a topical hashtag — #. This enables the article to be found by anyone following that topic. Interestingly, you can accomplish basically the same thing by referencing that same # in a shorter post.
If you think what you have to say is especially poignant, timely or would be interesting to a wide range of people, you can tweet it to LinkedIn editors. This is essentially asking them to give it a read and consider featuring it in the Daily Rundown, in their feed or elsewhere in their work. For more on how to publish on LinkedIn access these articles and learning content from the LinkedIn editorial staff and outside contributors — an interesting aside some of the links in these articles are gone; gives you a sense of how quickly LinkedIn is evolving their publishing platform:
Pros and Cons of Publishing Articles on LinkedIn
It's fairly easy to see the potential benefits of publishing your firm's thought leadership articles on LinkedIn.
Pros of LinkedIn
Expand Your Reach — Your article can easily reach both your personal connections and anyone who chooses to follow you in a platform they use regularly.
Grow Your Followers — If someone does discover your article via a share in their feed from a connection or by following a topic, it's easy for them to follow you. And, it's a bit less intrusive for them to follow you on LinkedIn than it is for them to sign up for your email marketing newsletter. This makes it easier to scale an audience more quickly.
Possibility of Exponential Reach — Of course, the biggest potential benefit is a bit of a mirage. It's the possibility of what could happen if LinkedIn editors choose to feature your content through their feed, the Daily Rundown or some other means.
The biggest benefit is, of course, the most elusive. You can see the combined effects of these last two benefits whenever you find an article that was featured in the Daily Rundown by a non-influencer. Many of these people have follower lists of 8k people or more. Building a comparably sized opt-in email marketing list can take much longer than building up a collection of LinkedIn followers — assuming you have something important enough to say and you can say it in a way that's timely and cuts through the cacophony of noise the LinkedIn Editorial Staff surely faces on a daily basis.
But, there are some very real and very big downsides to publishing your thought leadership articles on LinkedIn.
Cons of LinkedIn
Building Personal Brands Not Your Brand — LinkedIn is, and will always remain, a network for professionals rather than companies. It's designed to facilitate peer-to-peer interactions rather than corporate-to-client ones. When a subject matter expert in your firm publishes an article on LinkedIn, those articles are tied to him or her personally, not the firm. When that expert leaves, all that content follows him or her to their new endeavor (whatever or wherever that may be).
Building LinkedIn's Brand Not Your Brand — When you publish an article on LinkedIn you're building up the relationship between LinkedIn and its users first and foremost. Yes, you're building followers and you're getting your thinking in front of those followers. But, you're also accentuating LinkedIn's role as the central node on the world's professional network. And, LinkedIn remains in control of that relationship between you and your followers. They can change the terms of that relationship or even kill that feature all together anytime they choose and there's really nothing you can do about it.
Search Engine Authority Goes to LinkedIn — LinkedIn is the 33rd most trafficked website in the world. 70% of its traffic is destination traffic. These are people who are coming to LinkedIn directly to accomplish whatever they came for — to network, to learn, to look for a job, to make a sales connection, etc. The site gets about 20% of its total traffic from search (to be clear, while the percentage sounds small, the volume of traffic it represents is still staggering). That said, my personal experience has been that I rarely find Linkedin articles on conceptual or topical Google searches. Nor, am I yet in the habit to go to LinkedIn in order to search a concept. And, even if I did the topical search functionality is fairly weak. Irrespective of that personal experience, whatever search engine authority you might have gained from publishing your article on your own domain is now transferred to LinkedIn when you publish that same article there. In short, when someone searches the concept you're looking to own, they're finding the answer from LinkedIn — not your firm.
Pros and Cons of Publishing On Your Own Website
Full disclosure — we're not entirely impartial here. Much of our agency's success has been built at a slow, but methodical pace of 3k – 4k words / month published right here on our website. So, when I began to research this article I had to work hard to be objective. I tried to look critically at our own situation and decide if we should change course. Regardless, we see (and have experienced) a lot of potential upside from self-publishing.
Pros of Self-Publishing
Search Engine Visibility for Your Firm — All the search authority earned from your firm's publishing efforts are yours. Through our work, we find that most firms' websites should attract 50-70% of their traffic from search. So, in our experience, the importance of getting found through Google for your firm's expertise is critical to the long-term health of your business. Search is still your largest channel for attracting potential clients. So, ignore it at your own peril.
Build Your Firm's Brand — When you self-publish you're building the relationship between your firm, your subject matter experts and your potential clients. If a consultant leaves, you get to keep the articles they published. While they wrote them and should continue to receive full attribution, your firm's part in architecting the story remains unchanged. You retain the search authority and you retain the halo of expertise that surrounds the thinking even though you may have lost a key subject matter expert that helped develop it.
Build a Direct Relationship with Readers — Yes, you can scale followers more quickly on LinkedIn. But, when you do that LinkedIn retains authority on the inbox. It retains the relationship between you and your followers. But, if your objective is to generate business leads for your firm, ultimately you're going to need direct access to the client's inbox. You need to build and nurture a direct relationship with the people and companies you have the ability to help.
Connect Thought Leadership to Solutions — Ultimately, your goal is to enable clients to vet you and initiate a sales conversation when the time is right. The best way to do that is to enable your thought leadership to coexist with your firm's other marketing content (solutions pages, case studies, people bios). To create bridges between your thinking and your solutions. All that content exists on your website, and guiding people to it is one of the most critical steps to success with digital marketing. Publishing on your website enables you to guide the client's buying process in ways no other platform can.
But, your own self-publishing effort clearly has some problems too.
Cons of Self-Publishing
Establishing Search Credibility — If you're just getting started with a thought leadership marketing initiative, chances are good the search credibiliity of your firm's website is quite low. If you're not publishing frequently, Google is not visiting your site very often. The road to getting your new content found will take some meaningful investment of resources (time and money). Patience will be critical and some firms simply don't have that.
Building an Audience — Clearly, LinkedIn already has a large, influential audience. Your firm's website, on the other hand, is practically invisible if you haven't been consistently publishing high quality content. So, just as it will take some time to gain search credibility, it will take equally long (if not longer) to build a healthy audience of readers that are interested in what you have to say.
So, Which Is It? LinkedIn or Your Own Website?
Ultimately, the answer is yes. You should really be doing both. But, only if you can sustain both. After studying this from every direction for the past few weeks I've come down to the following conclusions:
First and foremost, for your firm to be successful with search, you need to sustain your self-publishing effort at a pace of 3k / words per month per unique practice area. If you have a retail practice and healthcare practice you'll likely need to sustain 3k words for each practice each month unless the two practices have somehow found a way to truly straddle common client issues and solutions.
From there, you should be layering on top of that campaign-based content that is research-based and multi-dimensional. By research-based I mean original primary research (both quantitative and qualitative). By multi-dimensional I mean publishing through more than just one self-published channel. And, yes, this should definitely include publishing through respected third-party journals and publishing on LinkedIn. The latter is especially true if your campaign is anchored around a book. LinkedIn is a tremendously valuable way to grow the visibility of the authors.
To learn more about how to take your thought leadership to market, join us at Profiting From Thought Leadership 2018 on October 4-5 in Cambridge, MA.