This post helps you think about how to actually apply classical storytelling frameworks to your next thought leadership campaign.
Over the last few weeks, I've looked eagerly forward to the last few minutes of every day. Not because my days are unusually difficult or long. Nor because I'm exhausted or over-extended. No. What I've been looking forward to is 30 quiet minutes with a really great story.
My wife and I have been following the highs and lows of Miriam Maisel and her family through the Amazon series, The Marvelous Mrs. Maisel. Every night we're transported to another time and place. We laugh at her foibles, celebrate her successes and commiserate with her failures. In short, we're captivated by a truly marvelously told story. And, we're unwrapping that story one episode at a time.
All Great Stories Progress Through Parts
The art of storytelling is as old as time. As Nick shared in his most recent post, most stories fall into one of seven archetypes. Additionally, the best stories — the ones that really capture our imagination — teach us new things while taking us on a journey through our emotions. Often that emotional journey feels like a roller coaster. You ride all the highs and all the lows right alongside the main characters.
To do this, stories are broken down into parts. Novels have chapters. Series have episodes. Movies have scenes. Each part is used to open our eyes and our hearts to a part of the story while guiding us to the next phase of the characters' journey. Certain parts are designed to make us feel sad. Others to make us laugh. And, some to make us angry. Collectively, the parts make up a sequence — the arc of the story.
Thought Leadership Marketing Campaigns Are Built Up from Content Assets
The funny thing is thought leadership campaigns rarely work that way do they? Yes, stories captivate us. But, all too often research reports put us to sleep. Yet, as thought leadership marketers, we keep publishing them. Don't we?
When we develop thought leadership we think in terms of best practices, leaders and followers, and research findings. We focus first and foremost on the information we want to convey to the market. The brilliant wisdom we've unearthed through our proprietary research. The compelling point of view that simultaneously attracts and repels, which governs everything.
Then, we identify the collection of content assets we'll use to share that POV with the market. Essentially, we're building the campaign up through a collection of content assets. Each one of those assets are separate. Sometimes they're unique. But, often they're literally "repurposed" versions of each other. Yes, each asset points to another one. And, they all have a relationship of sorts. But, they don't follow a logical arc — they're not published like an Amazon Series. If anything, they're published more like an Amazon Music Station — a collection of songs that are all in the same genre that can literally be played in any order.
Rarely do these content assets take us on an emotional journey. After all, our central objective, as thought leadership marketers, is to educate and inform. Often we don't really care how hard it is for someone to actually do that. On the rare occasion when we actually talk about how to make our content entertaining the thought is quickly struck down like a stray nail in a freshly laid wood floor.
Yet, we learn through stories. We remember stories. In fact, often we remember exactly how we felt in the very moment when a story truly changed the way we think, feel, or believe about the topic at hand.
Campaigns Should Be Planned Through a Storymaker's Lens
To change this we recommend planning your campaigns the same way a novelist thinks about their next book or the producer thinks about their next series. This process has four main steps.
The first step in planning any successful marketing effort is to think through the questions clients are likely asking themselves at various points along their buying journey. More specifically, we suggest mapping those questions to each of the 4 stages of a client's typical buying journey — learning, vetting, discussing and hiring.
The second step, is to think about the emotional state you'd expect your clients to be in at those same points along that journey. Just like in any good story, clients are feeling a range of emotions as they progress through the buying process. They may be frustrated or even sad when made aware of opportunities they've been missing. They may feel excited and aspirational when they see a vision of a better future. And, they'll likely feel scared and uncertain when faced with the need to commit to a decision. These emotions are good. You want clients to feel them. In fact, you may even want to heighten those feelings at certain points in their journey. After all, our ability to recall things is often triggered to how we feel when we first read or heard it.
The third step is to layer a story framework on top of the questions and emotions you've identified. Literally assign one of the seven story archetypes to the thought leadership you're looking to bring to market. Based on the questions clients are asking themselves, the emotions they're feeling and the POV you're bringing to market which of the seven archetypes might tell your story best? If this were a book what would be the chapters? If this were a Netflix series what would be the episodes?
The fourth and final step is to identify the content assets you'll actually produce and the promotional strategies you'll use to get them into the market. At this point, you're identifying the episodes in your series. Identify the individual content assets you'll produce that map to the questions you identified in the arc of the buying process. Then, look at each asset and how it progresses a client through your story. Based on the emotional state you want your clients to feel at that stage in the journey, what format would be best to tell that part? A video? A podcast? An article? A traditional research report? A case study? Then and only then we can start to think about our promotional strategy. How will we get this story into the market? Email? Third party publishing? Social Media publishing? Paid media? All of the above.
Collectively, a campaign planning process of this sort might yield something that looks like this: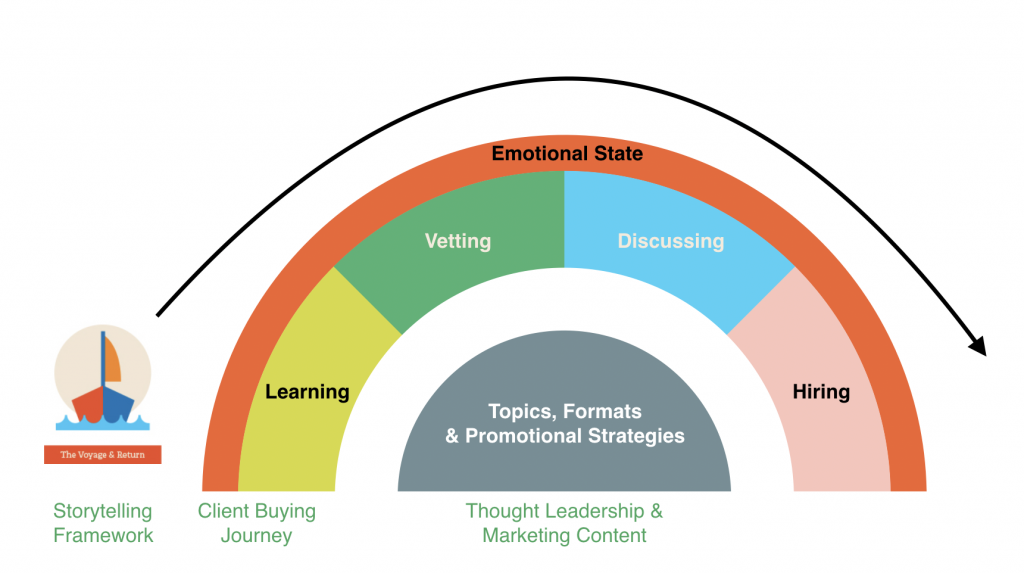 Closing Thoughts: Educate, Inform and Entertain
Ultimately, your job as a thought leadership marketer is first and foremost to educate clients on issues that really matter to them — to kickstart the learning phase of their buying process. From there, you seek to guide them through their journey of discovery to a solution (as embodied through your firm's expertise), a conversation (with one of your partners) and ultimately a relationship with your firm. This journey is fraught with highs, lows, and a range of emotions for your client. Given that, I can't think of a better way of doing this than by mapping everything you're doing against the arc of a story.