Identifying and agreeing on your ideal client is the first step in successful digital marketing. The next step is figuring out where you can find them so you can bring them to your door.
Should we write more content? Do we need to hire more people? What is a reasonable paid media budget? Where do we start and what comes next? These are all questions that are getting asked this time of year because of budget conversations. New tactical marketing ideas come to light when discussing how much money you need for next year to run an effective marketing program, but there are so many options out there that it can be tough to even start.
Maybe you didn't do paid media before, but you aren't seeing the number of leads to reach your firm's goals—so you are thinking about adding a paid media budget. Or you feel like you are writing enough content, and wondering why that is not helping bring in more business. Or you know who your audience is on the surface, but don't know what they are interested in, the podcasts they listen to, or the name of their dog (okay, okay, just kidding about the name of the dog). What I am trying to get across is that it can easily become overwhelming.
This is exactly why I wrote this article: So that before you step into your next marketing conversation, you know what your options are. Here are three ways to locate your ideal client.
1. Let them come to you
This sounds easier than it actually is. When trying to get in front of your ideal client, more times than not, firms think they need to spend money on paid media—but that's not always the case. Odds are your ideal client is on Google searching for solutions to their problems, so how can you get in front of them? A strong SEO strategy.
A strong SEO strategy that is supported by a keyword-driven content strategy is like fishing. If you have the right bait (content written towards relevant search phrases and keywords), then it changes from fishing (outbound marketing) to catching (inbound leads)—and we all know catching fish is a lot more fun than sitting around hoping you get a bite.
Keep in mind, though, that the strategy should be different for your different business practices or solutions. This is something we keep in mind all the time when working with our consulting firm clients. For instance, in our content development work for TBM Consulting, we develop content for Private Equity partners, operations leaders, and supply chain managers—we need an SEO and content strategy for each relevant audience.
Start by thinking and researching keywords that your ideal client is searching for on Google. Google has their own Keyword Planner that you can use. Once you have a list of the relevant keywords for your audience, write content towards those keywords and publish them on your website.
2. Listen to them
No, no, no…I'm not talking about how Facebook seems to listen to you when you are talking about eye drops, and then the next time you open the app you are served an ad for eye drops.
I'm talking about utilizing a tool like SparkToro (one of the many software tools we use at Rattleback) to listen to your ideal client and find out things like who they follow on Twitter, what podcasts they listen to, or even what YouTube channels they watch.
The options are endless with the information that is available to you once you dive in… you can:
Find out who your ideal client follows on Twitter and advertise to them using Twitter's custom audience builder. This allows you to "use lists to target specific users, whether you want to reach your existing customers by uploading a list of their email addresses or use Twitter @names to target relevant influencers."
Discover communities and forums that your ideal clients are a part of and participate in them. Not only does this get you in front of them, but it allows to you become more knowledgeable on the industry because you will join the conversation with others who speak their same language.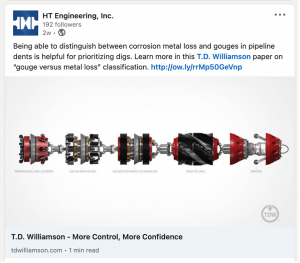 Learn about thought leaders in the industry and engage with them. For instance, in working with our client, HT Engineering, we leverage this tactic to not only engage with other thought leaders (both individuals and companies), but also share relevant content with our followers. Sometimes a simple organic post on LinkedIn can go a long way in joining the conversation. Here is an example of a post that shares an article written by another firm, but still provides value to the company's followers.
3. Target them
The most popular tactic that comes to mind when thinking about getting in front of your ideal client is paid media – specifically on LinkedIn. When working with professional services firms, this is a common tactic that we leverage because our clients have a pretty good idea of the types of companies and people they are trying to do business with. Remember the firmographics and demographics that Jason talked about in his last article—Defining Your Ideal Client?
LinkedIn is notorious for having some of the best B2B demographic targeting features in the paid media space. You can use things like Location, Job Title, Industry, Company Size, Education Level, and more. The best place to start is with your current client base—often you want to talk to people who have the same or similar roles as your current clients. So, build an audience based on your current clients by asking yourself these questions:
Have we ever worked with international companies, can we do that, or do we need to stay local?
What industry do they work in?
Do we need to be talking with C-suite individuals at firms, or Directors and Managers?
Can we work with a firm that is 500+ employees, or are we better served working with firms that are 50-100 employees?
These are just a few of the questions you should ask yourself.
Once you have your audience defined, the fun part starts. Inside of LinkedIn you can leverage a couple of different tactics to get in front of your ideal client—Ad segments and LinkedIn Sales Navigator.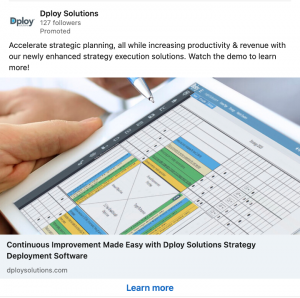 Ad Segments – this allows you to target an audience group with relevant content that they will be interested in reading. Remember when I said earlier that we aren't going to have the same SEO and content strategy for PE firms that we do for Supply Chain Managers? The same applies here. Those should be two different ad segments because they are two different audiences. For example, take a look at this LinkedIn Lead Gen ad we are running for our partners at Dploy Solutions right now. What you see is an ad with language specifically crafted for our targeted audience (job titles, website visitors, company size, etc.) with a content asset that is relevant to them—in this case, a demo video.
LinkedIn Sales Navigator – When you see the word sales, most people think of a phone call, email or conversation of sorts, something one-to-one. LinkedIn Sales Navigator allows you to do just that. You can define your audience and do direct outreach with LinkedIn messaging. You can use Sales Navigator to build prospect lists, grow your network, and make introductions. It tends to be most effective when you have useful, high value content to share. This could be things like a relevant article you just wrote, or a link to a demo video if you have a product-enabled service. Because if you do not provide value, you are just a random person reaching out for no reason—we all know somebody usually wants something when they reach out on LinkedIn, so at least provide value first.
Closing Thoughts
If you're going to successfully leverage digital marketing in your firm you have to develop a clear understanding of who you're hoping to attract and a keen sense of where to find them. From there you can start to identify a variety of campaign strategies to bring them to the door. I hope this article helps you get started on the latter.
It can be intimidating, I know. Whether it is budget constraints, not knowing where to start, or not knowing what is possible—you might feel lost. If you are feeling lost, contact us for help.