This blog is the first in a four-part series highlighting examples of great A/E firm marketing content. Each post will highlight what makes the content great, where it's falling down and how it could improve.
Some Quick Background on A/E Firm Marketing Content
To be clear, I'm not talking about clever tradeshow promotions or gimicky holiday cards. I'm talking about real marketing content — content that educates, informs, inspires and occassionally entertains a firm's prospects. I'm talking about content that positions the firm as a thought leader and moves the firm upstream toward more strategic relationships.
It's been my experience, both through research and direct observation, that most A/E firms don't really have any content of this type (see our Website Benchmarking Handbook for the data on that). For a lot of firms, especially architecture firms, the website is little more than a mildly interactive view book — a collection of really huge pictures of hopefully awesome work. Sometimes, even finding some words — any words — is difficult. And, while this works relatively okay for potential clients at the point of their buying journey where they're seeking inspiration, it comes up woefully short for folks at earlier (or later) stages of the process.
Great Content Generally Starts with Knowledge
A subset of firms have embraced the idea of producing useful, educational content to engage potential clients during earlier stages of their journey. Most do it with occasional blogs and articles from the firm's subject matter experts — some are quite good and useful, others not so much.
Beyond that is a small subset of firms that have committed themselves to building a knowledge-based practice. They're doing it largely through a combination of research and internal community building. That knowledge has the ability to literally change how the firm markets and even practices its craft. For the most part, this blog series will highlight those firms and that content.
A broadly diversified architecture firm, Gensler has over 3,500 people working out of 44 locations. Its content engine is quite large — branded as Viewpoint — it incorporates a mix of opinion pieces, research and videos.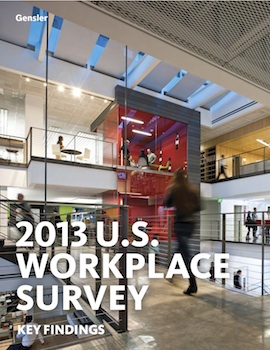 Summary of the Content
This survey is the firm's 5th study on this topic. To develop the insights, the firm randomly surveyed over 2,000 U.S.-based knowledge workers. Essentially, the survey was designed to look at the relationship between the design of the physical workplace and the productivity of the knowledge workers within it. The findings were delivered as a 28-page report that offers 3 key insights and a handful of ways to apply them.
What's Great About It
I see at least four reasons why this is a great piece of marketing content:
Positions as Topical Expert — The firm has been studying this topic for almost 10 years. It's used this insight to establish a framework for understanding the "four work modes" of knowledge work and how they connect to employee engagement and company performance. This is tangible, valuable IP that establishes the firm as an expert — it effectively has the ability to change the nature of the conversation with a prospective client.
Demonstrates the Firm's Impact — The firm has translated this research into a proprietary Workplace Performance Index (the WPI). The WPI contains over 100k survey responses. The firm collects employee input both pre- and post- engagement. This data is used to benchmark a client to the broader workforce and is used to measure the impact of the firm's work. This is a very important point — Gensler has literally changed the way it works as a result of this series of studies.
It's Actionable — Included within the report are 3 strategic actions a client can take to improve employee experience and enhance performance. The firm is directly connecting the insights to what it does.
It's Extended — The firm segments the data and uses it in other pieces of content — for instance, I found reference to the data from predecessor studies localized to the professional services space in an industry brief.
What's Not So Great
The Delivery — The whole document is wrapped up as a 28-page PDF. Presumably, it was originally delivered via print to select clients. But, the document repeatedly crashes and is not at all interactive. It's difficult to read — you'll have to REALLY want the insights to take the time to get them.
Closing Thoughts
This is really great content packed with meaningful data and insights. That said, the firm could probably be getting much more from its investment than it is.
For instance, the research could easily be extended into more interactive mediums — perhaps an interactive tool that would allow anyone to answer the survey questions and compare their own employer against the data in the survey. Possibly even a "share the outcomes" feature so a not-so-happy worker can share their company's findings with a leader or owner.
For examples of interactive tools like these, check out the ones we developed for the National Center for the Middle Market.
To be notified when I post the next blog in this series, sign up for our email newsletter.