This post is the second in my series highlighting great marketing content from the architecture and engineering community. In each post, I highlight a great piece of content, share my opinions on what makes it great and offer suggestions on how it could be used more effectively (if that's feasible).
In contrast to Gensler, PGAV Destinations is a very focused firm — it's basically a planning and design firm for hospitality, cultural and entertainment destinations. With roughly 75 employees, it's appropriately positioned in 2-3 closely related markets that share similar challenges and needs.
Summary of the Content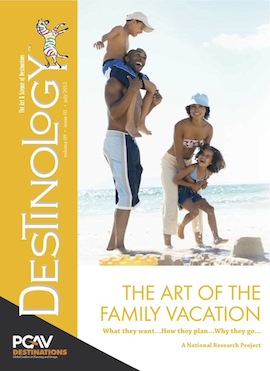 Last year, the firm commissioned a research study on how families vacation — what they want, how they plan and why they go. A summary of the findings are shared in an 8-page article within the firm's branded publication, Destinology.
What's Great About It
It's Strategic — The research is largely disconnected from design. The findings are incredibly insightful and useful to owners or leaders of the firm's ideal clients. The leader of a zoo, aquarium or cultural destination would value this content even if they're not in the process of planning or designing a new attraction. This elevates the firm beyond its role as a "planner and designer" and positions it to be thought of as a much more strategic partner to the client.
It's Useful — The findings of the research are very useful to the firm's staffers. The insights can be readily applied to inform decisions being made right now by planners or designers working within existing client engagements.
It's Entertaining — The first two sentences of the report say it all, "The Fine Art of Traveling with Children. It's that delicate balance of interest, more complex than a Congressional subcommittee." That's great. I want to read this.
What's Not So Great
Findability — Just like at Gensler, the content is wrapped up in a PDF. While, in this case, it doesn't create readability or usability problems, it does render the content largely invisible to web searchers. This content is awesome, but it's nearly impossible to find unless you know the firm first-hand or know the direct title of the content. I first found it 5-6 months ago, but I forgot the firm who produced it. I tried every search string I could think of and was unable to find it again. I literally had to go through our entire database of A/E firms one-by-one to locate the firm again. I'm fairly confident a buyer would never try that hard to connect.
Opportunities
Extendability — The findings of this work could be extended in so many ways it's hard to determine where to start. The content could easily be split up into 10-15 separate blog posts to attract web searchers. The visualization of the data is pretty good, but it could easily be extended into a large infographic to present all the information in one place.
Wrapping It Up
This is really great content because it hits two key motivators for potential clients — it's useful and it's entertaining. It demostrates the expertise and positioning of the firm while showcasing its culture and personality. Kudos to PGAV Destinations for making the investment in research to deepen their knowledge and elevate their expertise. Some other resources: