Perspective. People. And, Past Experience. The 3 P's, as we like to call them, are the framework we use to think about the content and basic functionality of a modern website for a professional services firm. While the framework itself is fairly straightforward, how you think about each of its components has important implications on how you design your site, the technology you use to drive it, and your long-term content strategy. This article takes a look at each of the 3 P's, shares a few examples of firms who are getting it right, and takes a look at the important connectivity between each.
Why the 3 P's?
Tom Stewart, Executive Director of the National Center for the Middle Market and Former CMO of Strategy& said to me once that "marketing a professional services firm is really about putting the right person, with the right expertise in the right place at the right time." While clients may introduce all kinds of barriers to their selection process, that statement largely captures the essence of the client's need and the marketer's challenge doesn't it? For instance, a potential client could be thinking:
We need someone to design and build a new oncology center at our hospital in Oklahoma City and we need it fully functional by Spring 2016."
"We'd like to expand the production output of our existing manufacturing facility in Cleveland by 20% without expanding the facility or significantly growing production staff."
In both scenarios, the client is expressing a need in relationship to expertise, experience, location, and timing. Ultimately, the 3 P's encapsulates the most critical essence of what's on the client's mind (at least in the context of a firm's website):
Does this firm have the expertise I need?
Do they have demonstrable experience solving problems similar in nature to mine?
Do they have an existing or unique perspective about problems or projects like mine?
Do they have people on staff who've dealt with similar challenges or projects before?
Do they look like people we could work with or would be interested in working with?
The hard work comes in delivering all 3 aspects through the web experience in a way that is comprehensive, yet elegant and compelling.
The 3 P's is Both a Content and Technology Framework
It Drives Content Strategy + Planning
If you look at your current site, I'm willing to bet that you're overweight in one area and underweight in another. Most A/E firms are relatively good at sharing their portfolio of work, but fairly bad at showcasing their people and their perspective. By contrast, a lot of consulting firms are exactly the opposite — they're good at profiling their people and publishing thought leadership, but not so effective at sharing proof of their past successes. First and foremost, the 3 P's is a framework for identifying where we have enough of the right content and where we have some work to do.
It Drives Technology Decisions
Simultaneously, the 3 P's is a technology framework. There is an inherent and critical relationship between these 3 sections of the site that needs to be brought out intelligently and elegantly. Designed correctly, the site should effortlessly move the visitor back and forth between these 3 channels of content based on what motivates and interests them.
To start, we'll look at each component briefly in isolation.
#1 — Perspective (Content + Thought Leadership)
Ultimately, a firm's unique perspective in the market is expressed through its educational content and/or thought leadership — a firm's perspective represents its collective knowledge, which is its most valuable and marketable asset.
A firm's content and/or thought leadership serves a variety of important roles in its marketing effort:
It serves as the foundation for higher-value forms of client attraction such as authoring articles in industry journals or speaking at industry events.
It connects the firm with clients it doesn't already know via search, referrals and social media (don't kid yourself; top executives absolutely search online for solutions to big challenges they face).
It builds trust and relationships before meaningful conversations occur.
It gives business development people interesting topics to initiate conversations.
We see three things to think about within the Perspective section of a firm's site:
A — Getting the Basics Right
I'm often surprised at how many firms tend to overlook some of the basics when it comes to their content. Some basics you should never overlook:
Authoring — Anything that's written should be authored; whether it's a deep dive research study or a short blog post. If it's written by more than one person, then your site needs the ability to confer multiple authors to a piece of content.
Dates — Everyone is scrambling these days to produce "evergreen content;" content that's as useful 10 years from now as it is today. While this is a compelling proposition, leaving the date off isn't going to make that happen. You're not going to kid someone into thinking your perspective is fresh if it's simply not.
Organizing — You should organize content based on a clear, simple and relatively short list of categories and tags that largely reflect the nature of your service offerings. If your firm provides leadership transition, then you should have that as a category of content so visitors can browse everything you've written (or researched) in relationship to that topic.
An example: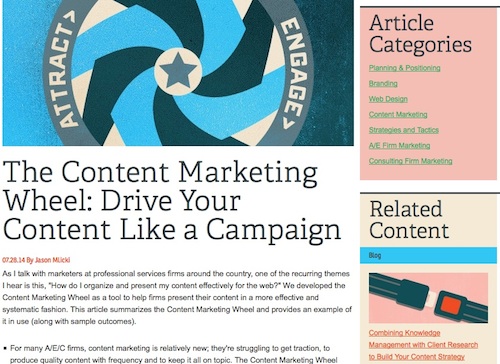 B. Combining a Mix of Content and Thought Leadership
A firm's perspective can be expressed both as frequently produced useful, educational content (like a blog) and as less frequently published research-driven thought leadership (deep-dive research studies). The best firms use a comfortable combination of both. They fund deep-dive research to create compelling insights that shape the very nature of the practice (both the firm's products and services as well as the delivery of them). And, they produce ongoing content both as an extension of that research (by applying the Content Marketing Wheel) and to test receptivity to new ways of thinking and ideas before they're explored further in other ways. Some examples of firms that present a nice mix of useful content (blogs) and thought leadership (deep-dive research).
C. Putting Content in The Right Place
Should your content channel be integrated into your main site (awesome.com/thoughts) or exist on a sub-domain with its own navigational structure (thoughts.awesome.com)? Both choices make sense in certain scenarios, and the decision you make will have implications on navigational structure, design and technology choices.
What makes sense for your firm, depends primarily on its size, the type of firm it is, and the nature of your thought leadership or content strategy. Whenever possible we believe it makes sense for the content channel to be imbedded directly within the site's design — this enables you to do things with the content you couldn't do otherwise. However, when a firm gets very large or its thought leadership effort becomes substantial enough, it warrants having its own, unique and separate home.
For most small (20-100 people) and middle market (100-500 people) firms it probably should be folded right into the structure of the existing site, for large firms (500+ people) it might make more sense to have a separate home for the thought leadership itself. Some examples of both: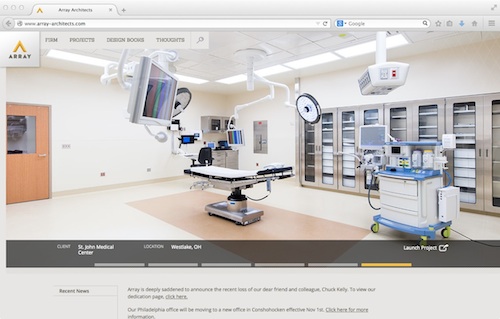 Some additional useful content on this topic:
#2 — People
If I take the time to navigate to the people section of a firm's site, chances are good I'm looking to do one of a few things:
Connect with someone I've already met, talked with, or worked with in the firm to learn more about them or initiate a conversation.
Find someone I don't already know with the expertise and experience I'm looking for.
Get a sense of the firm's culture encapsulated through its people to see if it's a firm I could see myself working with.
There tend to be 3 best practices for getting the people section of a site right:
A — Go Deeper Than Leadership
The actual number of people you feature will depend on a lot of things such as the nature of the firm, its size and its approach to marketing, but this is a people business and today's web is highly social. Most good clients expect to see more than just a short introduction to your firm's leadership. In a small firm (20-100 people) it probably makes sense for the firm to profile everyone; in a middle market firm (100 – 500 people) or a large firm (500+) it might make sense to profile a certain percentage based on seniority or contribution to the firm's marketing efforts.
B — Enable Searching + Filtering
Generally speaking, I should be able to find someone based on all of the dimensions I've outlined previously — whether I know who they are or not. If I know who I'm looking for, I can probably find them in a list or a collection of headshots. If I don't know who they are, I'd like the ability to find them based on a set of simple filters that are relevant to me — the expertise I'm looking for, the practice or service I need, their industry of specialization, or possibly an office location. Some useful examples:
C — Make People Relatable Beyond a Bio
I don't know about you, but I hate reading resumes even when I have to read them. I have no interest in reading through a litany of personal accomplishments and educational credentials. Those things don't really tell me much about anyone. What I am interested in seeing however is a little bit about the people that work at a firm — the people who actually do the work. I'd like to get a sense of what they're like as people, what's important to them, what professional topics interest them most, and the type of work they're most interested in being a part of. Ultimately, the people section of the site provides a small window into the culture of the firm. Some useful examples: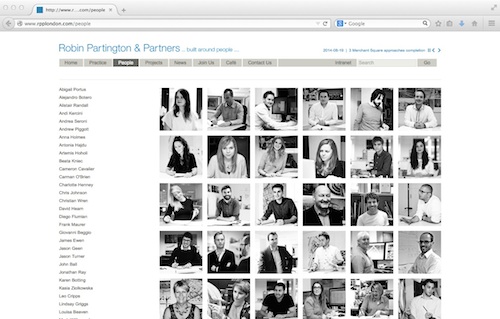 #3 — Past Experience (Case Studies + Portfolios)
A firm's experience is demonstrated though its past successes — for a consulting firm it's represented as a collection of case studies; for an A/E firm it's represented as its portfolio of past work. Regardless, a firm's past experience is a critical component of establishing the client's trust. Ultimately, presenting a client with examples of problems the firm has solved that are similar to theirs helps the client gain confidence that the firm has successfully applied their recommended remedy in the past. And, it lets them see a vision of what could be for their organization.
A — Tell Stories
The best case studies tell a simple, compelling and logical story that goes beyond the basic facts and high-level outcomes. They present both the impact of the firm's work and represent the nature of the experience a client has with the firm. They talk about the objectives the client had for the relationship, the goals the firm had for itself, the challenges faced together along the way, how the firm organized to overcome those challenges, what the end result looked like, and reflections on what was learned. Some useful examples:
B — Enable Searching + Filtering
In simplicity, clients should be able to browse and filter a firm's case studies on all of the same dimensions they would want to browse and filter its people and perspectives — based on expertise, practice or service and industry.
C — Use Video
Telling the story of a large and complex project can be very difficult to do. More and more, firms are turning to well produced, short videos to tell the story of their past experience in ways words struggle to do. Video can capture context, demonstrate emotion, and enable past or existing clients to speak in their own words. Some examples of firms who've used video effectively:
Some addition useful content on this topic:
Connecting the 3 P's
This is where technology comes in. We can start to see real quickly when we move from a basic portfolio-site (for an A/E firm) or a thought-leadership heavy site (for a consulting firm) that the traditional nature of silo'ed navigation starts to become a problem. If I take the time to drill deep into a firm's thought leadership into more specific and narrow topics, I'd like the ability to easily migrate from the article I'm reading over to a case study showcasing the article's thinking in action or over to specific people in the firm with expertise and experience related to both. To do this, the site needs more than a traditional hierarchical navigation and a basic "content is content" approach to managing information.
The site's technology (its CMS) needs the ability to recognize each type of content as unique and different yet interrelated so that it can present the client with other logical content they'd find interesting in an organized fashion. Here's an example of what the technology of your site needs to enable — If I'm on a consulting firm's website reading an article on "Engaging Frontline Workers," I might be interested in doing a number of things based on where I am in my buying journey:
Seeing a case study that demonstrates the thinking of the article in action.
Reading a subsequent article on "Building Effective Front Line Teams."
Reading the personal bio of the consultant who wrote the current article to learn more about her.
Reading more articles by this consultant because I value her point of view.
Downloading a piece of research on "The Characteristics of Successful Front Line Teams.
Browsing all the firm's articles related to "Front Line Team Development."
Reading more about the firm's actual consulting service related to "Front Line Team Development."
Signing up for an email newsletter to get more content like this in my inbox.
Contacting someone directly to initiate a conversation about what I'm reading.
That's a lot to ask of one site page, but they're all highly realistic next steps for clients at different points along their buying journey. Ultimately, you should be expecting the technology driving your site to do a whole lot more than just publish content — like guiding clients through their buying journey. Here are a few examples of firms that do some of this pretty well:
Some additional useful content on this topic:
Wrapping it Up
The 3 P's serves as a framework to think about:
Content — What content you have, what content you lack, and where to focus your content development and thought leadership marketing efforts — chances are you're going to be overweight in one area or another; and that's okay. What content you need is a function of the nature of your marketing effort. If your firm is really in dire need of more high quality opportunities, then building the Perspective portion of your site should be a big focus of your marketing effort. If your firm has a steady and healthy pipeline, focusing more on your Past Experience could be really important to turning those early stage visitors into higher quality, more frequent conversations.
Technology — How technology will enable clients to engage more deeply into your site while getting a memorable and enjoyable experience.