This post is the third in my series highlighting great marketing content from the architecture and engineering community (with a few notable pauses in there). In each post, I highlight great content, share our opinions on what makes it great and offer suggestions on how it could be used more effectively (if that's feasible).
Array Architects: A Quick Summary
The firm's LinkedIn page pretty much says it all, "We're not architects who do healthcare. We're healthcare architects." It's worth noting that I'm writing this on an airplane without Internet access, yet I can remember this brand message (I say this all the time, narrowly focused firms are much more memorable than their more generalist peers).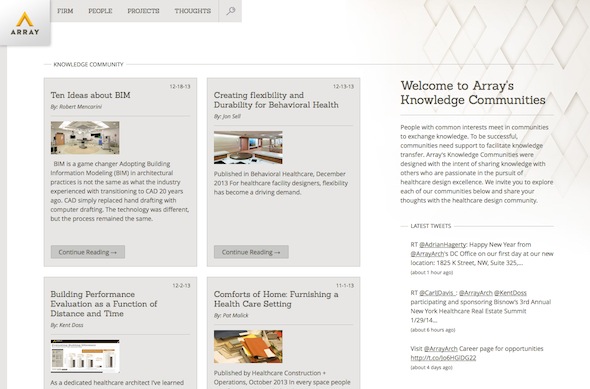 Summary of the Content
In is post, I want to highlight the firm's entire thought leadership collective. I'm going to isolate a few pieces of content, but I really want to highlight many aspects of their efforts. Here are a few sample pieces of content I particularly like:
What's Great About Their Content
What Could Be Done Better
Opportunities
Wrapping It Up
Array is building a very effective body of content around meaningful issues to healthcare companies. It has effectively built a culture of content (encouraging upwards of 30-40% of the firm's people to contribute). Much of this content has been picked up by industry publications. And, it's already producing content for various stages of the buying cycle — this will prove very valuable if and when the firm considers investing in a marketing automation system (if it's not already). Some of the other posts in this series: