This article summarizes the findings of research with over 100 consulting firm marketers into what the leading consulting firms do differently to attract leads online.
In Spring 2015, we partnered with AMCF and The Bloom Group on a study into best practices in consulting firm marketing. The research sought to identify what consulting firms that generate the most leads from their thought leadership do differently — from establishing strategy to developing content and publishing it online — and the characteristics of today's leading firms.
The research, recently published at AMCF.org, brought together findings from two sources:
Nearly 700 clients shared input into how they find consulting firms and what's most important to them in a firm's thought leadership efforts and web presence.
And, over 100 consulting firm marketers shared their thoughts on how they establish strategy, develop content, and publish content online.
You can download the full findings of the 2015 Thought Leadership Best Practices Report here.
Identifying Leaders and Followers in Thought Leadership Marketing
Collectively, we identified at least 7-8 characteristics of leading firms — ranging from how they set strategy, to how they balance sources of content, and of course how they allocate resources. While this article covers 3 characteristics of leading firm web properties, this companion piece from Bloom Group outlines 4 additional habits of leading firm thought leadership strategies and spending habits.
From that artilce, we see that the leading firms spend more of their thought leadership budget online (59%) than followers (47%). But, how do they spend that additional 12%? While it's hard to say for sure, the study did reveal 3 common characteristics of leading firm web properties:
Centralized Publishing — Leaders are more likely to house their thought leadership only on their main corporate website.
Selective Gating — Leaders are more likely to "selectively" gate thought leadership content and equally less likely to "give it all away."
Interactive Content — The firms that generate the most website traffic are much more likely to regularly or always use interactive content to present their research.
#1 — Centralized Publishing
Leaders are more likely to house their thought leadership only on their main corporate website. In fact, 61% of the leading firms integrate their thought leadership content only into their main corporate website compared to 50% of followers. This finding did not surprise us. We've been adamant for some time that thought leadership is best published within the construct of the main corporate website. This is based on a fairly logical view of a client's buying journey:
Research — The path to hiring a consulting firm almost always starts with the identification of a meaningful business problem; a problem that a client finds solutions to through a firm's thought leadership content.
Evaluation — Once a solution seems apparent, sequentially, a client looks to understand how a firm might actually solve the problem for them and how it's been solved in the past. These answers are found within a firm's marketing content (service pages, case studies, consultant bios).
A centralized publishing platform simply makes it easier for a firm to guide a client from one phase of their journey to the next.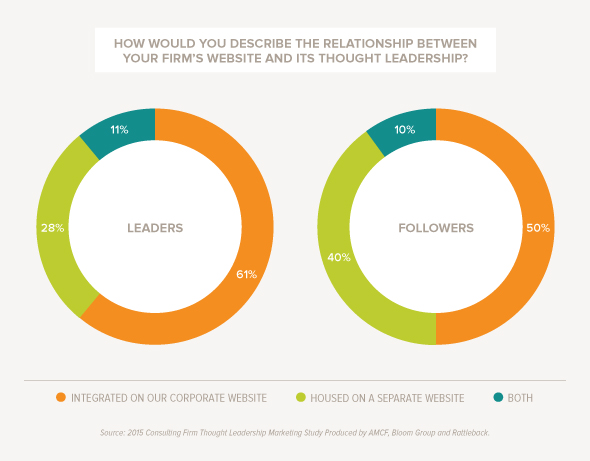 #2 — Selective Gating
Simultaneously, leaders are more likely to selectively gate a small portion of their highest value thought leadership content (52% of leaders vs 38% of followers). By contrast, followers are more likely to give all their content away. Now, this will probably surprise some people. Most consulting firm marketers I know have a general aversion to gates. I think this concern comes from a few places — the consistent abuse of gates by software companies that's left many executives exasperated from unwanted sales calls, a general feeling that more "eyeballs" on a piece of content will lead to more social shares and wider content distribution, and probably some direct experience of inconsistent success actually using and applying gates.
Ultimately, I believe there are 3 main reasons gates, when applied correctly, are extremely effective tools for consulting firm lead generation — for more on that, read Selectively Applying Gates to Improve Lead Generation.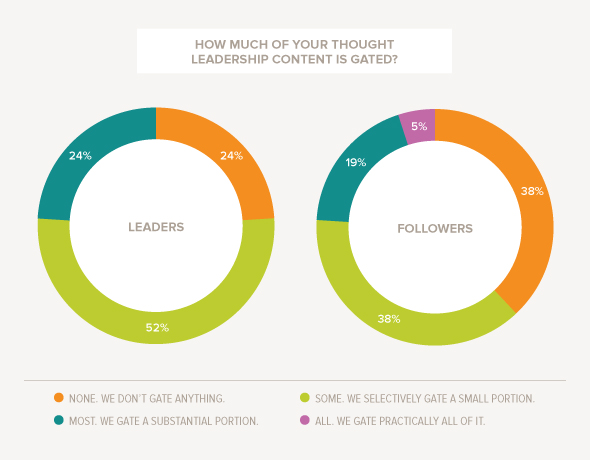 #3 — Interactive Content
Finally, the consulting firms that generate the most traffic to their websites are much more likely to always or frequently use interactive graphics to support their thought leadership content. At Rattleback, we consider an interactive graphic to be any web-based chart or graph that enables a site visitor to filter and interact with your research data to make it more relevant to their unique situation.
If I had to guess where that additional 12% of thought leadership budget is going, I'd say it's right here. As the landscape of thought leadership becomes increasingly crowded, the ability to make content intuitive and relevant to clients at a much more individual level is becoming a critical capability of the marketing team. Yet, doing that generally requires bringing together a wider variety of internal and external skills. Skills that require additional budget.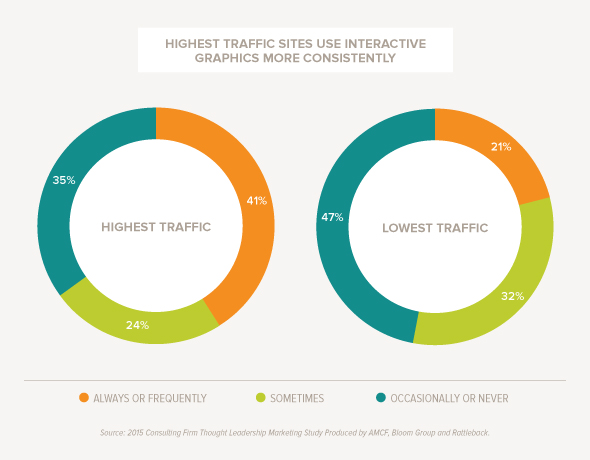 Applying These Findings
Ultimately, if lead generation is the primary objective of your thought leadership marketing effort, the research study provided a pretty clear path forward for a firm's web property:
Consistently develop high quality thought leadership on issues that matter to clients and publish it to your website.
Invest in interactive content to drive the most traffic to your site possible.
Selectively apply gates to your most valuable content to build your audience.
Guide site visitors from your thought leadership content to your marketing content by co-locating both together on a single, dynamic corporate web presence.
Leads will follow.