The consulting industry is a wide and diverse population of firms of all sizes. In a recent research report titled Marketing Consulting firms in the New Decade, by Source for Consulting it categorized consulting firms into four main groups:
Tier 4: < 50 full-time consultants
Tier 3: 50 – 200 full-time consultants
Tier 2: 200 – 1,000 full-time consultants
Tier 1: > 1,000 full-time consultants
Obviously each group has a different operating dynamic in terms of the range of services provided, available resources, experience, etc. This means that the marketing approach for a Tier 1 firm is not going to work for a Tier 4 firm. Within the research report, Source for Consulting identified a set of marketing activities for each size of firm that have been deemed most effective: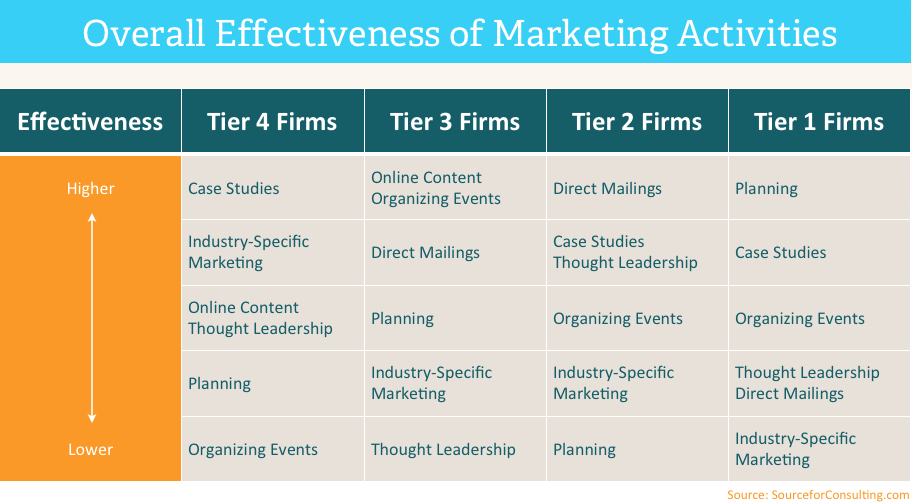 So what can we learn from this? Lets look at each group and analyze the differences:
Tier 4 Consulting Firms: The smallest of the group, a Tier 4 firm has to build credibility around its core set of capabilities. They also need to be specialize around a niche as they they don't have the scale to be all things to all people. They need to demonstrate experience and expertise hence their large focus on case studies and industry specific marketing. The power of online content engines is also very useful to these firms as it allows them to share their thought leadership and expertise to a large targeted audience at minimal cost.
Tier 3 Consulting Firms: The biggest leap a consultancy can make in the sense of scale and marketing is moving from a small Tier 4 firm to one that approaches the 200 employees mark. The emphases on case studies have now left the equation meaning it's less about conveying capability and more about story telling and demonstrating expertise. A deep knowledge through their personnel is now readily available which can be shared through online content. Frequently organized events are more financially accessible and are an effective method of generating leads on a national scale. And direct mail can start to be leveraged to market both existing and new services which helps re-engage a conversation to what is becoming a growing historical client base that is likely becoming dormant.
Tier 2 Consulting Firms: Once a firm explodes into the Tier 2 level they're able to leverage their current and past client lists to continue to market into them via direct mail. It's a perfect avenue to connect with a group they've worked with in the past but has become a group who doesn't know about new service capabilities or needs reinforced education on existing capabilities. In addition, case studies enter the mix again in a prominent level of importance. This is because Tier 2 firms are beginning to enter new markets and verticals due to their growing number of resources available to them. This requires a growing set of case studies to convey these new capabilities to assist with market penetration. In addition, thought leadership moves to its highest slot of importance. Original thought-provoking research can now executed to drive innovation as its more financially attainable. These firms are also the first to see online content not entering the mix. This is because these of firms are often now nationally recognized and respected brands with large prospect lists and have the financial resources to market in more direct manners rather than relying heavily on unaided online search.
Tier 1 Consulting Firms: These firms have scale, readily available resources, and a reach that expands multiple verticals on a national and even global level. However, because of these attributes, they are also a victim of their own size. This requires these consulting firms to go through meticulous planning cycles to ensure all marketing activities are integrated, synchronized, and executed in a way that does not fall flat. And though still important but not as important as a Tier 2 firm, thought leadership stays high on the list as these firms are often the leader in investing in market research that drives innovation within the industries they serve.
Are these resources in line with your level of firm? Do you disagree with the level of importance of some of these tactics for your firm? Share below.