This post outlines the impact of Google Inbox on your email marketing tactics and makes 4 suggestions for modifying your approach.
Just about every client we've ever worked with at one point or another has struggled with some aspect of email marketing strategy. Some of the common questions we generally hear:
How frequently should we email? Weekly? Monthly?
Who should the email come from?
How do we improve deliverability?
Should we invest in marketing automation?
And, what format should our email take?
The release of Google Inbox towards the end of 2014 made this last question much more interesting to me. We've said for a while that the traditional HTML newsletter was dying. The inbox has become so jammed that anything that even looks like marketing or promotion is getting passed right by — sometimes even from a trusted source. With Google Inbox, increasingly messages won't just get passed by, they'll get set aside.
What is Google Inbox?
If you're not familiar with Google Inbox, here's the skinny. For a long while, Google has been working diligently to develop a more intuitive and elegant email client, which it officially released towards the end of 2014. While the new email interface offers a variety of helpful useful features, the one that really jumps out to the email marketer is the "bundle" functionality. Essentially, Inbox automatically scans your email as it comes in and categorizes them into bundles, which are presented as tabs. There are three standard tabs in the interface — a Primary tab for regular correspondence, a Social tab for messages from Facebook, LinkedIn, Twitter, etc., and a Promotions tab for promotional messages. Now, if you're a regular Gmail user (which I'm not), I'm not telling you anything new.
So, let's take a look at what Google Inbox does with a few different test messages coming out of our marketing automation system.
As subscribers to our email newsletter know, the vast majority of our marketing email arrives as a personal message from me. It's not branded. It has no masthead. It's just a simple text message built in HTML with a link to an article in the body of the message and an unsubscribe link below my signature. Here's an example: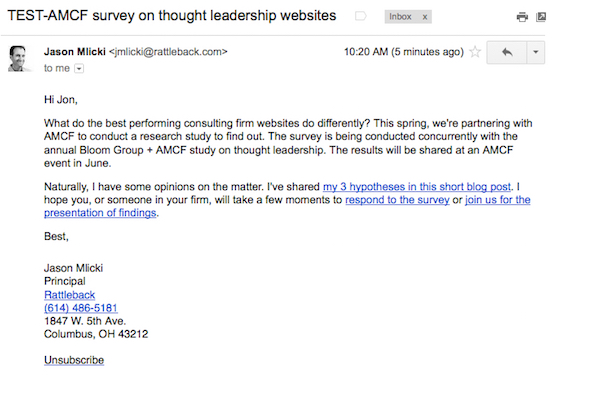 And, here's how this message arrived in my Google Inbox within the Primary email bundle (the bundle for most general email correspondence):

That said, we also distribute a client and friends newsletter once per quarter. This is an HTML newsletter that is branded with a masthead and includes links to recent project case studies and high quality content. Here's an example of one of those messages: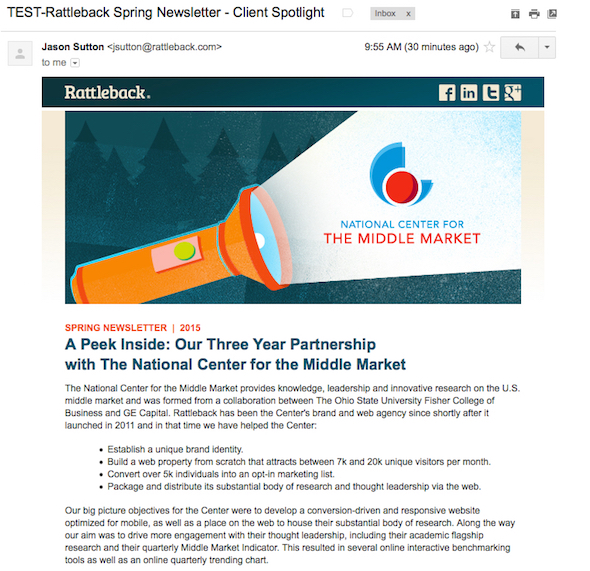 And, here's how the test message arrived in my Google Inbox within the Promotions bundle:

And, in case you didn't notice, my valuable newsletter not only got routed to the promotional bundle, but was also delivered directly next to 2 new Google ads.
So, both messages are coming out of the same email client (ActOn), are coming from the same email server, and are going to the same email address — one ended up in the Primary inbox and the other in the Promotional bundle. I think the conclusion is obvious. Likely a much smaller percentage of recipients are going to read the email that arrives in their Promotional bundle (especially if they're delivered adjacent to ads).
But, Do Companies Use Gmail?
Now, I know what you're asking yourself, "We're a professional services firm. Our clients are companies, universities, municipalities, energy producers…they don't use Gmail. Do they?" While I've not been able to find any current definitive data, it appears that anywhere from 10% – 30% of companies are using Gmail. This 2011 research found that 31% of large companies and, notably, 58% of educational institutions were running Google Apps. And, this 2013 study found that 30% of responding companies were using Google Apps. To be clear, a company using Google Apps is not necessarily using Gmail. In fact, the 2011 study estimated about 30% of Google Apps users actually did.
Simultaneously, cloud-based email is becoming more and more popular in the enterprise (Gartner predicts 55% of companies will be operating this way in the next 5 years), and Google is one of the leading providers. So, it stands to reason that some reasonable share of users in large companies will be using Gmail in some shape or form in the near future.
Of course, just because a company is using Google as their cloud mail provider doesn't necessarily mean they'll use the Gmail interface to access mail. Some will use Google to serve mail behind the scenes to a traditional Outlook-like solution. But, if the Google Inbox interface proves to be popular, presumably, other providers of cloud-based email services (like Microsoft) will mimic this type of user experience. So, chances are good that "inbox bundling" will be a growing trend — potentially leaving your firm's good old HTML-newsletter relegated to a 3rd-tier bundle of promotional messages that users largely ignore all day, everyday.
So, What Should You Do?
I can't say for sure how Google Inbox actually works because I don't work at Google, but as I see it, there are a few course of action you can probably take to keep your email in the Primary inbox so it's more likely to be read:
Make sure your content is educational and not promotional. In a way, it's a lot like having success with SEO. If your email reads as if it's trying to help the recipient, I'd bet chances are better Google will send it to the Primary Inbox. If it reads like you're trying to help yourself, I'd bet it will be sent to the Promotions bundle. So, send less content about what you've done and more about solutions to the fundamental challenges of your clients. (Don't kid yourself, Google is smart enough to discern intent of language with its algorithms).
Reduce the amount of images and HTML content in your email relative to your text. My hunch is that Google assumes that emails with lots of images and graphic content are more likely to be promotional so they go to the Promotions bundle. Again, this is a hunch. But, we've seen similar articles point to this in the past.
Consider moving to a format that looks more like general correspondence (like the first example above). You can do this in some email marketing tools (like Listrak) and in most marketing automation systems (like ActOn). You still need to stick with proper email practices (include an address and an opt-out). But, the more your message looks and acts like general correspondence the more likely it's going to get where you'd like it to go.
Consider delivering messages to recipients from their most trusted and personal contacts. If your firm has 20-30 leaders who have relationships in the market, those contacts should be "owned" by those leaders in your CRM. With a marketing automation system you can send your email in a many:many fashion from the contact owners to their various relationships. This takes a little practice and testing, but it is the most effective way to distribute thought leadership anyway. So, even if you're not concerned about Google Inbox, you should be looking to move this way in the near future regardless.
Here's a good article on Google Inbox if you want to learn more.