Analyzing the nuances of what makes The Five Fifty shine in thought leadership delivery online.
A few months ago, McKinsey introduced a new format to deliver its thought leadership to the market coined The Five Fifty. This new idea is a latest step in the firm's quiet migration to a more digital presentation of its thought leadership over the last 3-4 years since it merged McKinsey.com and McKinseyQuarterly.com into a single presence. As an approach to content delivery, The Five Fifty is extremely well planned and implemented. It should serve as a reference to any thought leadership marketer looking to engage readers online.
What is The Five Fifty?
Here's a quick take on what The Five Fifty appears to be. As of this writing, the firm has released 5 editions. Each edition focuses on a single central topic — examples include the Digital Effect, Going Long, or Becoming CEO. It presents the topic in brief (4-5 charts with short corresponding contextual content that can be read in 5 minutes). And, it presents the topic in depth (links into longer form research and articles that can be read in 50 minutes).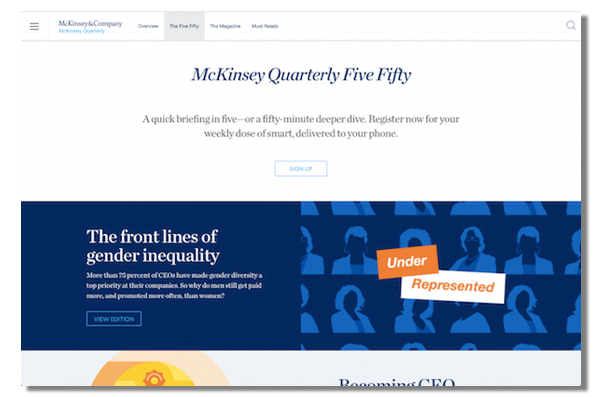 In the spirit of the publication, in 10 seconds, here are 4 reasons I love The Five Fifty:
Elegantly Mixes Short- and Long-Form Topical Content
Directly Communicates Expectations to the Reader
Properly Leverages Interactive Content on Any Device
Designed How People Read Online
And, here are those same 4 reasons in 7.5 minutes:
#1 – Elegantly Mixes Short- and Long-Form Topical Content
People have been telling me for years that we live in a "sound bite" society; that we're no longer a nation of readers. Everything needs to be shorter because clients simply have no attention span. While I agree that the competition for clients' attention is higher than it's ever been, I don't think the logical conclusion is that people simply won't consume long-form content at all anymore. If anything, I generally argue that we probably consume more than we ever have. We just have a lot more options than before so we're more discerning about what we'll give time to and what we won't. And we're much less likely to do so if we're dropped directly into an experience that demands 60 minutes of our time with no short sampling to tell me if it'll be worth it.
We look for evidence that something is going to be worth the investment of time and energy before we commit. That short blog post should lead to a longer form piece of topically relevant content that enables the client to think about the issue in more depth or to provide greater clarity. It's your job, as a thought leadership marketer, to get your high value clients to consume that longer form piece of content when they're ready. It's how your firm affects the buying process at its earliest stages.
A few years ago, we developed the Content Marketing Wheel to help marketers think about how micro- and short-form content leads to long-form and spoken content and how they all interconnect to lead clients into their buying process. The Five Fifty does this exceptionally well.
#2 – Directly Communicates Expectations to the Reader
For a while, we saw a lot of those horizontal bars pop up at the top of web articles that were designed to help the reader see how long they've been reading and how much longer the article appears to be. At first, I thought these were a great idea because they were communicating to the reader the time they'll need to invest in the article. Over time, I've seen them wane for a number of reasons — the primary one being that they accentuate reader fatigue rather than alleviate it. Instead of reading the article, I spend half my time with an eye on the bar to see if I'm close to the end. My attention wanes and I'm focused on completing the task rather than comprehending the content. In short, the idea was right, the manifestation of it was wrong.
By contrast, The Five Fifty gets it exactly right. It follows a simple, predictable format that the reader will come to expect over time. I know you're asking for no more than 5 minutes of my time. If I like what I see, I can go deeper and understand what's behind the curtain. That extra layer of engagement will ask for no more than 50 minutes of my time. The promise is explicit and it's up-front. It's respectful of the time constraints of a busy executive. But it doesn't stand in the face of comprehension. I know what to expect going in, and I don't think about it again. I simply focus on the content and understanding it. I don't have access to the data, but I wouldn't be surprised to find visitors spending more time with this content than with other thought leadership content as a result because of this implicit pact the firm has made with its readers through the format — people tend to give you more of their attention when you demonstrate you will be mindful of it.
#3 – Properly Leverages Interactive Content
To use an over-used term (at least in other contexts), The Five Fifty is digitally native. It's not just a blog article with a link to download a PDF. The charts expand and animate as I scroll down the page to hold my attention and attract my interest. Interactivity is used to enhance the message each article is trying to communicate rather than functioning as a web gimmick. We know from our past research that the firms that generate the most leads from their thought leadership marketing are more likely to regularly use interactive content in the presentation of their thinking.
And, it appears to work well on most any device. In our experience, one of the challenges of interactive content tends to be getting it to render correctly in a variety of situations. Sure, the interactive charts build wonderfully on a desktop when the reader has the most control over how they scroll through the page. But, often they become difficult to read on a phone or freeze on a tablet. For the most part, The Five Fifty renders appropriately on every device I tried (except that old iPad 1 that's still lying around the house, which inexplicable still mostly works):
#4 – Designed How People Read Online
Over the years, Nielsen Net Group has released numerous eye-tracking studies highlighting the F-shaped viewing pattern of a web reader. When we read online we tend to read headlines and scan down the article to the next subhead. We continue this pattern down the page. When this data is aggregated and presented as a heat-map it looks like an F.
Recent research from Nielsen Net Group took these findings one-step further. In fact, if you were to split a typical web page in half down the middle, readers spend 4x as much time on the left-half of a page as they do on the right. It's right here where the nuance of The Five Fifty stands tall. Each edition is almost presented as two separate halves of a page that work in concert with each other. On a desktop, the entire article can be read through the subheads simply by scanning up and down the left-side of the page only (how readers will behave). Each subhead directs the reader to the right side of the page where a supporting chart, additional contextual content, and a related CTA that nudges readers into the longer-form content. The Five Fifty wasn't just designed for the web, it was precisely engineered to mimic the way we behave as web readers: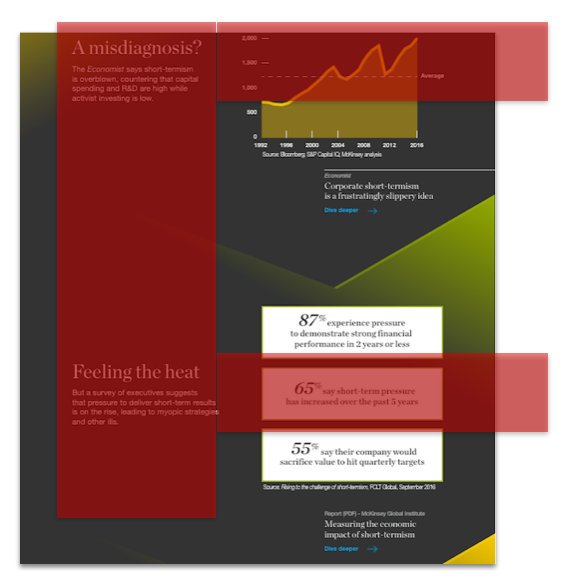 And, A Few Ways McKinsey Could Make It Better
From what I've seen, The Five Fifty gets most everything right. That said perfect execution is rare. It's easy to find mistakes in our own work and even easier to nitpick the work of others. The only  missteps I see are minor and in most instances episode-specific. All that said, I see a few ways this new content format could be even better:
Eliminate redundant CTAs — In a few of the articles, the subheads lead to interesting charts with contextual content. But, at the conclusion of the contextual content, the reader is presented with the same CTA repeatedly (as an example, see the episode on the Digital Effect). My expectation with each subhead is that it's going to lead me to deeper reading on that very narrow aspect of the broader topic (as it does in the episode on Going Long).
More clarity on where the CTAs will take you — Some of the 50 minute dive content is actually housed outside McKinsey.com (the episode entitled Evaluate This leads readers to a Gallup report on the State of the American Workplace, but it doesn't make this clear to the reader). This is disorienting to the user, especially when trying to follow the topical thread of the episode. By contrast, the episode on Going Long rights this mistake by clearly stating where each link leads.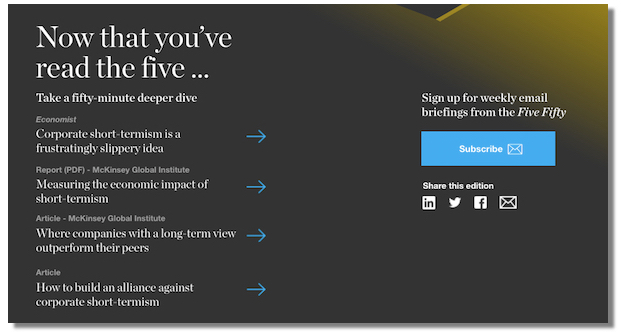 Date episodes (and potentially byline them?) — After hearing Charles Barthold and Roberta Fusaro at our 2017 thought leadership event, I'm sure this was a subject of great debate within the firm. But I would be remiss if I didn't go on record how I always do. Every episode should at the very least be dated and potentially bylined as well. My guess is that The Five Fifty is seen more as a pathway to longer form content, hence it's functioning more like a topical landing page. But, given that each topic is presented as an episode it's hard for me to understand why it's not dated as the McKinsey Quarterly has been for 50+ years. At some point, there will likely be enough episodes that findability on the main landing page will become an issue hence providing dates will be helpful to readers. More importantly, a date always provides a signal of relevance (or lack thereof) on a topic. Bylining the episodes might be more difficult as they're often collections of topical content. But it might make sense to more clearly acknowledge key contributors to the thinking and production of the content itself. Regardless, I'm sure there were valid reasons these things were not done. Though, we tend to consider them best practices for virtually all thought leadership a firm produces.
The Five Fifty Shines
In the end, this is really one of the more effective and enjoyable ways I've seen thought leadership presented online in some time. It brings forward many of the best practices we've talked about for years (short-form content leading to long-form engagement; designing how people actually read online) and pushes some new ground (creating a "new publication" out of the explicit promise made to the reader).