This article summarizes how to deconstruct and present your thought leadership content online.
As I talk with marketers at professional services firms around the country, one of the recurring themes I hear is this, "How do I organize and present my content effectively for the web?" We developed the Content Marketing Wheel as a tool to help firms present their content in a more effective and systematic fashion. This article summarizes the Content Marketing Wheel and provides an example of it in use (along with sample outcomes).
For many A/E/C firms, content marketing is relatively new; they're struggling to get traction, to produce quality content with frequency and to keep it all on topic. The Content Marketing Wheel helps you do that.
On the other end of the spectrum, many consulting firms have long and proven histories of successful thought leadership marketing; they're prolific producers of research, publications, books and other long-form content. They've been marketing with thought leadership since long before the Internet even existed. For some of these firms, the Internet has represented a rather large disruption to this model they haven't quite unraveled. These firms struggle with how to deconstruct their research and thought leadership into a collection of useful content assets for the web. The big idea is there, but it's buried deep inside the research. And, fewer and fewer people are willing to spend time with that longer form content until they've had a chance to sample it a bit. The Content Marketing Wheel is a helpful tool for these firms too.
Think of Your Content as a Campaign
Before I jump into the Content Marketing Wheel itself and talk about how to apply it, I'd like to step back and offer some perspective on how I think firms should be thinking about content strategy. For firms just trying to get off the block with content, they're often stumped with where to start. Marketers are just looking for folks to step up and produce anything, so topics are driven almost entirely by the subject matter experts themselves. As a result, they're often disconnected from one another and fail to follow a common thread.
At the other end of the spectrum, firms with an abundance of research and content are struggling with different issues — What should we publish when? What should we promote and how should we promote it? As it turns out, the end result is often the same. Because there's so much, what gets published often represents a diversity of topics that are disconnected from each other.
We've found the best solution to this is to think about your content as a discrete set of campaigns. The heart of any campaign is a big idea. In the case of content, the idea is a central topic. The central topic serves as the theme for the campaign and is used to drive other types of content around it. Through experience, we've found when we think this way that content becomes better aligned and interconnected. We're better able to develop and establish a distinct point of view on a topic over time. And, we're able to have more impact towards our stated business objectives for the content itself. We've also found that a good campaign should have a comfortable 6-9 month shelf life. The topic should be big enough and important enough that we can focus on it for at least 6-9 months before moving on to a new one.
The Content Marketing Wheel
When we think about our content this way, it becomes much easier to see how to present our content effectively on the web. The content marketing wheel becomes our tool to think about what types of content we'd like to have around the core topic that sits at the heart of our campaign. It also serves as our tool to define the purpose for the various types of content in the campaign. We tend to find that any good campaign has 3 types of content within it: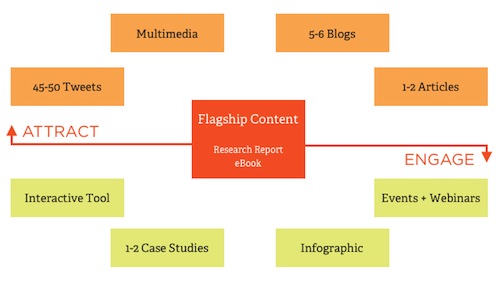 Ancillary Content to Attract Clients — At the top of the wheel, we decompose the big idea down into a collection of shorter-form pieces of content simply to introduce people to the topic. A 15-20 page eBook can easily spawn 6-8 blogs that can explore one narrow piece of the big topic in more depth than is possible in the longer form content. A deep research study can easily be the source of 40-50 tweets highlighting interesting or unique data points or quotes. The goal of this content is largely to function as the appetizer for the main course that is to follow. As such, it represents a minimum investment of time from the potential client (often, no more than a few minutes).
Flagship Content — This is the central asset of the campaign. It's the meal. It's the big idea in all its glory. Ideally, it's the findings of a substantive research study on the topic at hand. Regardless, it's long-form content that presents the firm's unique perspective on the topic in-depth. It could be a 15-20 page eBook or a 100+ page research report. No matter what it is, it should be the definitive source of the firm's perspective on the topic. For the client, consuming this piece of content could represent a significant investment in time — anywhere from 15-20 minutes to an hour or more.
Ancillary Content to Engage Clients — At the bottom of the wheel, we look to extend the topic further into content forms that enable clients to engage with the topic in a more meaningful way. Ideally, these content assets represent opportunities for the client to get more perspective on the topic (a webinar or in-person event) or to personalize the content to their interests (an interactive tool). This content serves as the dessert. Ideally, it also serves as way to transition the client from simply consuming content to actually interacting with the firm and its people.
The Content Marketing Wheel in Action
If you're a regular reader of our blog or article series, I'm sure you've heard me say this before. We try very hard to "practice what we preach." Whenever possible we look to apply the concepts we talk about in our own business before "releasing them for prime-time," so to speak. Here is an example of how we've recently applied the Content Marketing Wheel at Rattleback: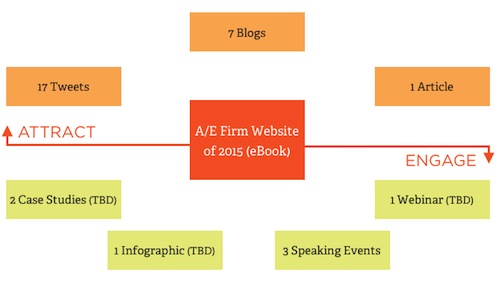 As of April 2014, this is how this collection of content has performed for us:
Site Visits: 2,780 page views (~40% to the flagship content + ~60% to our ancillary content designed to attract potential clients)
Conversions: 293
Email Subscribers: 152
Opportunities: 3
All in all, we've found that the supporting ancillary content extended the reach of the eBook extensively (so, far this ancillary content has driven more page views and site traffic than the core content itself). As the foundation of the topic, the eBook was helpful in securing a number of high-profile speaking engagements, which in turn have led to substantive business opportunities for our agency. As we continue to complete the bottom half of the wheel, we'll update the data in this article accordingly.
Closing Thoughts
We've had a saying in our agency for years, "The client gets tired of it long before the market does." We have a tendency as marketers to want to move on to the next big thing before we give the last big thing enough time to get a footing in the market. To get the most out of our investments in content, we have to slow down, step back and look at the entire landscape of media and content. We have to give the topic and the idea time to run its course. Generally speaking, when we do, we're much more happy with the outcomes.