This post is the fifth in our series highlighting great marketing content from the architecture and engineering community. In each post, we highlight great content, share our opinions on what makes it great and offer suggestions on how it could be used more effectively (if possible).
Perkins + Will: About the Firm
Founded in 1935, Perkins and Will is an interdisciplinary design firm with offices in the U.S., Canada, Europe, the Middle East, South America and Asia. Because they have the most LEED Accredited Professionals in the U.S., they are recognized as the premier sustainable design firm in the country. They work in markets ranging from civic to healthcare, higher and K-12 education to science and technology.
Summary of the Content
Perkins and Will does a great job of developing and packaging their research for things such as their bi-annual Research Journals, Tech Lab Annual Reports and Innovation Incubator Reports. They also write compelling articles on topics important to the industry and have been published in notable journals. In addition, they've developed several interactive tools for project teams to use. Here are a few examples of some of their great content: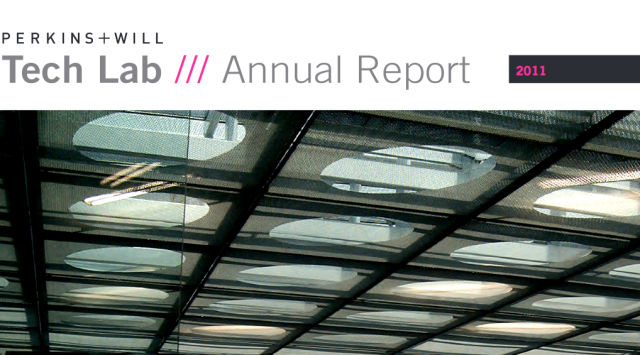 As part of their Excellence in Execution Initiative, their Tech Lab Annual Reports focus on their commitment to sustainability and innovation for the projects they design. These annual reports are a collection of project reports, white papers, case studies, and published articles written throughout the year and produced in annual volumes. Each project report includes the research done on a Perkins and Will project, an overview of each project, the research objectives as well as project results and deliverables. While these 165 page reports are lengthy, they showcase the firm's depth of knowledge, expertise and capabilities to prospective clients.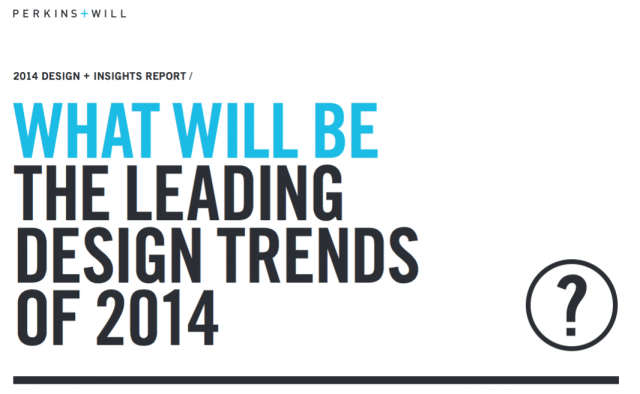 This report is a good example of a shorter bite-sized piece of information visitors can get quick takeaways from. Perkins and Will also did a substantial amount of work to generate the report by surveying over 1,500 professionals to contribute their thoughts. Broken up into five emerging trends, this piece of content is not too word heavy making it easy for readers to consume and capture main points.
What's Great About Their Content:
It's Informative – Whether their content is a longer research analysis or a quick insight, it's useful to visitors looking for information to help them learn more about a topic or make decisions. Their research reports are in-depth and offer transparency into their projects and their articles are on thought-provoking topics important to the industry. They also do a good job of writing abstracts on their content so a reader knows what's included in an article or research report before they click to download.
It's Easy to Consume – Being a design firm, they pay attention to the layout and design of their content, giving a focus to the words and not overcrowding the content with design but giving it room to breath, making it easy to digest. Also, since their research reports are a compilation of project profiles, white papers and articles, by downloading one report, you have access to multiple pieces of content, without having to go to different places to find it.
It's Diverse – In addition to their multiple research reports, and number of articles written, Perkins and will has developed interactive tools that are available on their website. Check out both: The Precautionary List is a tool offering transparency into how healthy building materials are and allows someone to select building materials they are using for their projects and determine the health risks they may be exposing. The 2030 Estimating and Evaluation Tool allows a project team to estimate energy used by their community and set energy use goals for their project.
What They Could Do Better:
Calls-to-Action – Nowhere on their site is there a call to action encouraging visitors to connect with them. If a prospect wanted to reach out to the firm, they could find information under the Contact Us section at the bottom of the site, but that's only relevant for the very small minority of site visitors ready for a conversation. They could be doing a much better job of using both early-stage and later-stage calls-to-action on pages throughout their site for a better chance of engagement. CTAs like "Get our Latest Research in Your Inbox", "Engage with an Expert" or "Contact Us with Questions" would be simple ways to better engage prospects at all phases of the buying cycle. CTAs like these should directly be part of the sidebar on the firm's site pages.
Findability – Their biggest issue with findability is that most of their content lives within PDFs, rendering it almost impossible for anyone to come across the content when searching on the web. The only way to find their content is if you know the firm by name, or the direct title of the content you're looking for. Also, while their content lives in one central place under their About Us section, this section is at the bottom of the site and not part of the main navigation. Their research also lives under their Innovation section, nestled under Purpose, but it's not apparent that this section houses content, and it's not intuitive to find through navigation. In a way, much of the content is splintered throughout the site, making it difficult to find. Other than using the search function on the site, there's no way to filter through content to find what you might be looking for.
Opportunities:
Gated Content – Currently, all of their reports are available for download without users having to fill out a form to download. Some of this content is quite valuable, and may warrant being gated. Without having some of their content hidden behind forms, Perkins and Will is missing opportunities to collect information on the visitors interested in their content.
Wrapping it Up:
Perkins and Will is a large A/E firm doing a really great job of producing informative, educational and dynamic content — much of it is grounded in research and is deep with perspective.
While they can make it every better by making it easier to find their content, they're overall providing a great breadth of content for their website visitors and prospective clients to engage with. Here are the posts in this series on other firm doing a a great job with their content: