The key SEO elements to pay attention to before you hit "publish" to ensure that your content performs well in search results.
You've done your research. You've taken the time to not only get all of your thoughts down but to sequence them together into a logical post someone can read and understand. You have a nice image to accompany your post. You've even hit "spell check" more than once. But before you hit "publish," make sure your page is ready to work as hard as it can for you in search results. Because what good are all of your compelling insights if no one can find them?
Yes, you're probably planning to promote your content in your company newsletter and on your corporate social channels, and these are all great things. But these are mediums for your known audience. Where you should be aiming to get the most traction from your content is from organic search results – namely Google.
So let's make sure your content is well optimized to perform well in search. Here are the key SEO elements you should have in place before you hit "publish."
1) Relevant keywords
This piece should actually come before you sit down to write your post. Take the time to research keywords that are relevant to your service offerings and can be incorporated on your website and within your content. Keywords should have decent search volume, be realistic for your site to rank on relative to competitors, and be relevant to your business and/or content topics. You can use Google AdWords Keyword Planner or a number of other tools to help you compile a list of keywords.
Once you've identified the keyword(s) you want to focus your post around (we recommend one or two), be sure they are incorporated throughout your copy—most importantly within the first 200 words, as well as in your title tag, H1 tag, URL and meta description. More on these elements next.
2) Title tag, URL, H1 tag & meta description
These four on-page SEO elements are the most important things to pay attention to and get right, as they are what Google and other search engines are looking at to determine if your page is relevant to display in search results. And they're helpful to website visitors, as well. They should also be really easy to manage through your content management system (CMS).
We recommend using these elements to tell a broad story about what your page is about—and to think about how someone looking for your content would search for it.
Title tag
Your title tag, also sometimes called an SEO tag or page title, appears at the top of your web browser in your browser tab.

Title tags should be between 50 – 60 characters (to remain within Google's 600-pixel container). Otherwise, it will be cut off. And it's important to make sure relevant keywords appear in your title tag—near the beginning is best. The optimal layout of a title tag is Primary Keyword – Secondary Keyword | Company Name.
URL
We all know what a URL is. It's important to make sure your primary keyword appears in your URL and that your URL length is less than 75 characters.
H1 tag
An H1 tag is typically the headline of your page and is important for both search engines and website viewers.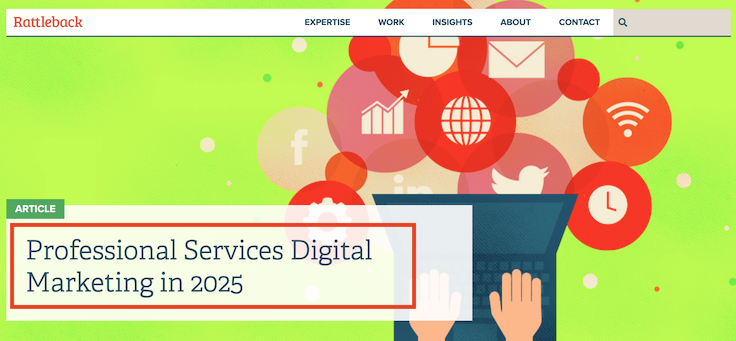 It also appears in search results and is what someone would click on to come to your page.

And on social networks, it is what is displayed when someone shares your page.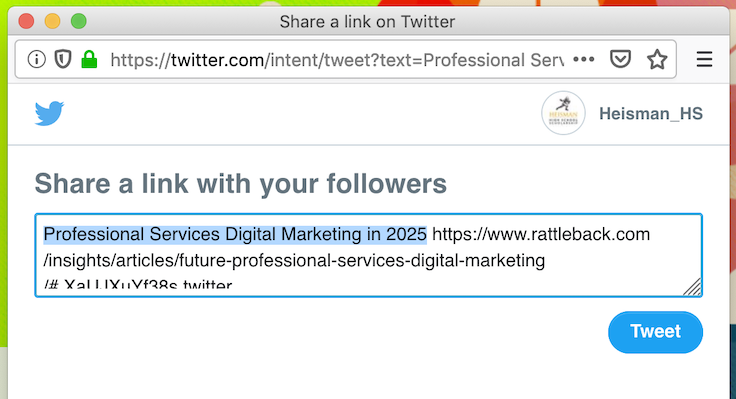 Your H1 tag shouldn't just be a copy/paste of your Title tag. Use it to clearly explain what your post is about and be sure to incorporate your primary keyword.
Your page should only have one H1 tag, as this tells search engines what is the most important topic. Use H2 or H3 tags for subheads to help break up your content (more on this later).
Meta description
Meta descriptions are more important for website users than they are for search engines, as they appear in search results to tell a user what your page is about. While it's good practice to incorporate keywords, it's more important to write a compelling description that someone will want to click. And make sure your description is between 150 – 160 characters, or it will be cut off.

3) Internal linking
Internal linking is when you link a page to another page within your website. It's an important SEO element because it ties pages together and makes it easy for both search engines and your visitors to navigate your site, making each page more valuable in search rankings. If you have a page on your site that makes sense to link to from your post, make sure to hyperlink the relevant text, rather than saying "click here to learn more."
External linking can also help boost your search rankings, as Google likes to see when sites link to other authoritative sites. Just be sure to link to credible sites, have them open in a new tab or window, and limit them to just a few—otherwise, you're giving visitors multiple ways to leave your site.
4) Image ALT tags and file names
If you're using a header image or other images on your page, it's important to make sure they have ATL tags and appropriate file names because an image search is another way your website could appear in search results. ALT tags are also good to have in place to help with accessibility so someone using a screen reader can hear what the image is.
You should incorporate your primary keyword in your image ALT tag and file name to show they are relevant for search results. Make sure to give your image an appropriate file name before you upload it to your website.

5) Readability
If someone comes to your webpage and sees a big block of text, chances are they aren't going to stay long. Long-winded sentences and huge paragraphs will lose readers' interest and cause them to leave your page pretty quickly. Google pays attention to how long visitors stay on your page—if someone stays on your page for a while after clicking from a search result, it tells Google your page was relevant to the search. So the longer visitors stay on your page, the better chances your page has for continuing to appear in search results, and possibly moving up in search rankings.
To make your page easier for viewers to read, break your copy up with subheads (H2 and H3 tags) and use images or show examples when appropriate. H2 and H3 subheads will also tell search engines what content is important on your page and are another place to incorporate relevant keywords.
Videos are another great way to keep viewers on your page. In fact, video is estimated to be 80% of online traffic by 2021, according to Cisco. We've incorporated video into our articles and have seen it contribute to more time-on-page. We recommend keeping videos around 2 minutes in length, otherwise, you risk losing your viewer's interest—again.
6) Content-Length
Google wants to see a page that has at least 500 words, otherwise, it's not likely going to serve your page up in search results. Having a page with few words on it is referred to as "thin content" and Google doesn't like it because it tells them that the page doesn't have enough content on it to be useful. We recommend writing posts that are between 1,000 – 1,500 words, which will give you enough space to write something compelling and useful, but not lose a reader's interest.
To Wrap It Up
While Google is continually adjusting how they determine search rankings, the SEO elements above have always been important to Google and should continue to be for the foreseeable future. You want your content to work as hard for you in organic search results as it can. Taking the time to make sure these elements are in place will help ensure your content has everything it needs to be found and served up in relevant search results. The rest is up to Google.