In this post we'll explore the capability and outline the impact of embracing programmatic advertising in your digital marketing efforts.
You may have heard the word "programmatic" thrown around by marketers but never really cared to understand what it is. But, because programmatic advertising is the fastest-growing segment of digital marketing and by year end is projected to contribute over $45 billion to the digital marketing market it's definitely something that should be on every B2B marketer's radar.
What is Programmatic Advertising?
Programmatic is the automated process of buying and selling online advertising. It's built on a digital exchange that allows advertisers and publishers to buy and sell ad inventories for multiple channels, including mobile, social, video and TV, in real-time. Before programmatic, this exchange was manually managed by humans. Advertisers had to research the behavior of website visitors, determine the value of the ad space and manually bid on it. This process was time consuming and expensive. But now, with the help of artificial intelligence (AI), all of this is done automatically and in a matter of milliseconds. And while people are still necessary to the overall process, helping to determine how best to target and optimize the ads, a big portion of the work can be managed without human involvement.
How Does Programmatic Advertising Work?
There are two primary types of programmatic advertising: programmatic direct and real-time bidding ("RTB"). With programmatic direct, ad space is purchased from a publisher in advance, while with real-time bidding, ad space is fought over by different advertisers in a real-time bidding war. Every time a visitor lands on a site, their information, such as their age, gender, location and browsing history, is collected. This information provides insight about the demographic that visits a particular website and can help advertisers make better informed targeting decisions.
Here's how RTB works:
When a user visits a website that's connected to a supply-side platform (SSP) an auction signal is sent to the ad exchange, where publishers and advertisers meet to buy and sell ad inventory.
The publisher then sends information about the ad space to the SSP. Once received, the SSP analyzes the user's cookies to determine factors such as their age, location and browsing history, and interests.
The demand-side platform (DSP), which handles the ad buying, then reviews the information provided by the SSP and places a bid on the ad placement.
Once the SSP receives bids from the various DSPs, they pick the winning bid and the ad is displayed to the visitor.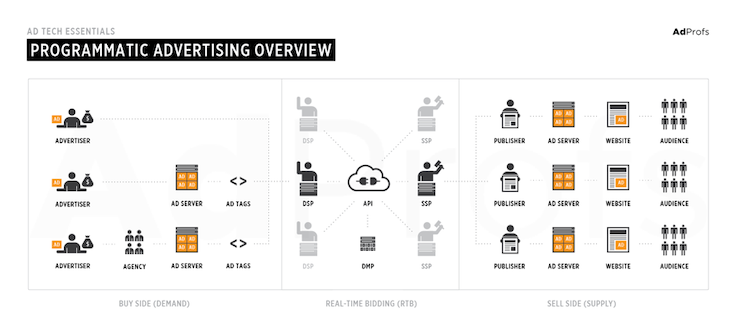 Source: AdProfs, 2019
And while the buy itself is important, the ingredient most crucial to successful programmatic advertising is the data used to serve the ads. Marketers who use programmatic are collecting and managing data via a DMP, or data management platform. DMPs bring data from multiple sources together into one centralized place so that it can be segmented and analyzed for optimal campaign use, via a DSP. There are three main types of data that's collected and used in programmatic advertising:
First-party data: Data collected directly from your audience through your website or CRM
Second-party data: Data, which can include web, mobile and social data, derived from another company's first-party data
Third-party data: Data programmatically generated by other parties and sold to outside platforms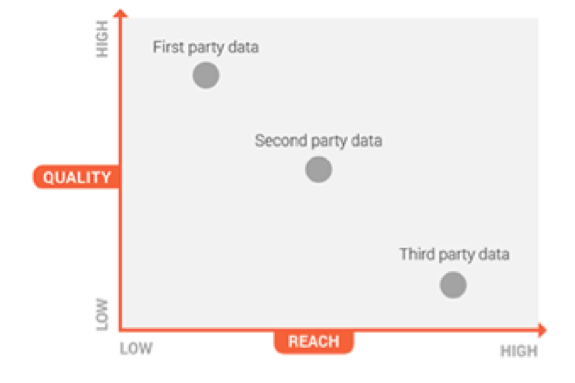 Source: Power Digital Marketing, March 2018
First-party data collection happens daily in B2B marketing but until DSPs came along, the ability to monetize it was difficult. Now, marketers can take control of their data and use it as a way to scale valuable audiences, deepen engagement with customers and ultimately, improve the ROI of marketing efforts. The better insight you have on your audience, the better you can target them, and meet your objectives.
Move Over Google, DSP Coming Through.
Ads served through the Google Display Network (GDN), specifically Google Ads, used to be the primary way for advertisers to access programmatic inventory. However, with the boom in advertising technology and the accessibility of DSPs becoming more prevalent, advertisers can now reach highly targeted audiences more effectively than ever before. And while DSPs and Google Ads are both means to creating and buying ad space, in terms of final output, the two couldn't be more different. Here are three ways DSPs are making Google users re-think their approach to digital ad buying:
Extensive Targeting Capabilities: Ads served via the GDN and DSPs allow for targeting based on geographic, demographic and psychographic factors, however, DSPs go one step further and allow advertisers to target users based on behavioral characteristics collected from first and third-party data.
Availability of Inventory and Reach: DSPs give advertisers access to over a dozen SSPs that can access a pool of over 15 billion impressions per day, while the GDN is limited to Google properties. In addition, DSPs can access multi-channels such as audio and CTV (connect-to-TV channels).
Faster Access to Data: DSPs report in real-time which not only means bidding is done in real-time, but performance data is available in real-time. This allows advertisers to uncover insights and optimize campaigns immediately. With Google Ads, some metrics are delayed by hours while others are only updated once per day.
Why Programmatic?
At the end of the day, there are three overarching benefits to using programmatic versus traditional advertising methods. They include:
Improved Targeting: Programmatic advertising enables advertisers to reach wider audiences with personalized messages. When someone lands on a site using programmatic, you can learn things like what location their browsing from, how and when they arrived at the site, the type of device they're using to browse, along with their age, gender and other interests.
Greater Efficiency: Because everything is managed by machines, the process of buying ad space is more efficient and at the same time, more effective. You can ensure you're sending the right message, to the right people, at the right time.
Larger Reach: Programmatic is everywhere and can reach 98% of the Internet.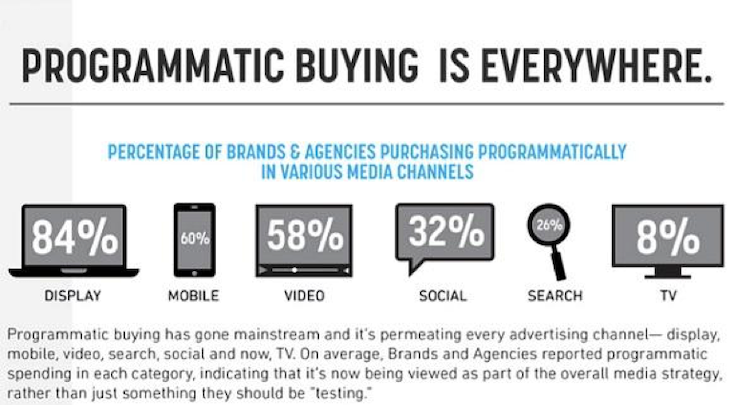 Source: Cardinal Digital Marketing, 2019
Your Ads should Work Smarter and Harder.
Technology is continuing to advance which means digital marketing is becoming more and more sophisticated. And with programmatic advertising you have the ability to maximize your ad spend all while reaching your target audience with a range of customized, relevant and engaging messages at the right time and place.