This post outlines the 7 critical skills of the modern A/E firm marketing department and the 2 prevailing ways to structure your team for content marketing.
For many A/E firms, the shift from a traditional push-based marketing model that relies almost exclusively on events and relational marketing, to a pull-based one that relies heavily on content and knowledge sharing requires a fairly significant cultural shift. The former requires little more than an event manager, a few skilled doer-sellers and some good proposal support. The latter requires a whole bunch of new skills that may or may not exist already in the firm.
The 7 Critical Skills of Modern A/E Firm Marketing
As I see it, the modern A/E firm marketing department requires 7 critical skills:
Research + Content Development — The firm needs the ability to both extract knowledge from the marketplace and its consultants and turn that knowledge into compelling content that can be shared both online and off.
Proposal Development — Like it or not, this isn't going away anytime soon (if ever). The art of crafting a compelling proposal is still a critical skill needed in every marketing team.
Event Management — A content marketing initiative will not likely replace your investments in tradeshow marketing. That said, it may shift your focus and budget from simply attending trade shows to pursuing high value speaking opportunities.
Social Media Management — One of the increasingly effective ways for a firm to distribute its content and cultivate dialogue around it is through social media. In many firms, building a firm's social presence, growing followers, and identifying the best venues to reach and converse with clients online is a full-time job in itself.
Design — High quality content requires high quality visualization. The firm needs to develop its own unique visual brand through all its marketing assets over time.
Martech Management — The technology footprint underlying modern marketing is astounding and its growing exponentially everyday. Your firm is already likely utilizing some combination of CRM, DAM, email marketing and proposal automation. In the very near future you will be using things like marketing automation, interactive content platforms and social listening tools (if you aren't already). Increasingly, your firm will require someone to run the technology, derive insight from it, share that insight across the firm, and keep an ongoing pulse on new technologies that could improve the practice.
Information Management — All that technology carries a whole lot of information. From project profiles, employee resumes, contact details and opportunities housed in Deltek Vision to image assets housed in OpenAsset, your firm will need someone responsible for ensuring not only the accuracy of information, but also the proper flow of information from one system to another.
The 2 Ways to Structure Your Marketing Department
Based on my conversations with A/E firm marketers around the country, I believe there are 2 ways you can structure these 7 skills inside your marketing department — either vertically along practice areas or horizontally around the skills themselves. There are pros and cons of each model and I've seen firms successfully adopt both approaches.
#1 – Aligned Vertically Along Practice Areas
A vertically structured marketing department aligns communications staff vertically with practice areas. With this approach, communications personnel take end-to-end responsibility for a market. They partner with practice leaders to develop content strategy and early-stage content (blog and articles) and also support proposal development for that market.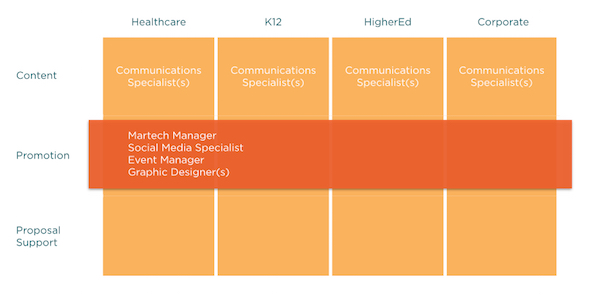 Some of the pros of this model:
Enables communications staff to build strong working relationships with business development personnel and market leaders.
Because they're supporting both early- and late-stage content, it's easier for a communications person to repurpose content they're developing from one activity for the other — the questions asked in an RFP often form the basis of effective early-stage content.
And, it enables communications personnel to build market-specific domain knowledge (similar to practice leaders) while maintaining job variety.
#2 – Aligned Horizontally Around Specialty Skills
A horizontally organized marketing department aligns personnel along the specialty skills required of the modern marketing function. It asks communications people to work across market areas within a narrowly defined specialty. Communications people are specifically responsible for developing either early-stage content (blogs, articles and research) or supporting the proposal process across all markets.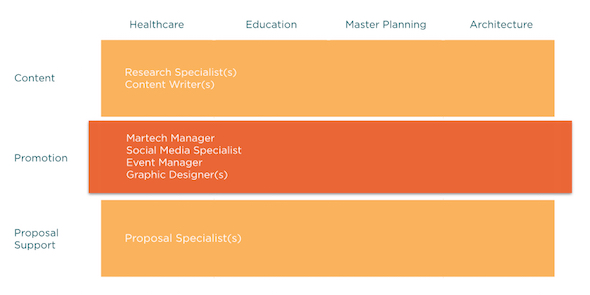 Some of the pros of this model:
Enables the firm to hire specialized personnel and/or develop specialist skills and expertise based on the interests of the marketing staff.
It's much easier to build process efficiency in a horizontally structured function because people are performing similar tasks with regularity.
And, it enables communications personnel to develop deep insight into the nature of communications at both the early- and late-stages of buying.
Closing Thoughts
If your firm is looking to make the transition to a content-based marketing model, I hope this post helps you think about the skills you'll need to acquire, grow or purchase. Some of these skills likely belong entirely inside your team (proposal, event, social and information management), and others may be partially or entirely outsourced (research and content development, design, martech management). If yours is a large firm, you may have multiple people operating in each skill area. That said, in smaller firms these 7 skills may be shared across 2-3 internal people and some targeted external partners.