This post explores the past, present and future of thought leadership marketing through three eras.
About a year ago we started adding summary videos to many of our thought leadership articles. Our thinking, which has since been confirmed by data, was that "readers" of thought leadership would prefer to consume thinking in a passive format rather than an active one. Feed me what you have to say. Don't make me work so hard to get it. This idea was fairly intuitive, but we've since confirmed it with research released early this year which found that the best thought leadership marketers prioritize "lean-back" over "lean-in" content. And, since making this change we've seen engagement with our articles literally double — articles with summary videos hold people on page 2x as long as those without.
But, just a year removed from the decision I've come to the conclusion that our step forward was much too small. We're still thinking too linearly. We've been outlining and writing articles then summarizing what we wrote in 2-minute videos.
We need to be operating with a mindset that's digitally native — develop our thinking, script it as a video or other interactive experience, then expand on the thinking, if necessary, through written words. It's a slight, but meaningful nuance. And, this, at its core is the essence of what I've come to call Thought Leadership 3.0.
As I see it, we're somewhere in the early stages of this third wave of thought leadership marketing. The three waves, as I see them are these:
1.0 — Printed Articles (1964 – 2011)
2.0 — Digital Articles (1997 – Present)
3.0 — Digital Mash-Ups (2014 – Present)
Let's take a look at each wave briefly, and offer some examples.
1.0 — Printed Articles (1964 – 2011)
I would argue that thought leadership as a B2B marketing approach was essentially born in 1964 with the first publication of the McKinsey Quarterly. The thinking was both simple and logical. McKinsey sought to codify the things they were learning in their work and share it with clients and potential clients as a means to spark conversation, solidify their reputation, and earn trust for follow-on and new client engagements.
Articles were outlined, written, printed, published and mailed. Many firms sent monthly newsletters. Other firms, like McKinsey, developed quarterly publications. Of course, many firms also pursued the gold standard of quality content — publishing a book or a collection of articles in HBR or another respected media. Good content was generally accompanied by custom photography or illustration to make it more visually interesting. But, this probably wasn't a pre-requisite to success.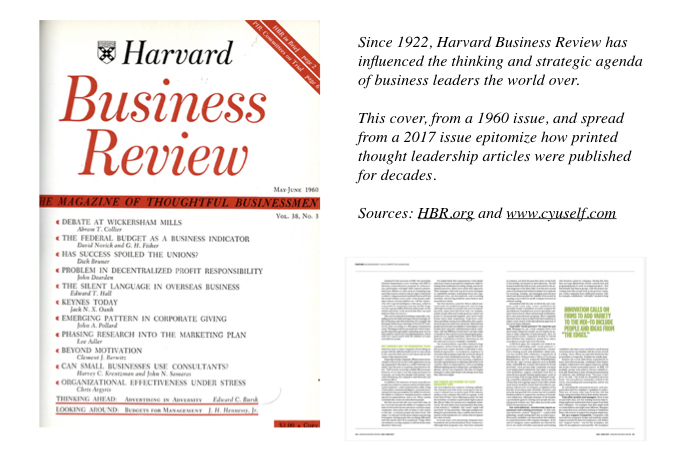 This formula — publish an infrequent book and occasional articles — worked exceptionally well until around 2009 when easy, inexpensive web-based self-publishing collided with pinpoint search, at your fingertips, to enable anyone and everyone to publish their thinking and get found online. I'm not saying that printed articles or books are irrelevant now. Rather, I simply chose 2011 as an inflection point because it was when we started getting inquiries from firms telling us that their traditional model of print, distribute and speak wasn't working as well as it had in the past.
2.0 — Digital Articles (1997 – Present)
The first web log was born in 1994. Eventually, the term weblog became a thing around 1997, and blogs emerged as digital journals. Starting as fringe elements of the web, blogs rapidly gained in popularity as low-cost content management systems emerged and entrepreneurs realized they could publish their thinking and get found online via Google. By 2009, even your local pool installer had found new worlds of success by publishing his thinking online.
The blog made it much cheaper for anyone to self-publish, for content to become more pervasive, and for the world's knowledge to become more findable. But, it didn't fundamentally change the world of thought leadership marketing. At least not right away. We continued writing in the same old linear fashion — develop the idea, outline the article, add an illustration, and publish the insight. But, suddenly, we could do it a lot more quickly and a bit more cheaply than before.
But over time, the digital article did evolve. As phones and tablets became bigger parts of our lives our reading habits changed. Online, we tend to prefer content in short sentences. Short paragraphs. Broken apart with subheads. Discrete lists we can work through quickly. Even broken sentences are okay — as you can see here. Of course, Google knows this. Over time its algorithm has adjusted to prioritize content that looks like this. As a result the digital article looks structurally different than its print predecessor.
Writing styles have evolved as well. Content has become more personal and less formal. And, this has leeched over into the world of thought leadership marketing as well. Even leadings voices, like Shelly Palmer, present their thinking much more casually than they might have in previous eras. They literally invite readers into a conversation in ways no print publication would've done 20 years ago.
Shelly Palmer has attracted over 400k followers largely through publishing a regular blog (which is often re-published on LinkedIn) and producing a daily conversational email on technology:
Obviously, search and search position have become critically important to thought leadership developers. Because Google rewards both quality and consistency, the emergence of digital articles has put more pressure on thought leadership professionals to produce insights more regularly and more quickly than ever before. But, it didn't really change the basic formula all that much. An article is outlined, written, published and promoted. Up until now, Google could really only understand the written meta data surrounding a content asset so a written blog performed comparably (or better) than a video.
Over the last few years, a lot of time and energy in the marketing community has been wasted talking about the death of long-form content. The wisdom was that no one would read a long white paper so we should abandon them in favor of a collection of 300-word blog posts. But, the argument fundamentally missed the point. People's attention spans haven't shrunk. Heck, people are sucking down 13-episode Netflix series in a few days. It's not attention that's the problem. It's tolerance. Increasingly, "readers" have less tolerance for content that forces them to work so hard to consume.
3.0 — Digital Mash-Ups (2014 – Present)
The web is an inherently visual and interactive medium. Sure, the lowly blog upended many firms' thought leadership marketing practices. But, really we were doing nothing more than porting traditional offline publishing techniques to a digital platform. It's as if the TV was invented and we chose to use the medium to broadcast radio shows with an occasional picture or two.
Over the last 5 years we've seen the emergence of a whole new way of thinking about content. We've seen the launch of the McKinsey Quarterly Five Fifty. We've been working with clients to develop wholly interactive experiences that bring their research to life. And, we've seen the emergence of a new format for articles that combines video, interactive content, graphics and words in a media mash-up that engages readers more deeply, helps them learn and retain information better, and keeps them entertained to-boot.
The McKinsey Quarterly Five Fifty uses interactive content to pull readers from short-form content into long-form content:
Rattleback developed this interactive experience to bring the National Center for the Middle Market's 2019 Culture Study to life:
The New York Times used video and interactive graphics to tell the long and complex story surrounding an analysis of President Trump's real estate tax practices. Video was used to tell both the backstory and explain complex concepts that would be difficult for readers to understand:
Ultimately, this is the heart of the third wave of thought leadership marketing. It's about developing content that's visually compelling, rooted in storytelling, and combines all the digital tools available to us (video, interactive graphics, visual design and illustration) to engage the "reader" much more deeply than ever before. It increases comprehension and understanding. It improves "reader" retention of concepts and brand recall. And, in just a few short years we'll be hard pressed to remember when we weren't working this way.
Implications — What Does It Mean for Your Firm?
Producing exceptional thought leadership content now requires a wider variety of skills than ever before. Years ago you could get by with a subject matter expert and a typewriter. These days, to do it well, requires a mix of people — subject matter experts, researchers, economists, writers, editors, interactive designers, developers, videographers, and lighting/sound experts. We're seeing these effects in the newsroom already — In the last 7 years, The Washington Post has added nearly 300 engineers to its journalism staff.
While it sounds daunting, the good news is that many of these skills are converging. There are literally, firms with teams of 1-2 people that fill all these hats on their own. Software is democratizing some of them — it's simply a whole lot easier to produce a quality video or interactive graphic today than it was even just a few years ago. Skills that years ago took years of work, learning, and trial and error to acquire can be learned through YouTube videos or LinkedIn Learning. And, of course, agencies like ours are stepping in to bring specialist skills (video production, video training, interactive content development) to fill the void.
It continues to be an exciting time to work in the field of thought leadership marketing. We cover topics like these, and more, at our annual conference — Profiting from Thought Leadership. I hope to see you there.