A few weeks ago I wrote about The Growing Marketing Divide in the A/E industry. As I see it, a group of firms have emerged that are approaching marketing in a very different, more strategic, more effective way. These firms are having some of the best years in their history.
At these firms marketing is a firm-wide effort. It's focused on building accretive knowledge over time to build an organization that's sustainably different, translating that knowledge into thought leadership to express that difference in a meaningful way, and investing in technology to make the whole process more effective, more efficient and more intelligent.
In these firms marketing has become much less about managing events and coordinating proposals, and much more about driving and managing 3 critical flows across the firm.
#1 – The Knowledge Flow
This flow is really the heart of modern marketing in an A/ E firm. Ultimately, the firms that win the best work will be the ones that are able to express a tangibly different and unique point of view on issues that matter to a client on their particular project. When two firms demonstrate roughly equivalent levels of experience for a project, the firm to the left is the one that has the ability to demonstrate a higher level of expertise. Expertise flows from knowledge.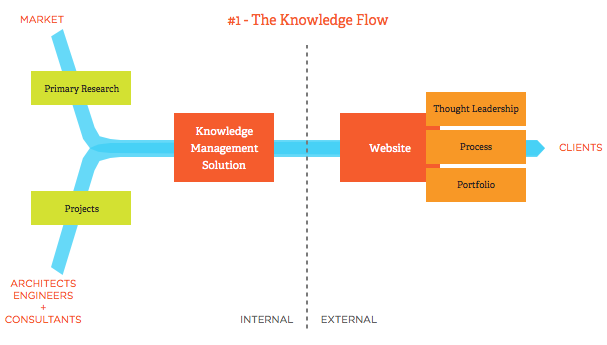 This knowledge can flow from tangible, primary research on issues that matter to clients. Or, it can flow from a systemic process established in the firm to mine the tacit knowledge of its subject matter experts in relation to their projects and client work. The best firms are doing both of these things simultaneously.
Ultimately, successful marketing increasingly depends on the firm's ability to cultivate, develop, and drive this flow of knowledge from the firm to its clients via the firm's website and offline marketing efforts. Leading edge firms are investing in Knowledge Management solutions, like Synthesis, to function as the central hub of this flow.
#2 – The Information Flow
While the firm's knowledge is its most valuable marketing asset, firm's also have a lot of information they manage in relation to their marketing efforts. This includes things like staff resumes, teaming information, project scopes, project details and project imagery. All this information tends to have use both inside and outside the firm, and a lot of firms manage it that way — multiple versions of the same information, housed in multiple places with no coordinated intersection. Sometimes this information is organized in a cobbled mix of file shares and other times it's locked up in a variety of disparate systems.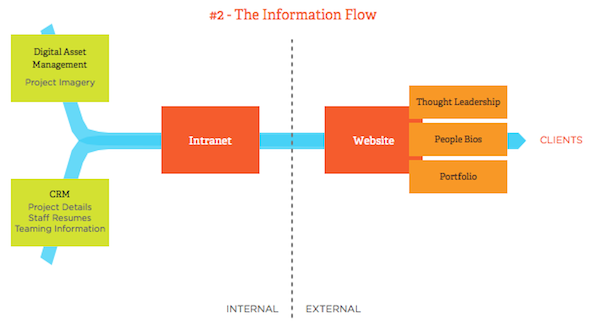 Leading edge firms are investing in technology to make this process more efficient. Instead of managing a project summary inside a CRM and doing it again inside their website CMS, they're connecting these systems together so they can manage the information in one place and flow it to all the places it needs to be used. This information flow makes the firm much more efficient by reducing double work. And, it increases the accuracy of what the firm is presenting to the market by simplifying the management of information. Often, this information flow occurs right alongside a firm's knowledge flow (as it does in firms that use Synthesis — a social intranet and knowledge management solution for A/E firms).
#3 – The Intelligence Flow
The third and final flow is the flow of data and intelligence from the firm's marketing activities back to its marketing and business development teams in the form of useful insight. This flow is enabled by investments in various forms of marketing technology — systems like marketing automation — that enable firms to get more insight into how clients interact with the firm's marketing activities in relation to their buying journey.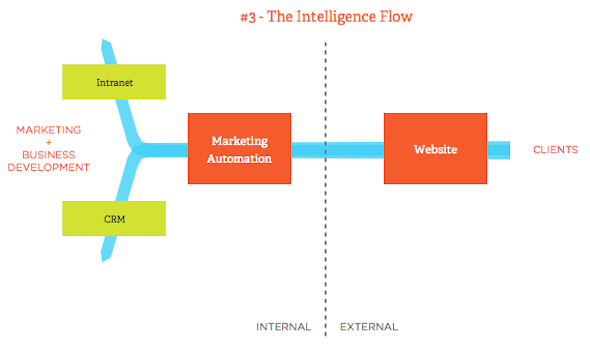 With a little bit of work, marketing technology has the ability to tell marketers useful information that can help them invest more resources in the right areas and less in the wrong areas. This includes information like:
Which thought leadership topics are most consumed by our clients?
How does a client engage with our marketing activities at various stages of their buying journey?
What indicators do we have that a client is close to engaging in a new capital investment if we don't already have that information from our traditional business development efforts?
How do our best clients first interact with our firm's marketing efforts and our firm's website?
Which marketing activities lead to the best new client conversations and project leads for our business development folks?
By flowing this intelligence back into systems that a firm's business development people interact with everyday (like the firm's CRM or intranet), marketing technology has the ability to make business development people more successful by giving them useful information to drive their activities and conversations. Information and insights a business development professional can derive from marketing technology:
Of all my prospective clients, which ones are exhibiting later stage buying behaviors? How can I use that information to prioritize my efforts?
What topics is this prospective client most interested in right now? How can I use that insight to shape my early stage conversations?
What aspects of our firm's marketing efforts (portfolio, people, process or thought leadership) has this potential client spent the most time with? How can I use this insight to shape the interview, the pitch or the presentation?
Wrapping It Up
Ultimately, the marketing of a firm is expanding much beyond its original mandate. Every day it looks much less like an individual department and much more like a coordinated set of activities, process and skills shared across a variety of the firm's functional areas. This amoeba like model is spawning a variety of new specialist roles in the firm — critical roles that may not fall under the function of a traditional marketing department, but are critical to the firm's marketing success. But, alas, that is the subject of a different post.