The benefit of working in a relatively narrow arena is the ability to recognize patterns. Without effective positioning, you won't have the opportunity to see similar situations time and again. And, it's the frequency by which you see a problem that enables you to recognize it as a pattern. This in turn enables you to get to the heart of the issues that matter to your clients. This is one of the many reasons that a sound positioning decision is the cornerstone of a firm's intellectual capital agenda.
But, I digress. The purpose of this article is not to talk about pattern recognition, but rather to share some of the patterns I've seen in marketing professional services firms. More specifically, I've noticed 6 major challenges facing the modern professional services marketer:
Earning Trust of Leadership
Clamoring for Mindshare
Attacks on the Core Business
Failures of Traditional Marketing
Building Digital Marketing Muscle
Adopting Marketing Technology
Most firms won't face all six, but I've seen some combination of them in most of the firms we work with.
#1 – Earning Trust of Leadership
Unfortunately, in a lot of firms, marketing is viewed as a support function. It's seen as a cost to be managed rather than a driver of future revenue. Marketers are tasked with proposal support and other downstream activities, but are rarely consulted on future-facing business decisions. In some firms, marketing is even bundled together with HR, finance and IT into a sort of uber-support function that rolls up through an administrative office.
While there are probably instances where this is perfectly logical, often it's simply a misunderstanding of the nature of marketing itself. And, often, it's a big missed opportunity. The best firms look to the marketing team to identify unmet client needs, develop new service offerings, clarify value propositions, and discover original points-of-view that attract qualified clients and repel unqualified ones. In these firms, marketing is a source of competitive advantage because it has the ability to shape where the market is headed and create future demand for services not yet fully defined.
#2 – Clamor for Mindshare
One of the fundamental truths of the last 10 years of B2B marketing has been the rapid and almost complete adoption of content marketing. I've probably said this a thousand times in the last 5-6 years — the content explosion runs unabated. While you could probably point to 1,000 different data points to confirm this statement, I simply like to point to the number of websites indexed by Google. This hockey stick graph says enough: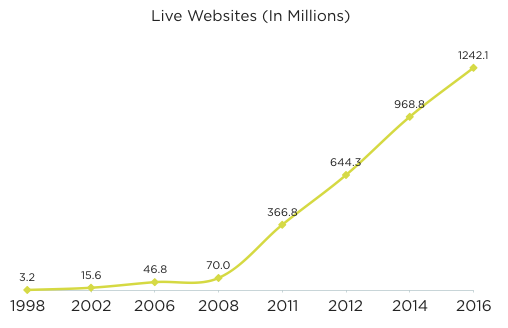 Google has literally made it possible to find a needle in a haystack. So, marketers all over the world are actively working to create needles of every shape, size, color and dimension in existence. For even a seasoned thought leadership marketer, this has created a whole new slew of voices competing for executive mindshare with content that is more hyper-targeted and relevant than many firms are accustomed to producing. The bar for what constitutes quality and will get the attention of a senior client executive has been raised significantly.
#3 – Attacks on the Core Business
These days, firms are under attack from at least 3-4 unique and somewhat new dimensions. Google didn't just make it easy for clients to connect with useful content, it also made it much easier for specialists to connect with clients across distant geographies — we've now fielded inquiries into our services from every continent (except Antarctica). 10-15 years ago you probably knew all the key firms your clients saw as substitutes. Today, specialist firms can materialize out of nowhere and gain meaningful traction with nothing more than a compelling perspective and a WordPress blog.
Simultaneously, SaaS companies are baking firms' high value advisory services right into their software as best practices. Years ago clients sought to find software that would enable their processes. Today, they adapt those processes to the software they license because they assume it was built with a best practices use case in mind. Essentially, they're buying your advice after the software sale, but it's being sold as "professional services" or a "quick start" program by the SaaS company itself. (For more on this read: The Marketing Trend Devouring Your Firm's Core Business by Jeff McKay)
Of course, the biggest potential attack might be the existential threat posed by automation and other technologies. While most firms are probably not feeling pressure from this quite yet, those changes will surely come quicker than most firms anticipate so they need to be positioning themselves to respond now.
#4 – Failures of Traditional Marketing
Alarms have been sounding the death of offline marketing for over a decade. While that has certainly not come to pass, there has been some decline in the effectiveness of many traditional marketing activities over the last 10 years. The tried-and-true method for thought leadership marketers of authoring a book, publishing journal articles in prestigious publications, and securing speaking opportunities still works. Just not quite as well as it might have a few years ago. Over the last 5-6 years we've been hired by more than a few firms experiencing frustration in these areas.
While senior executives and decision-makers are still avid readers, we are certainly reading less as a society than we used to. Simultaneously, the struggles of traditional news and business publications to adapt to the digital marketplace has left fewer trusted publications for firms to place articles. Couple all this with the rising roles of search and social networks, and many firms find their most effective tactics underperforming expectations.
#5 – Building Digital Marketing Muscle
Despite all that, many firms have been quite slow to truly adopt digital marketing best practices. Many firms still bring print publishing mindsets to digital marketing channels. For every thoughtful piece of interactive content, we find 10 white papers locked up in PDF eReaders that try, unsuccessfully, to port offline reading experiences to digital devices.
While most firms have developed a more keen understanding of the importance of search, we're still shocked to find how few firms have developed the digital habits needed to be successful with search engines. They're not publishing frequently enough, they don't always take the time to search optimize content, and they regularly fail to use the web as a medium to guide clients through their buying process.
#6 – Adopting Marketing Technology
While the growth in MarTech has been staggering, a lot of firms are finding it challenging to keep pace. Too many CRM systems still function as glorified rolodexes. Too many marketing automation systems are being used as expensive email marketing solutions. Advanced conversion tools, website personalization technologies and interactive content platforms often go unexplored.
Marketing technology can be used to shine a light on how clients buy while nudging them along their journey. It can help to proactively identify high potential prospects. And, of course, it can help firms measure their performance and prove marketing ROI. But, all of these things can only happen if you're willing to make some targeted investments and jump in with both feet.
Closing Thoughts
The flip side of every challenge is an opportunity. For every firm that fails to seize the strategic role of marketing in their practice, there is one that seeks the position of owning the marketplace conversation on a topic. For every digitally skeptic practice leader, there is a digitally native nexpert ready to push new ideas and approaches. Now, more than ever, is a critical time to try new things and elevate the voices in your practice saying, "Yes, and."