This post outlines the 4 critical marketing capabilities the professional services firm will require to be successful from 2016 – 2026.
2016 marks the first year in a decade long transition that promises to significantly upend your client acquisition model. This is the year when Boomers really start to retire from the C-Suite and hand the reins of their companies over to their Gen X counterparts. Research and intuition tells us that this new generation of leaders will bring different approaches to decision-making — valuing knowledge, thought leadership and the web more than their predecessors.
Learning how to connect with and engage this new set of decision-makers will likely be the most important initiative facing consulting and A/E firms over the next 5-10 years. Attracting these new clients to your firm will require a much broader set of marketing skills than before.
There are 4 core capabilities of modern professional services marketing. While most firms have placed the majority of their resources into 2 business development capabilities in the past (see below), these new clients will finally force many firms to mature their marketing organizations in ways they likely haven't previously.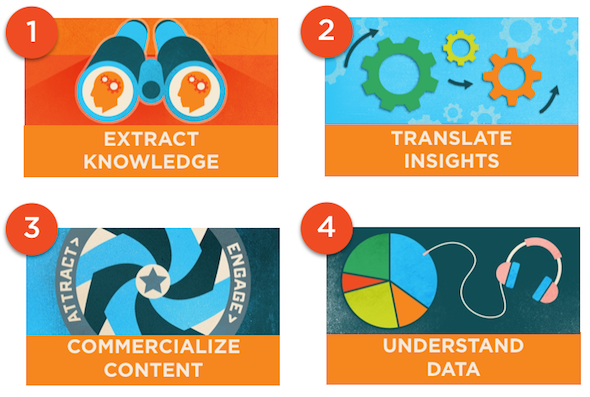 4 Core Marketing Capabilities You Need
1. Extract Knowledge
More than once, I've had a client ask me where we're located — 6 months after they hired us. This next generation of clients is much more comfortable hiring experts, with little regard for their location, than their predecessors. What you know is becoming as, or more important, than who you know.
But, what do you know? While Christopher Parsons' research on knowledge management has shown that the discipline reaches well beyond marketing, there's little doubt that the backbone of a successful thought leadership program has knowledge management at its heart. After all, over 50% of knowledge management activities come out of marketing teams.
For more on this read: Combining Knowledge Management with Research to Build Your Content Strategy
2. Translate Insights
While a knowledge management function can provide visibility into a firm's knowledge resources, it doesn't fully answer the question, "what knowledge should we market?" This is where marketing steps in. It is marketing's job to determine what matters for the firm and its clients.
A modern marketing team requires the ability to isolate critical insights from the firm's knowledge base and translate those insights into high quality thought leadership content that is unquestionably valuable to the firm's clients.
For more on this read: 7 Steps to Develop Your Content Strategy
3. Commercialize Content
If an article is written, but no one reads it does it actually exist? From a client attraction perspective, a firm's knowledge is only valuable to the extent it can get its insights read, remembered and acted upon.
This requires a variety of skills — from decomposing big ideas into a myriad of content types and formats, to securing article placement in prominent industry journals and speaking opportunities for knowledge leaders, to simply getting content found via email, search and social. The modern marketing team simply needs editorial skills in all their forms.
For more on this read: The Content Marketing Wheel
4. Understand Data
The Martech explosion has brought us all kinds of useful new tools to do our jobs. Google Analytics can tell us anything and everything we ever wanted to know about the faceless visitors to our website. Marketing automation can give us a window into an individual client's buying journey. Proposal automation can tell us which sections of a document are most read. CRM can help us predict what's going to happen.
Going forward, the most successful firms will be the ones that, after mastering the first 3 capabilities, really dig into all the data surrounding both their marketing and business development efforts to improve all aspects of what they do.
For more on this watch: Bringing Data into Professional Services Marketing
Improving The 2 Business Development Capabilities You Have
1. Develop Relationships
For a lot of firms relationship building has been the backbone of client attraction for decades. The ability to introduce the firm to a high value prospect and navigate the delicate relationship building activities necessary to turn that introduction into projects is an art that's both learned and difficult to teach.
The need for talented business development people and senior partners will not abate. But, the need for those people to know how to sell from the expert position and guide an inbound lead through the buying process — skills that may be new — will become increasingly critical.
2. Support Proposals
In a lot of A/E firms, 90% of the marketing effort is proposal support. While it would be in many firm's best interests to set aside written proposals altogether, this simply will not happen for all but the best positioned firms — the firms that succeed in building categorical knowledge so deep that they completely upend the buyer/seller dynamic.
The good news is that most firm's proposal development process is highly evolved and runs quite smoothly. Going forward, the trick will be improving adherence to strict Go/No Go decision models to ensure that costly proposal development resources are used only where the firm knows it has meaningfully affected the buying process.
Suggested Next Steps
Of the 4 critical marketing capabilities, some must be built and some can be outsourced. But, the best place to start is by understanding what capabilities you have and where your most pressing gaps are. To do that, access these webinars:
Developing Next Year's Marketing Agenda — Watch this webinar for a list of questions to help you identify your capabilities gaps.
Resources for Closing Your Capabilities Gaps — In this webinar, we share lots of useful resources to build the capabilities of your existing team.
Alternatively, if you need objective outside insight on your unique situation, consider our Marketing Review.