This article summarizes a bunch of marketing technologies that are either pervasively used or potentially highly relevant to architecture, engineering and consulting firms.
Alright, so I lied to you a bit. This article will actually have more than 36 sentences because I need a little back story to explain why I'm writing it and how to use it.
Why a List of Marketing Technologies?
For a while now, I've been writing and talking about the importance of bringing more efficiency, more technology and more data into the process of engineering and consulting firm marketing and business development. I've talked about Scott Brinker's Marketing Technology stack (see below), and I set out to summarize a more narrow Professional Services Marketing Technology Stack (incidentally, that was the original working title of this article).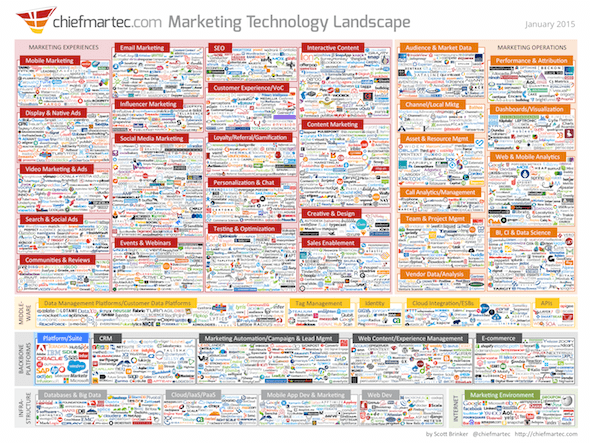 But, that proved to be just too hard because the ecosystem of technologies that are exploding around us is mind boggling (Scott estimates that over $21B was poured into the marketing technology space as of 9/2014), and every firm is different. They start with different core technologies and add different things to meet their needs. I know what a lot of firms use, but then every day I'm surprised with something new.
So, instead I decided to just make a list of technologies — including those that are widely used, a bunch you've probably never heard of, and even one that is still in development. Then, I broke them down into a handful of categories. And, decided the best way to share it with you was simply to bring each technology down to a single summary sentence. An elevator speech of sorts.
Now, I'll likely get some backlash. I've clearly left a lot of things off here that some firms are actually using and they're just not on my radar. And, the software companies I list will likely say I've described them wrong or I left out key, critical features. And, that's okay. Because adding more detail would just bog it down.
How to Use This List
To be honest, I'm not entirely sure. My hope is that if you're exploring a particular type of technology for your firm, this will give you a quick answer as to which solutions you might want to consider along with a quick sense of what might make it uniquely different from other options. For that reason, I broke it down into 10 categories:
Customer Relationship Management ("CRM")
Digital Asset Management ("DAM")
Social Intranets / Knowledge Management
Content Management ("CMS")
Web + Behavioral Data Tools
Marketing Automation ("MAT")
List Building Tools
Business Development Tools
Tools for Salesforce Firms
Stuff that Sounds Exceedingly Awesome
And, that brings us to the moment you've all (probably not) been waiting for…35 technologies described in 36 sentences. (Along with a brief summary for each category — so, maybe more than 36 sentences, but you get the idea).
Customer Relationship Management ("CRM")
When used correctly, your CRM should be the source of absolute truth for all your marketing and business development efforts. It should give you a 360-degree view of all marketing and business development interactions with a lead, prospect or client, provide visibility into your business development pipeline, forecast your business for the year ahead, and help you measure the results of your efforts.
Deltek Vision
The leading ERP (and CRM) platform for professional services firms (both A/E/C and consulting).
Cosential
An intuitive CRM paired with an effective proposal automation package for A/E/C firms.
AEC360
Microsoft Dynamics CRM custom engineered for the A/E/C community.
Salesforce
The most broadly adopted CRM on the planet with a staggeringly large and growing technology ecosystem
Digital Asset Management ("DAM")
DAM is used to do exactly what it says — centralize and manage a company's digital assets (think images and marketing assets).
OpenAsset
The only project-centered digital asset management system custom built for architecture, engineering and construction firms — provides intelligent proposal automation through a Deltek integration.
Social Intranets / Knowledge Management
These are tools a firm can use to support, centralize, and digitize knowledge sharing between offices and disciplines.
Synthesis
THE social intranet for architecture and engineering firms — integrates with Deltek, Newforma and OpenAsset to make all 3 systems even more valuable than they already are alone.
ThoughtFarmer
Does many of the things Synthesis does, but lacks the critical integrations, incredible community and super smart A/E industry experts that enable Knowledge Architecture clients to be so successful.
Interact Intranets
Similar to ThoughtFarmer, a very good social intranet ideal for accounting and consulting or A/E firms that don't run Deltek but want to invest in knowledge sharing.
Content Management ("CMS")
There are literally thousands of CMS systems available on the market, and for the most part they all do pretty much the same thing — make it easy for you to add and edit pages to your site without the need for a developer. In the interest of brevity, I'm just sharing the 3 systems we work with the most:
WordPress
The most pervasive "open-source" content management system on the planet.
RattlebackCMS
Advanced content management designed exclusively for professional services firms.
NewfangledCMS
Built by some of the smartest people I know, it's simply the most elegant and intuitive CMS I'm aware of.
Web + Behavioral Data Tools
Technology you can use to make better decisions in your content marketing or business development efforts.
Google Analytics
The most pervasive web analytics tool ever in existence — tells you everything you need to know about the collective visitors to your site including where they came from, how long they stay, what they read, where they convert, and when they leave.
SimilarWeb
Compare the performance of your website against any competitor quickly, easily, and for free; get access to all that pesky "Google not provided" keyword data for a pretty hefty monthly fee.
Google Webmaster Tools
Tells you where your firm appears in search including which search phrases you actually appear for and where you rank, on average.
LeadFeeder
Connect to your Google Analytics account to find out which individual companies are visiting your site and what interests them most.
eTrigue VisitIQ
Just the behavioral data ma'am — add individual website user tracking to your existing email marketing tools (like MailChimp, Constant Contact and Emma) so you know who's engaging with your thought leadership and when.
Marketing Automation ("MAT")
Automation is a technology that's sort of taken the marketing world by storm over the last 2-3 years. With our clients, we use automation to find high potential prospects from within their existing contact databases using a combination of behavioral data and lead scoring. Also, we use it to identify how engaged existing prospects and clients are with a firm's thought leadership and to better measure the results of a firm's marketing and business development efforts. There are at least 20-30 solutions on the market; the short list presented here are the ones I've spent the most time with — either I've used them or have spent enough time in demos to understand their strengths and weaknesses. (Read this article to learn more about marketing automation).
eTrigue Demand Center
Graduate from behavioral data to full-fledged marketing automation and bring all your VisitIQ data right along with you.
Click Dimensions
Marketing automation that's native to Microsoft Dynamics.
Act-On
Marketing automation for "the real world" — one of the better tools for a part-time automation user.
Hubspot
CRM, CMS and marketing automation all-in-one (and lions, and tigers, and…)
Pardot
Marketing automation that's native to Salesforce.
Marketo
Advanced automation with robust reporting, real-time personalization and an engagement engine (sounds awesome!)
List Building Tools
Data.com
Build prospect lists right inside Salesforce (you pretty much need to use Salesforce to use it) and keep all your lead, contact and account records up-to-date with a click of a button — and, it's all native inside Salesforce.
ZoomInfo
Build prospect lists and keep all your lead, contact and account records up-to-date with a click of a button — it's NOT native to Salesforce (though the integration may fool you) so can be used by users of any CRM system.
Discover.Org
Build sales and marketing lists that are "verified by real humans" that include in-depth org charts and verified direct dials.
SalesLoft Prospector
Build prospect lists using LinkedIn data and import them directly into Salesforce almost instantly.
Business Development Tools
Tinderbox
Automate the development of your presentations and proposals and get really helpful analytics (like who's reading what sections of your proposal and how long they spent).
FunnelCloud
Create private, custom sales portals (mini websites) for prospects in minutes.
Tools for Salesforce Firms
LinkedIn Sales Navigator
Identify potential prospects in LinkedIn and pair your existing Salesforce leads and contacts with their LinkedIn profiles.
iHance
Track all your email interactions, from any email client, and record them automatically in Salesforce.
CirrusInsights
Pull critical CRM data (like contact and opportunity information) directly into your Gmail or Outlook inbox and do basic CRM tasks (like tracking activities or adding leads) right from your inbox.
Insightsquared
End-to-end analytics for all aspects of business (everything from business dashboards to business development and marketing data) for firms that are advanced Salesforce users.
Stuff That Just Sounds Exceedingly Awesome
Infer
Crazy data mining application that takes very limited information from a sales lead in Salesforce and adds thousands of attributes from other sources (including Marketo or Eloqua) to predict the likelihood of that lead becoming a high value client (yikes! and wow!)
Optimizely
A/B test and personalize your website in real-time using behavioral data (I've been talking about that for a while — Haven't I? Haven't I?)
Engagio
Account-based marketing software that is being "purpose-built" to help companies with complex, enterprise sales initiatives. I don't know exactly what that means, but it sounds like something that some of the larger consulting firms might find highly useful once it's built (it's still in development, lead by Marketo founder, Jon Miller).
Conclusion
And, there you have it — 35 professional services marketing and business development technologies in 36 sentences. If you're interested in data and marketing technology, check out our webinar, Bringing Data into Professional Services Marketing and Business Development.
If you'd like to suggest other technologies for the list, feel free to add a comment below — be sure to include only a single sentence summary of the software; or risk the wrath of the moderator!