This article outlines a set of questions thought leadership marketers should be asking themselves every time they begin an editorial planning cycle and after they complete a campaign.
In the marketing world, it seems like we spend a lot of time planning what we're going to do. Even more time doing it. But, almost no time reflecting on what we actually did. Yet, it's this last part — reflecting — that's most critical to our success. This is especially true in thought leadership marketing where the battle for mindshare has become fierce. There's so much content being developed and published from so many places that it's physically impossible for any client to really make sense of it all.
As I see it there are 5 critical questions thought leadership marketers need to stop and ask themselves every so often. You should ask yourself these questions before every planning cycle. And, you should ask these questions at the end of every implementation cycle.
Is our content good enough?
Are we telling useful, interesting and entertaining stories?
Is our publishing strategy digital enough?
Are we effectively marketing our thought leadership?
Are we doing everything we can to enable our sales teams?
#1 – Is Our Content Good Enough?
While this is a simple enough question, it's often difficult to answer. Whether or not content is any good can be quite subjective. Some firms rely on industry awards or benchmarking studies. Some emphasize qualitative metrics — are clients talking about what we are publishing? Others only care about quantitative ones — are we getting a reasonable volume of qualified leads?
From our own research, we know that quality content is the keystone for success. And, we know a few things about what quality looks like.
To start, these days quality content tends to be bound quite narrowly. Pretty much every major business topic is well-trodden by firms of all sizes, types, and shapes. A Google search on today's hot consulting firm topic of "digital transformation" yields millions of results and content from every major voice you'd expect. Producing yet another research study on that topic just adds to the noise. And, produces shallow thinking. But, there are opportunities in and around that topic to create value that broader studies miss. A study on "how operations leaders are approaching digital manufacturing" or "opportunities for applying digital technologies to enhance the CX" could constitute white space. A narrower topic almost always yields a higher quality piece of content because it allows you to go deeper into a domain and create more value for the reader.
Regardless of the topic, the content has to represent a clear and distinct point-of-view on how to approach the problem. How are the most successful companies approaching this challenge? What can we learn from their successes? Alternatively, what is the broader market missing? What can we learn from their failures?
Unfortunately, it's often hard to see these successes and failures in your day-to-day work. A company's field of vision is often limited to a handful of clients or to the belief systems within their own walls. Ultimately, that's why our research has repeatedly shown that the most successful thought leadership programs generally derive from original primary research — a combination of quantitative research to identify high performers and qualitative research to discern their best practices.
From our 2019 thought leadership research study produced in partnership with Bloom Group:


Data represent the percent of 312 thought leadership marketers identifying each approach as the most important source of content for their most successful thought leadership marketing campaign between 2015 and 2017. 
Source:Following the Leaders. Published by Rattleback and Bloom Group, January 2019.
Questions to ask yourself:
Are we binding our topics correctly?
Does our thinking represent a clear point-of-view?
Is it distinct from our peers?
Does it directly map to a solution we can provide?
Can we substantiate it with data and real-world examples?
#2 – Are We Telling Useful, Interesting and Entertaining Stories?
This area of reflection is the one where there is the most opportunity for firms to create separation. When I look across the landscape of thought leadership I see a lot of deep research studies that lean heavily on data visualization. Yet, we know that human beings are systematically blind to data. Most people struggle to understand it. And, virtually everyone fails to retain what it's trying to tell us.
We prioritize our personal experiences over objective data even when those experiences are in conflict with the facts. I can very clearly recall how the research underlying The Challenger Sale came to be. But, I can't really recall any of the resulting data. Michael Lewis's podcast series Against the Rules stays with me because it has a very clear purpose statement — "this is a podcast about the decline of the ref in American society." And, it is delivered through a discrete number of stories — each episode looked at this same topic through a different lens. Hence, the series has a beginning and an end.
Simultaneously, we are visual-first thinkers. Vivid images leave a lasting impression in our minds. It's much more difficult for people to recall things they've read than things they've seen.
Management consultant, David C. Baker, commissions illustrations for the articles he plans to write before he writes them. The illustrations function as a metaphor for what he wants to say and drive the story he wants to tell. The illustrations also paint vivid descriptions of his thinking that make it simple, relatable, and most importantly memorable. As an example, his article about a creative firm as "a single building with two rooms" has been read and applied widely across the global community of small creative services agencies.
In the end, though difficult to accomplish, it's a relatively simple equation. If we want clients to consider our firm they have to retain our thinking. If we want them to retain our thinking we have to tell better, more visual, more audible stories.
Questions to ask yourself:
Is our thought leadership about making us look smart or telling stories our clients can relate to?
Do we talk about and seek to apply storytelling frameworks in our work?
Is our thinking just a collection of articles like an "Amazon station?" Or, is it a collection of episodes like an "Amazon series?"
Do we use our words to drive our visual thinking or is it the other way around?
#3 – Is Our Publishing Strategy Digital Enough?
The central premise of my talk at our 2019 thought leadership marketing conference was that most firms are unwittingly applying analog processes in a digital-first world.
The Internet is the single most interactive medium ever developed. We can publish any thought in any format, or combination thereof, any time we choose. We can mash-up video, interactive graphics, audio and words into singular content experiences. We can meticulously plan what we'll publish, how we'll publish it and when we'll publish it. Or, we can literally share our thinking real-time as it's happening.
Yet, many firms are still porting linear, analog publishing processes to the first entirely interactive medium. They meticulously plan a study, publish a long-form research report months later, and then look for ways to tear it apart and make it more digital. All this work is done largely "in the shadows." Behind a veil until a big reveal occurs 6-7 months later as a long-form PDF report available for download.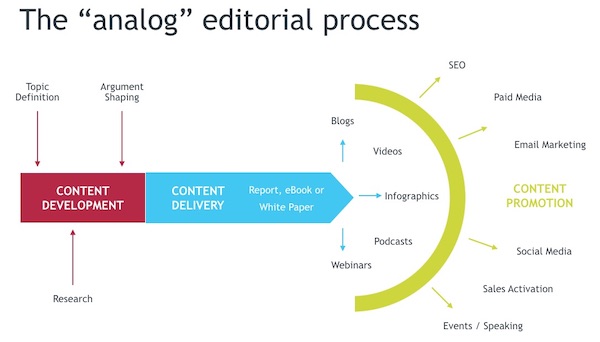 By contrast, the best firms are adopting multi-directional publishing models that use data and analytics to inform topic selection and definition. They prioritize lean-back over lean-in content, and they publish content in pieces as its being developed along the way. Sometimes they're publishing in near real-time fashion as if they're literally "working out loud."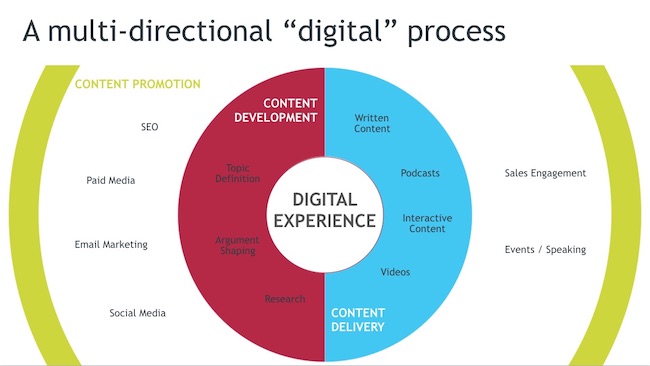 Questions to ask yourself:
Is our editorial process linear or multi-directional?
Does data inform the things we publish and the way we publish them?
Are we thinking about the articles and white papers we're going to produce? Or the stories we're trying to tell and how they'll fit together?
Are we "working in the shadows" or "working out loud?"
#4 – Are We Effectively Marketing Our Thought Leadership?
Years ago, the options for taking thought leadership to market were fairly narrow. You could publish a book. You could speak at an event. And, you could do some direct mail.
These days there is a seemingly endless set of options for connecting your firm's thinking with potential clients. Of course, your available marketing channels are not all created equal. Our research on thought leadership marketing tactics generally showed that many of the traditional channels (speaking and third-party publishing) remain more effective than some of the newer, more digital ones (social media and email marketing, for instance). As a result, the best thought leadership marketers tend to place more priority on external publishing than their peers.
From our 2019 thought leadership research study produced in partnership with Bloom Group:
Data represent the percent of 312 thought leadership marketers stating each asset was part of their most successful thought leadership campaign between 2015-2017. 
Source: Following the Leaders. Published by Rattleback and Bloom Group, January 2019.
Yet, search continues to have a rising influence on how clients behave and think. In the early stages of the buying journey clients almost always turn to Google at some point to help them frame problems and find ways of thinking about them. And in the process, Google inserts itself as an arbiter of quality — when we search topics we naturally assume that the highest-ranking searches represent the best available content on the topic. A firm that's not there may be eliminated from the long-term consideration set by default.
Despite being in the lower tiers of effectiveness, many firms are finding success with social media. Our research tells us that the key to success here is using social platforms as publishing venues rather than marketing channels. Essentially using them the way they were intended to be used — as places to facilitate and engage in dialogue — not solely as ways to promote things we've published elsewhere.
Simultaneously, our client experience tells us that success these days requires not just leaning on free social, but also leveraging paid social to place your thinking in the hands of decision-makers within key client organizations.
Questions to ask yourself:
Are we prioritizing the right things (speaking and 3rd party publishing)?
Are we doing everything we can to stake out space in the search landscape?
Are we using social media as a publishing/discussion venue? Or just a promotional channel?
Do we have a plan for using paid media to activate our thinking?
#5 – Are We Doing Everything We Can to Enable our Sales Teams?
One of the bigger surprises of our 2019 research on thought leadership marketing was the pivotal role the sales organization plays in making thought leadership a success. The most effective marketers told us that properly engaging the sales function was the single most important factor in making a thought leadership program highly successful.
From our 2019 thought leadership research study produced in partnership with Bloom Group:
Data represent the percent of 312 thought leadership marketers who ranked each factor as the #1 most important one in the success of their most successful thought leadership marketing campaign between 2015-2017. 
Source: Following the Leaders. Published by Rattleback and Bloom Group, January 2019.
But, what does effective sales enablement look like? At our 2019 event, we were fortunate enough to have Eran Levy of Cisco and Maria Gartner of Gartner talk about this topic. Eran spoke about how the Cisco marketing group engages its sales teams in the thought leadership process. And, Maria shined a light on how she used thought leadership to enable her sales teams at Dupont over the last decade.
Too often, the sales function is an afterthought. Ultimately, thought leadership marketers should be involving their sales peers during the stages of topic definition and research design. As Maria so eloquently pointed out, sales exists at the tip of the spear. Good salespeople are interacting with clients at the front edge of their decision-making. And, the most successful sales professionals find themselves in a role of "sense-making" — helping clients process the bevy of content around them and make difficult decisions in the face of too much information that can have a debilitating effect. Given their role in the buying process, strong sales leaders bring a lot of value to the process of defining and binding thought leadership topics.
Simultaneously, firms need a strong process for helping sales professionals understand the thought leadership that's coming to market and how they can use it to advance the client's buying process. This requires more than just throwing them a new white paper or pointing them to an article when it publishes. It requires spending time working internally before the thought leadership comes to market to help the sales team fully understand the thinking that's being produced and giving them tailored tools they can use to apply it in their daily work.
Questions to ask yourself:
Are we involving sales leaders in the early stages of our work (i.e. topic definition and research design)?
Do we have a plan and process for helping them understand what we've learned from our research?
Are we engaging them in identifying best practices client examples?
Are we giving them the tools necessary to create sales from our thought leadership not just share it?
Closing Thoughts
This post was not designed to give you the answers on where to invest your thought leadership marketing dollars or how to prioritize your activities in the year ahead. Rather, it was simply intended to be a thought starter. To get you thinking about what you're doing now and how you could be doing it better in this new decade that is the 2020s.