Over the course of a month, I have the opportunity to speak with professional services firms all over the country. I talk with principals, partners, directors, and, of course, marketers. Often, the very purpose of the conversation is to discuss the firm's existing, robust thought leadership marketing efforts.
Other times, I'm introducing the concept of marketing with educational content to someone who's not familiar with the concept. These latter conversations tend to raise a whole myriad of questions:
What do you mean by "content?"
Wouldn't that be giving away our firm's value?
How do we create time for content with our billable staff?
How do I encourage people to write?
What should we write about?
How much should we write?
Where should we share and distribute our content?
And, usually these conversations end with a pretty simple comment, "you know, that makes a whole lot of sense. But, I don't even know how to begin."
If this sounds at all like you, take a look at the new book, Valuable Content Marketing by Sonja Jefferson and Sharon Tanton. Simply put, the book is the quintessential guide to starting, sustaining, and prospering from a marketing model based solely on informing, educating and inspiring potential clients.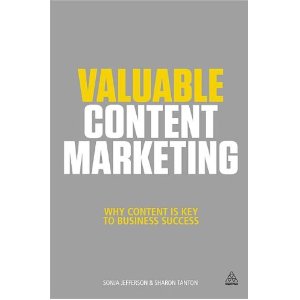 Structured into three sections, Valuable Content Marketing, takes you through all the critical elements of building and sustaining a content marketing program:
1. Why Valuable Content?
Part 1 outlines the business case for educating and informing potential clients.
2. What Valuable Content?
This section provides an overview of the various types of content available to you including blogs, email newsletters, and deeper content such as articles, e-books and research; included are step-by-step thoughts on getting started with each.
3. How To Make Your Marketing Valuable.
Highly useful and accessible thoughts on how to improve the quality of both your writing and your content along with recommendations for how to increase your chances of success.
In total, Valuable Content Marketing is chock full of first-hand examples and resources, making it a great "laptop-side" reference for any firm that's thinking about shifting its marketing towards content. You can learn more about the book at the Valuable Content website and you can order it on Amazon.