An overview of additional SEO tools thought leadership marketers can use to inform which topics to write about to help increase traffic from organic search.
When it comes to developing thought leadership, it's important to remember: what's the point of writing well-researched and insightful articles if no one is going to be able to find them?
Ultimately, success as a thought leadership marketer requires success with organic search (these days Google has become the arbiter of quality when it comes to thought leadership). So, you better have a strategy for how that's going to happen. That's where search engine optimization comes into play.
BENEFITS OF SEO FOR THOUGHT LEADERSHIP
Search engine optimization isn't just a downstream activity. SEO strategies can help firms discover the topics clients are wrestling with by understanding the types of keywords they're typing into search engines. This both informs your content strategy and ensures your content is search optimized when it's ready to publish.
By including keywords in our content, we help visitors and search engines understand what our pages are about and help those articles have a better chance of ranking and "getting found."
SEO has many benefits for thought leadership marketers:
Increase the chances of "getting found" online for the topics you're looking to own
Increase website traffic from search engines
Instill trust in search engine users
Position your firm and its authors as a valuable, expert resource
Boost qualified traffic and leads
7 SEO TOOLS THAT THOUGHT LEADERShip marketers CAN USE TO DEVELOP AND REFINE CONTENT TOPICS
One of the biggest challenges for thought leadership marketers, and subject matter experts alike, is maintaining a flow of fresh, insightful content. We previously wrote about three SEO tools thought leaders can use to inform their editorial calendar.
Here we have a few more programs and strategies, both free and premium, that firms can use in researching which topics to write about. To help with illustrating which SEO tools you might use for thought leadership marketing, I will use the hypothetical example of a private equity consulting firm and the types of content that firm might create.
#1 – BRAINSTORM KEYWORDS (FREE)
The first step in generating a list of topic ideas is to list everything you think would seem relevant to your clients and would likely have search volume.
Potential topics in our hypothetical firm:
What does a private equity consulting firm do?
How to work with private equity consulting firms?
What does private equity consulting mean?
#2 – MANUAL SEARCHES (FREE)
Type some of those keyword phrases into Google to see what competitors are writing about, to discover new content ideas, and discover the topics that are ranking well for broad keyword searches.
Instructions
Type in broad keyword phrases into Google
See what competitors are writing about
Make note of Google's "People also ask" box (while many of these suggestions may seem awkward or maybe even ridiculous to you, it's important to note that they reflect how people actually search for these concepts)
Potential topics in our hypothetical firm using the "People also ask" tool:
What is a private equity firm for dummies?
Private equity definition
What is private equity with example?
Understanding private equity
How does a private equity firm make money?
What is the difference between a venture capital and private equity?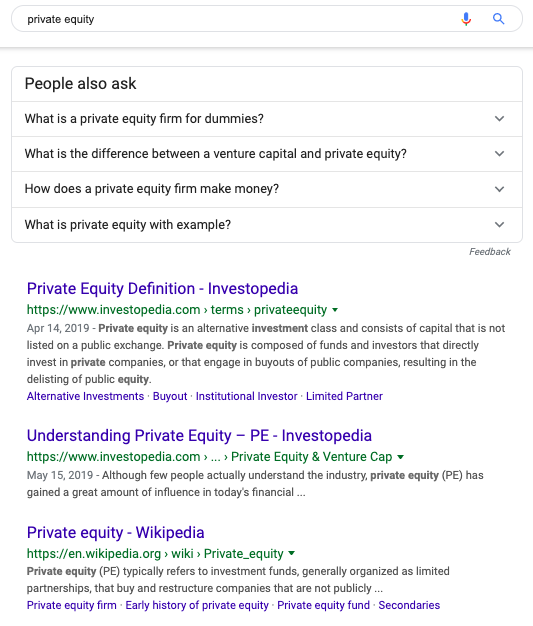 #3 – RELATED SEARCHES (FREE)
This is a fun Google functionality that's designed to further assist in guiding searchers to their intended destination. For the purposes of SEO it helps us discover additional keywords that visitors might consider when searching on a particular topic.
It can be found in the predictive search options and at the bottom of each search results page.
Instructions
Type a search query into Google
Make note of "auto complete" options as Google suggests them
Scroll down to the bottom of a page
Make note of any potential keyword topics you see listed
Potential topics for our hypothetical firm using the "Related Searches" tool:
What is private equity firm?
Private equity example
What is private equity and how does it work?
Private equity strategies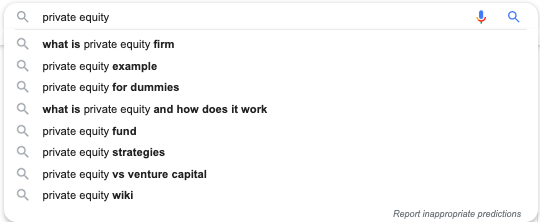 #4 – INTERNAL SITE SEARCH (FREE)
Internal site search is the search functionality on a website that allows businesses to understand what visitors are looking for on their website, learn if visitors are finding what they need, and verify that visitors are using the site navigation more or less.
Instructions
In Google Analytics, go to Behavior
Then click on Site Search
Then click on Search Terms
Review top internal search terms
*If this area is blank, you will need to set it up in the admin console
Potential topics for our hypothetical firm using the Google "Internal Search" tool:
Maximizing private equity returns
Private equity due diligence assessments
Private equity partnership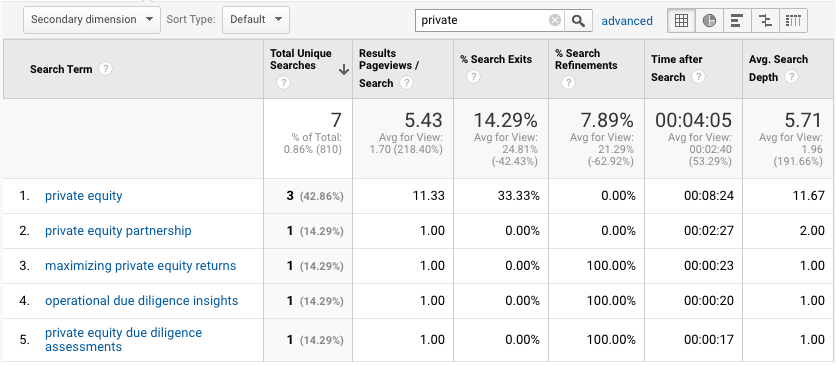 #5 – ANSWER THE PUBLIC (FREE FOR U.S. SEARCHES)
This tool has been around for a few years and is great at providing topics phrased as questions, as well as prepositions. It's interesting to see how this tool has evolved over the years and the new people featured on the homepage.
Instructions
Add a broad keyword phrase to the search box
Select US as the country, then Get Questions
Add all potential topics to your topic list
Additional potential topics for our hypothetical firm using Answer the Public:
Why private equity consulting?
Private equity vs consulting
Is private equity worth it?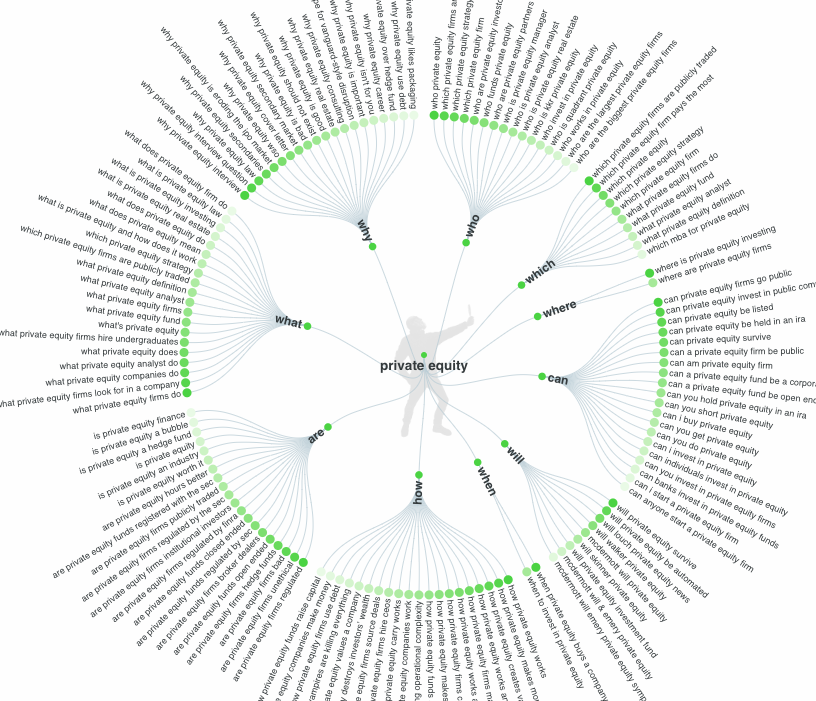 #6 – SEMRUSH (STARTS AT $99.95 PER MONTH)
This is one of my favorite tools to identify new opportunities and areas for improvement.
Instructions:
Additional potential topics for our hypothetical firm using SEMRush:
What is a private equity fund?
What do private equity firms do?
Private equity vs investment banking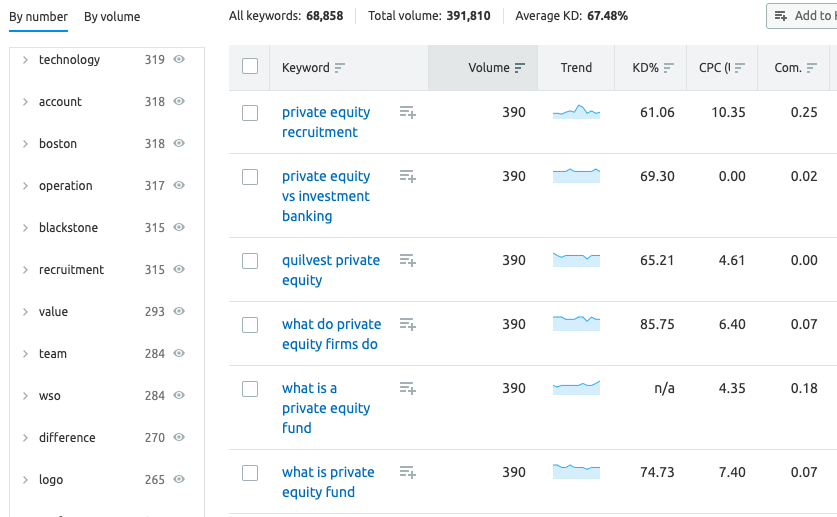 #7 – KEYWORDS EVERYWHERE (STARTS AT $10 FOR 100,000 CREDITS)
This is currently my favorite tool ever. It's a Chrome plugin that provides search volume data. I don't use it much to brainstorm topic ideas like other platforms; I use it more to gauge the search volume for the list of potential topic ideas I generated using the previous 6 tools.
While you can also get this information from SEMRush and Google's Keyword Planner, I like that it provides search volume data right while you're using Google.

But the part that I really love is that it also provides the search volume in Google Search Console, Answer the Public and Google Keyword Planner.
PRIORITIZING YOUR POTENTIAL TOPIC LIST
Now that we have a list of a range of topics we could consider, it's time to prioritize which topics to write about. From an SEO perspective, our highest priority are topics that people are looking for so we'll look primarily at search volume and keyword rank.
The table below takes all the topics we discovered for our hypothetical firm and shows the global monthly search volume, as well as current rankings for those keywords. This will help us decide the priority level: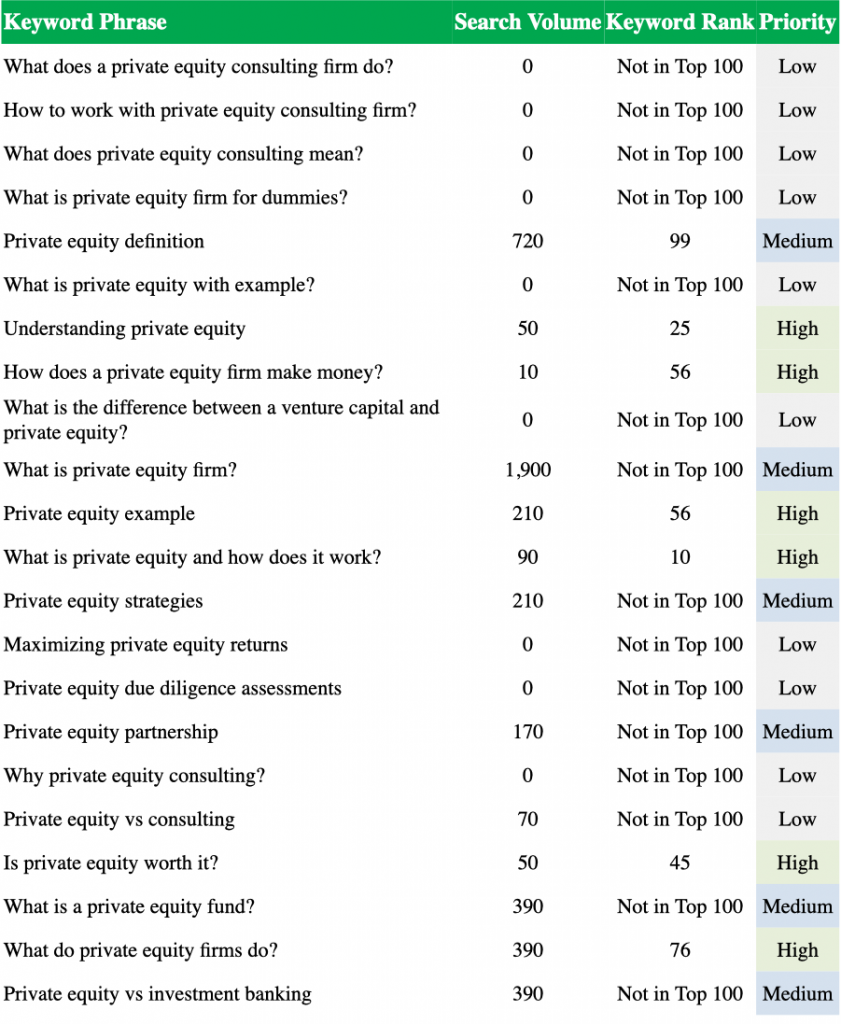 MEASURING SEO SUCCESS IN THOUGHT LEADERSHIP MARKETING
Whether it's Google Analytics, Omniture or some other analytics program, it's important to measure the success of your content to determine which strategies are working and which ones are not.
Measuring article pageviews and website visits year-over-year can help authors discover trends and what type of content to write about during certain times of the year, as well as which content is not worth considering in the future.
Below is an example of how to gather metrics for new articles to see how they're trending over time.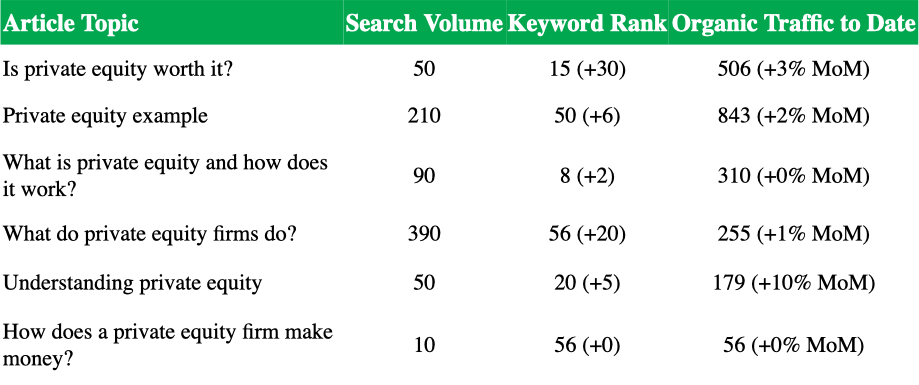 FINAL THOUGHTS ON SEO FOR THOUGHT LEADERSHIP MARKETING
The steps above have helped several of our (and our clients') thought leadership pieces rank prominently in Google, but I would be remiss if I didn't mention that writing content is not necessarily enough to improving keyword rankings and generating inbound traffic from organic search.
Other critical inputs into a successful SEO strategy include developing ongoing link building and ensuring that your website is technically sound. You might have the greatest content in the world, but no one will find you if you're not regularly developing new content, fostering inbound links and keeping track of and resolving any technical corrections that emerge on your site over time.