An introduction into the world of thought leadership marketing, this article outlines elements of a successful program, steps to success, and provides examples of thought leadership that's had a big impact in the market.
It has been over 50 years since McKinsey & Company first published the McKinsey Quarterly. Over that time the marketing landscape has changed considerably — hello Internet — and the market for consulting services has changed just as much — hello digital transformation — but the influence of the Quarterly remains supreme. In the 50+ years since its launch a whole content marketing universe has exploded around what was a very simple idea — let's share our best thinking with our clients on a regular basis.
In the last 10 years we've seen companies of all shapes and sizes launch content marketing programs. From your local pool installer, to your SEO expert and your professional services marketing advisor. Content is all the rage.
While there are a lot of factors that have driven this content explosion — cheap and easy self-publishing tools and Google are near the top — one of the main factors is inside our own minds. It is our intense desire to be informed buyers. A desire to mitigate downside risk in search of the perfect outcome. Regardless of what we're doing or what we're buying we've become addicted to knowledge. We research and plan every detail of our next vacation. We read restaurant ratings to reduce the chance of having a bad experience. Many people even study restaurant menus and entree reviews before they arrive to reduce the risk of a bad order. Much of this, of course, is the domain of content marketing.
That said, this desire to seek understanding and reduce downside risk extends itself to the big questions and decisions in our business lives as well. How will digital technology impact the future of my supply chain? How will changing demographics influence demand for my product? What new opportunities will AI present for my business? Much of this, by contrast, is the domain of thought leadership marketing.
Thought Leadership vs. Content Marketing — What's the Difference?
In the marketing world these terms seem to get thrown around interchangeably. While it seems a bit semantic to take the time to distinguish one from the other, the reality is there are important distinctions between the two. And, often, there's a need for both sets of activities in a firm so it's important we start with clarity.
What is Content Marketing?
First and foremost, content marketing programs are generally built to provide relatively simple answers to fairly straightforward business questions. How do I optimize my article for search? What is the process for developing an effective job description? What are the primary features of a small business accounting system?
Content marketing articles often take the form of: "How to…" or "7 Steps to…". The primary goal of most content marketing programs is to generate leads now for the firm and its services.
what is Thought Leadership Marketing?
Thought leadership marketing is generally seen as a subset of the broader universe of content marketing. It deals with complex issues that often have accompanying complex solutions. It seeks to carve out a point-of-view on the big issues shaping the future of society or the markets and clients a firm serves.
Thought leadership articles often take the form of: "The future of…" or "The state of…". The primary goal of thought leadership marketing programs is to shape future demand for the firm and its services. While lead generation is a welcomed side-effect, the central mission is to position the firm and its subject matter experts as a leading industry voice on big marketplace issues that matter.
6 key Elements on how to develop thought leadership
In our experience there are six core elements of a successful corporate thought leadership marketing program.
#1 – Clear Line of Sight
For thought leadership to be successful the firm must ensure there is a clear line of sight from the corporate strategy through the topics the firm develops down to the products and services it provides. The strategic plan defines where and how the firm will grow. Topic selection is bound by the plan. And, ultimately, the content that's published should (eventually) lead to a clearly defined set of products and services that are specifically designed to solve the problems addressed by the thought leadership itself.
#2 – A Strong Point-of-View
Every major consulting firm is conducing research on digital transformation. Every tech entrepreneur has an opinion about AI and blockchain. Every major architecture firm has an opinion about the future of the workplace. Thought leadership topics are generally as big and complex as the marketplace of opinions around them. To cut through the noise the firm has to develop a unique and compelling point-of-view on every topic they choose to address. An effective point-of-view simultaneously attracts and repels. It brings clients to you that see the world along the same lines you do. And, it pushes those clients away that don't.
#3 – Proof of Merit
It's one thing to have an opinion about a better way to think about a complex problem. It's another thing all together to have proof that your novel solution actually has merit. Whatever perspective your firm takes on a major business issue it must be able to back it up. Proof comes in two forms — examples of firms in the market successfully solving problems the way you suggest and real data to confirm it.
#4 – A Body of Work
It's often said that a leader needs to repeat themselves at least 7-10 times for their message to stick. The same holds true with thought leadership. For a firm's POV to gain traction, it needs to develop a body of work around it. Publishing a single white paper or research report is rarely sufficient. Firms need to come at their perspective through multiple angles and multiple formats — blogs, articles, podcasts, video, interactive content.
#5 – Multi-Channel Publishing
Ultimately, the firm's mission is to get the market to truly believe that its POV has merit. This takes both time and a commitment to meeting clients where, when and how they learn. The best firms publish on their own channels, in social channels, in well-respected 3rd party publications, and through events.
#6 – An Engaged Audience
If your article was published, but no body read it was it ever published at all? This seems obvious, but for a thought leadership program to work the firm has to build an audience around its thinking. This doesn't just mean getting an article in front of the most eyeballs possible. It means developing a community of loyal followers who believe in the thinking, apply it in their own businesses, and speak about the merits of it to their peers. Communities emerge online, at events and on their own.
7 Steps on how to build Thought Leadership
So, now that we have a picture of what a successful program looks like, what does it take to build thought leadership? In our experience there are seven best practices a firm needs to be doing to get a thought leadership program up and running.
#1 – Develop a Research Agenda
A decade's worth of work may only expose a consultant to 30-40 clients if they're working on large, complex programs — not nearly enough data points to develop a compelling and original point-of-view. The best firms recognize that the best thinking doesn't come down from upon high. Rather, the best insights tend to be "discovered" through a combination of original primary research (both quantitative and qualitative) and the direct client experience of their subject matter experts.
#2 – APPLY A Digital-First Editorial Process
The traditional, offline publishing process tends to be quite linear — select a topic, commission a research study, analyze the findings, select key insights, outline, write, design and publish a white paper. As straightforward as this sounds, our digital world requires a more amorphous process. A digital publishing process mashes up business strategy, search data, competitive benchmarking and research design to derive a collection of content to be published under a topical umbrella. It's used to identify white space and best opportunities for the firm to insert its voice into the marketplace on a big topic.
#3 – PRIORITIZE STORIES OVER DATA
Too often, attempts at thought leadership marketing collapse into bland dissertations of data and research findings. While original primary research may be the source of compelling new insights, data itself rarely cuts through the noise. We're virtually blind to data. We don't believe it. We don't retain it. It doesn't move us. Stories on the other hand — we remember, recall and fall in love with stories. A successful thought leadership program prioritizes the story — what we want to say — over the data.
#4 – APPLY A Digital Publishing Model
A lot of firms have been caught flat-footed in response to the emergence of digital media. When we think of thought leadership, we generally envision a book or an HBR article. But, the media landscape has changed dramatically. Today, the most successful firms prioritize lean-back (videos, podcasts and interactive experiences) over lean-in content (blogs, articles and white papers. Their articles look less like traditional articles and more like mash-ups of words, video and interactive charts. The articles they do publish are written for how we read online — they're written both for scanners (you never read this paragraph) and readers (you surely did).
#5 – Plan for Building an Audience
When the McKinsey Quarterly was first published 50+ years ago the means for connecting clients with ideas were limited. The world had many gatekeepers (book publishers, magazine editors) and limited channels for distribution (mail, events and meetings). These days, firms have a myriad of additional options for developing and building an audience — search, email, social media, third party publishers, advertising, events, etc. The best firms recognize it's folly to pull all levers at once. Nor do they put all their eggs in one basket. Rather, they develop a structured plan for the handful of channels that make the most sense for them. Then, they work aggressively to be very successful in each.
#6 – Engage Sales Early and Often
In our recent research, Following the Leaders, we found that the single most influential aspect of a successful thought leadership marketing campaign was sales enablement. If you're going to make a thought leadership program work, you have to figure out how to use the content you develop to make your sales people more successful. Whether you have dedicated business development managers or a selection of senior partners doing the selling, figure out how to get the thinking you have into the hands of the people that can do the most with it. Educate them on the insights you've uncovered. And, provide them with tools they can use to sell from.
#7 – Measure Your ACTIVITIES AND OUTCOMES
Just about everyone, except an operations consultant, hates the phrase, "what gets measured gets done." But, it's true nonetheless. When we measure the things we do, we tend to do those things more frequently and more effectively. There's a reason Fitbit has sold 76 million fitness trackers. To be successful with thought leadership you have to measure both activities and outcomes. Set a goal for what you'd like to achieve for your business over the course of 2-3 years — think in terms of brand perception, revenue, lead generation, deal influence, and brand impressions. Then, track that back to the quantity, quality and type of content you will produce to make that happen — think in terms of campaigns in the market, and articles/videos/podcasts produced and placed.
Thought leadership marketing Examples
While everyone has a selection of authors and content that have influenced their worldview, these are a few that have either influenced us or that we particularly admire.
CEB | The Challenger Sale
Just about everyone working in the world of B2B marketing and selling over the last 10 years is familiar with The Challenger Sale. But, not everyone is familiar with the consultants, Matthew Dixon and Brent Adamson, or the consulting firm, CEB (now part of Gartner), who wrote it. The Challenger Sale has spawned a worldwide community of advocates and sales practitioners. It helped the firm double its sales and its share price in 6 years and likely helped facilitate CEB's $2.6B sale to Gartner in 2017.
Navalent | Leading Transformation
Rattleback client, Navalent, has a distinct view on what it takes for organizational transformation to succeed. Most consulting firms would agree that organizational change requires a clear strategic direction, a high performing set of leaders and leadership teams, and a thoughtfully architected organization to make it happen. But, not many would agree that companies need to move on all three dimensions simultaneously. And, Navalent does just that. The firm's foundational framework is described in its eBook, Leading Transformation: An Owner's Manual and it surfaces in the firm's book, Rising to Power, and throughout the 40+ HBR articles penned by firm partner, Ron Carucci.
National Center for the Middle Market | The Blueprint for Growth
8 years ago, the notion that there was a middle market to the U.S. economy was hardly even an idea. Conventional wisdom had always been that small businesses were the creators of jobs and large enterprise were providers of longevity and stability. But, in early 2011 GE Capital and The Ohio State University got together to produce new independent research on companies in the middle — companies defined as having between $10M and $1B in revenue. The findings were startling. Not only did mid-sized companies grow through the Great Recession, they actually created over 2M jobs while small businesses and large enterprises lost considerably more. Ultimately, this research led to the Blueprint for Growth — a foundational framework that describes how mid-sized companies grow. The foundational research ultimately led to an entire research center — the National Center for the Middle Market. The Center has since spawned research insights of all types about mid-sized companies including follow-on studies on culture, manufacturing, risk and resilience among others. Today, the Center is the nation's leading voice on the middle market of the U.S. economy. Its website generates hundreds of thousands of visitors each year. Its work has spawned a Middle Market Caucus within the U.S. Congress. And, its leaders' Thomas A. Stewart and Doug Farren, regularly speak at events all across the nation.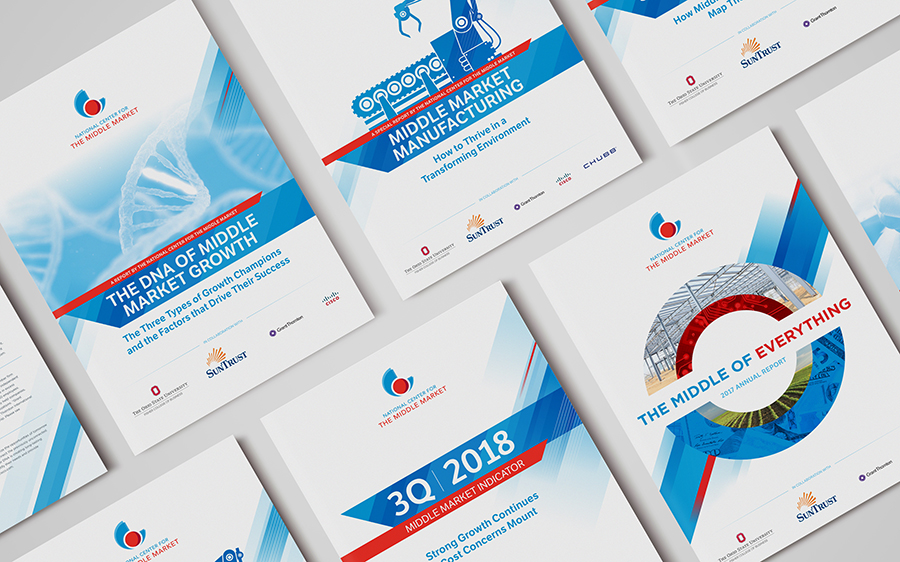 Learn more about our work with the Center in this case study.
Learn More about thought leadership marketing
I wrote this piece as an introduction into the world of thought leadership marketing. For those who want to take a deeper dive, consider these resources for additional best practices:
Profiting From Thought Leadership — Our annual conference, now in its 4th year, brings together some of the best in the world in this specialized field of B2B marketing. Learn from experts at McKinsey, Bain, Fidelity Investments, Cisco, TCS, and more.
Following the Leaders — Unlock the 7 capabilities of exceptional thought leadership marketers in our latest topical research study.